Respect (United States, 2021)
August 12, 2021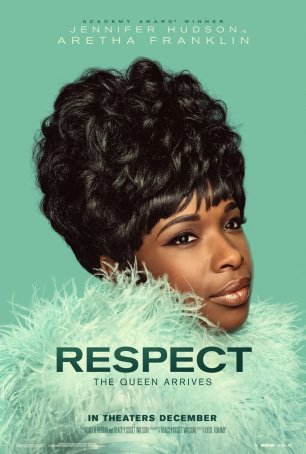 Respect uses vignettes to provide an overview of the early years of Aretha Franklin's life and career. Along the way, the movie touches on a number of weighty issues including domestic abuse, alcoholism, and Civil Rights activism. The film cuts corners in order to cram roughly 20 years of material into 145 minutes and sanitizes events in order to achieve a PG-13 rating. Despite these shortcomings, however, director Liesl Tommy achieves her goal of highlighting the courage and tenacity of the main character. Plus we get what amounts to a "greatest hits" compilation as voiced by Jennifer Hudson.
Although the screenplay isn't able to escape many of the traps inherent in dramatizing the ups-and-downs of a musical maverick, Hudson's powerhouse performance, a sure-fire Oscar contender (she has already won one of the little gold statuettes for Dreamgirls), gives Respect more passion and energy than what one often encounters in a straightforward, ripped-from-Wikipedia biopic. Although it might be possible to make a better movie about Franklin, it's difficult to imagine a more ferocious and committed performance than Hudson's. For more than two hours, she inhabits the Queen of Soul.
One problem with Respect is that, by tackling so many hot-button issues, it fails to do them justice. Many of Aretha's relationships pass by too quickly to leave more than a fleeting impression and her struggles with the bottle and record producers are accorded only token exposure. The movie's template isn't that different from the one employed by the likes of Bohemian Rhapsody and Rocketman – the central character's life-story plays second fiddle to the music.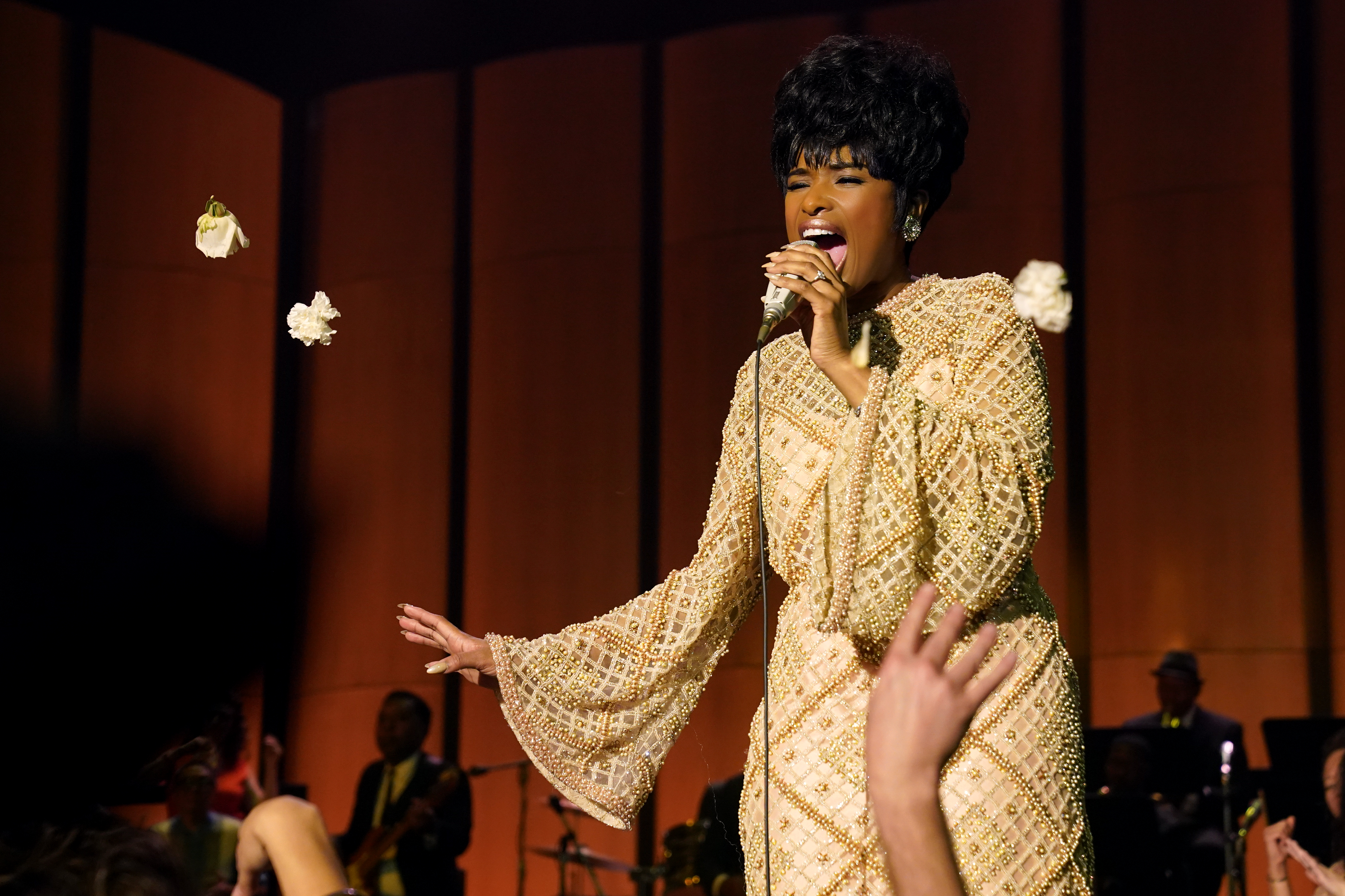 The movie opens toward the end of the 1940s, with Aretha, who is about eight years old (played by Skye Dakota Turner), being shuttled back and forth between her separated parents, C.L. (Forest Whitaker) and Barbara (Audra McDonald). After the death of her mother, Aretha relies solely on C.L. for the development of her singing abilities and, although she earns a record contract, she doesn't have the hits she wants. The movie skips over Aretha's teen years – when we catch up with her in the early 1960s, she already has two children, but her career is stalled. In 1964, she becomes involved with Ted White (Marlon Wayans), who takes over as her manager after putting a ring on her finger. Following a tumultuous relationship characterized by violent episodes, Aretha walks out. During the period when she's married to White, she begins working with producer Jerry Wexler (Marc Maron), whose involvement in her career results in some of her biggest early hits.
The most fully developed relationship in the film (one could argue it's the only fully developed relationship in the film) is between Aretha and her father. C.L. is not suited to being a father and his autocratic tendencies drive a stake between him and his daughter, directly resulting in her decision to marry White. Aretha spends much of the film trying to reconcile her conflicting feelings for her father and there are times when C.L. seems more jealous of Aretha's success than happy that she has achieved stardom. There's more in the subtext than what makes it to the screen, including the role C.L.'s philandering plays in Aretha's development and the depth of the scars left by his domineering approach and emotional abuse.
The screenplay briefly addresses Aretha's activism, both in terms of her relationship with Martin Luther King Jr. and her outspoken defense of Angela Davis when the latter is imprisoned. After that, however, Respect has little else to say about her role in the Civil Rights movement and makes no mention of how her political opinions might have shaped her relationships with other figures in the music world and what impact they may have had on her public image.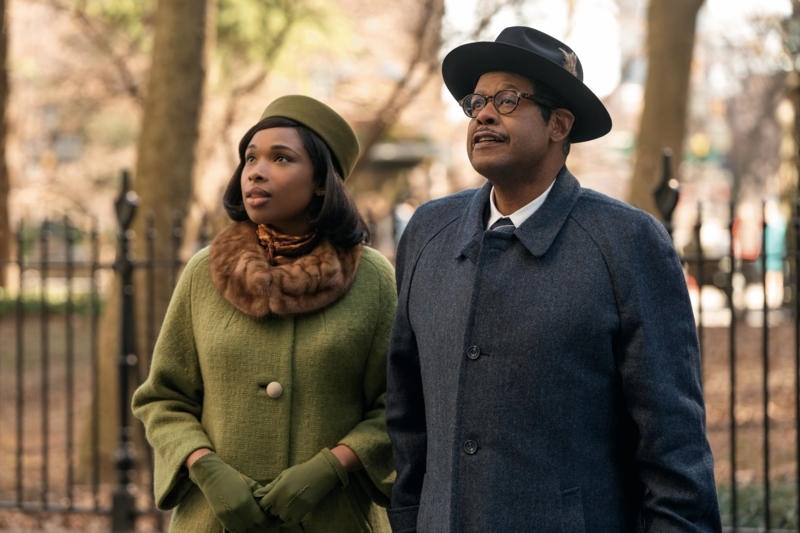 Jennifer Hudson does an amazing job filling in the blanks of a porous screenplay, resulting in something that feels like it's more complete than it is. She belts out many of Franklin's hits with such an attention to accuracy that there are times when it seems as if the Queen's ghost has come back to guide her. Like many biopics of musical figures, Respect is at its best when it recreates the music. Stretches of the narrative seem almost generic but the magic takes over when Hudson sings "Respect," "Chain of Fools," and more than a half-dozen others. The movie finds an effective stopping point by ending with the live recording of her 1972 gospel album, Amazing Grace.
While it's easy to quibble about the choices of omission and inclusion made by screenwriter Tracey Scott Wilson and whether a more adventurous, unconventional approach might have been a better fit for the central character's personality, Hudson renders such criticism moot. Her performance as Aretha Franklin is more than worth the price of admission.
---
Respect (United States, 2021)
---

Three...better movies of this genre
worse movies of this genre
Three...better movies of Jennifer Hudson
(There are no more better movies of Jennifer Hudson)
worse movies of Jennifer Hudson
(There are no more worst movies of Jennifer Hudson)
Three...better movies of Forest Whitaker
worse movies of Forest Whitaker
Three...better movies of Audra McDonald
(There are no more better movies of Audra McDonald)
worse movies of Audra McDonald
(There are no more worst movies of Audra McDonald)