Serenity (United States, 2019)
January 25, 2019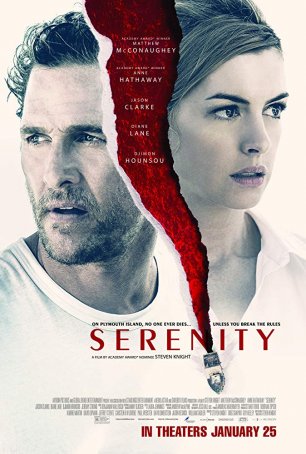 For a while, it seems like Serenity is going to a be a fairly routine neo-noir thriller. That's not necessarily a bad prospect with a scraggly-looking Matthew McConaughey playing a down-on-his-luck free-spirit and a blond Anne Hathaway as the femme fatale. It doesn't take long however, for writer/director Steven Knight (the Peaky Blinders writer/creator) to show his hand – or at least one of his cards. There's a strange, bespectacled guy in a suit who doesn't belong and, as the plot unfolds, other oddities start to crop up. This results in a film that contains some big, interesting ideas but never fully gels. The ending in particular feels hollow because of the revelations that precede it.
Although the framework and tone are noir-tinged, the movie brings to mind the likes of Westworld and Ready Player One. Although mentioning those films could constitute a spoiler, Serenity's twist is less overt and, perhaps as result, it's not as effective. The central mystery is explored and explained before the last reel expires but, although this isn't an incoherent fever-dream like mother!, some will react similarly. Serenity is a peculiar, niche production with minimal mainstream appeal. It will find its greatest favor with those who value oddball movies that take chances (regardless of whether they work or don't).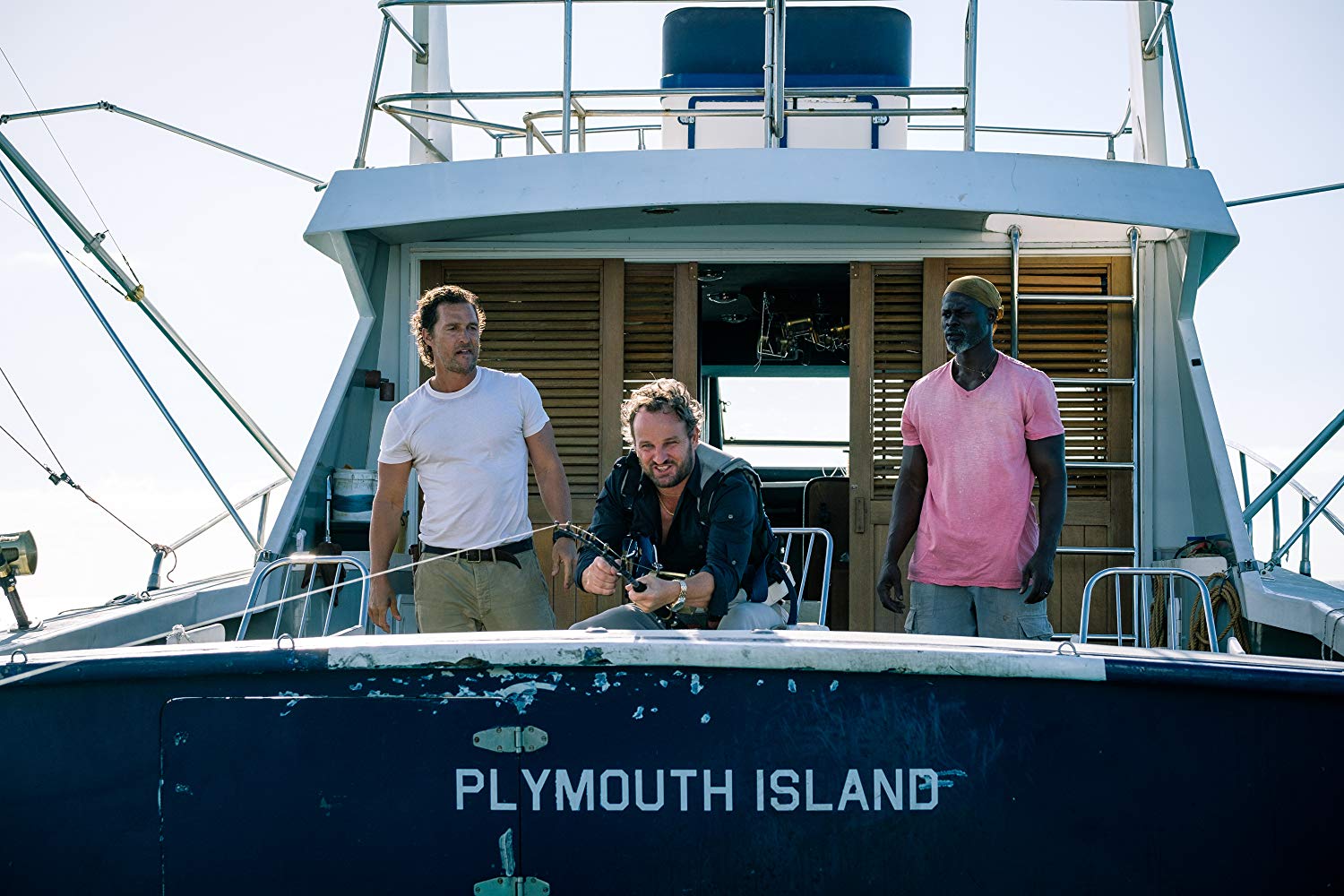 The setup establishes McConaughey as Baker Dill, the captain of the boat Serenity, who makes what little money he has by taking vacationers out for the day fishing for tuna then returns by night to seek a more profitable catch. He enjoys a fling with one of the locals, a saucy woman named Constance (Diane Lane), but there's no love between them. Baker seems incapable of that emotion. Instead, he is obsessed with a large tuna that keeps getting away. It's the Moby Dick to his Captain Ahab. His first mate, Duke (Djimon Hounsou), looks on in dismay as he loses all perspective in his pursuit of the fish he has named "Justice."
Things change with the arrival of a woman from his past. Karen Zariakas (Hathaway) is beautiful but tragic. She lives with a husband and Baker's son, Patrick (Rafael Sayegh). That husband, the foul-mouthed, monstrous Frank (Jason Clarke), has perfected the art of sadism. Driven by equal parts lust and anger, he uses his wife's flesh as the canvas for his brutality. She wants him dead and has crafted a simple plan by which it can happen. All it requires is for Baker to agree to take him fishing. Then, add in a little alcohol and an improperly attached harness…the ocean is wide and deep. And Karen will pay $10 million for it to swallow him up and never spit him out.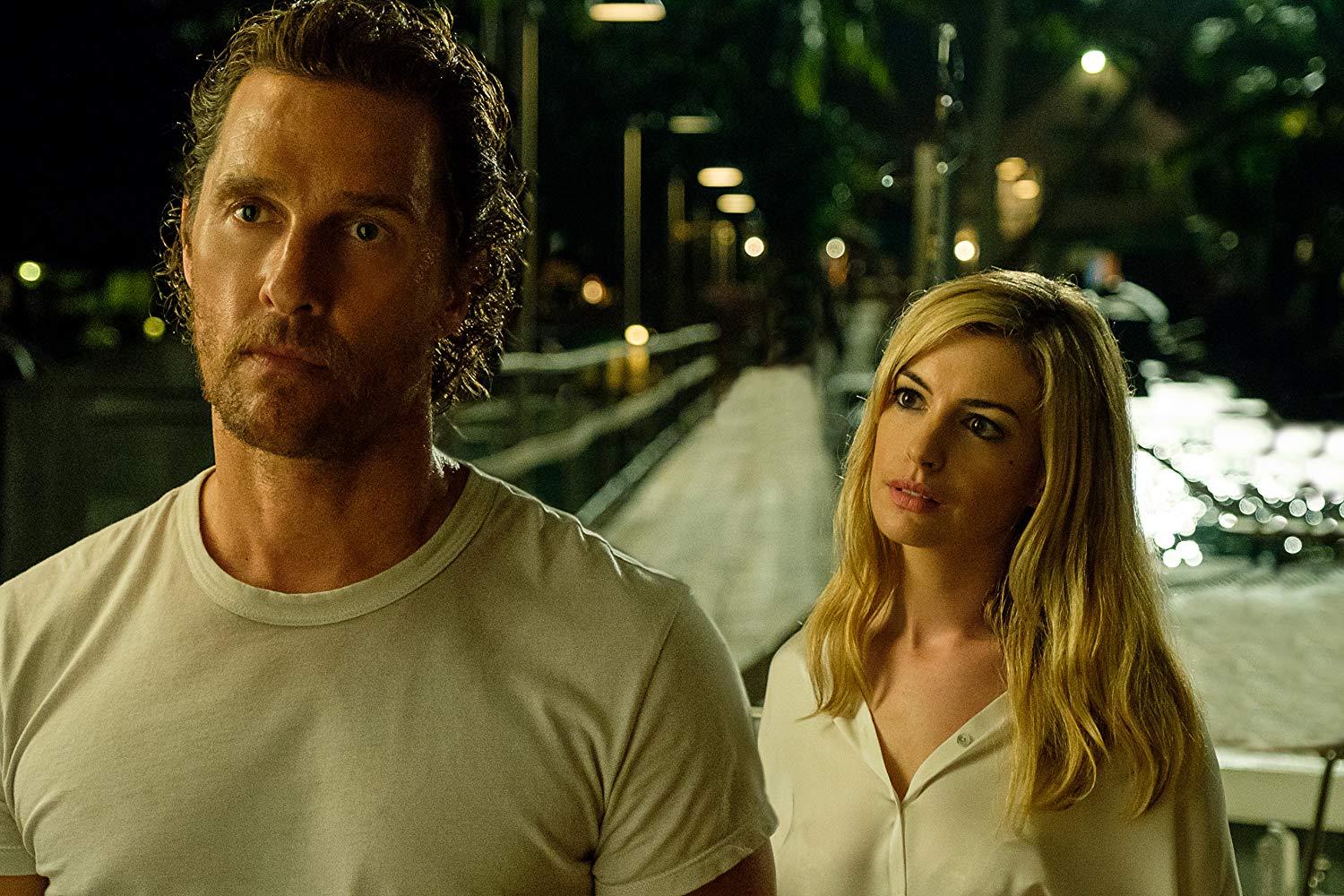 For more than half its running length, Serenity is comfortable, at least to those who enjoy this sort of story. There are hints that all is not as it seems however, and they grow more numerous as the climax approaches. Knight makes sure the revelations, as deeply as they impact the viewer's perception of the narrative, aren't unexpected. The problem is that there's something fundamentally unsatisfying about the direction in which they take the story. I found myself asking What's the point? That's not a good question to be posing about a movie I had just devoted the last 90+ minutes to watching.
McConaughey rarely (if ever) gives a bad performance and he doesn't make this an exception. Although Baker is warped and haunted, there's something charismatic about him. The actor's buttocks get a fair amount of screen time – an apparent indication that he has no qualms about screen nudity. Hathaway is less successful – she's not really femme fatale material and Karen skews toward a tragic figure instead of a manipulative schemer. Jason Clarke is suitably over-the-top as a boorish bully with no redeeming qualities.
Had it been presented as a straightforward neo-noir movie, I'm not sure Serenity would have worked. The story isn't sufficiently complex or surprising. Adding another layer to the proceedings injects an element of the unexpected but I'm not sure the whole thing hangs together and, even if it does, the perspective is inconsistent. The thing I liked most about Serenity is its willingness to take chances and not to be a replica of every other movie out there. Unfortunately, those esoteric qualities don't merit an unqualified recommendation for a production more apt to deliver frustration than gratification.
---
Serenity (United States, 2019)
---

Three...better movies of this genre
worse movies of this genre
Three...better movies of Matthew McConaughey
worse movies of Matthew McConaughey
Three...better movies of Anne Hathaway
worse movies of Anne Hathaway
Three...better movies of Diane Lane
worse movies of Diane Lane