Soul (United States, 2020)
December 23, 2020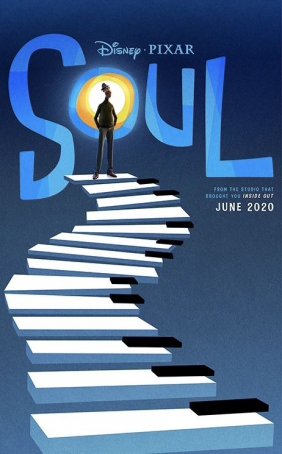 Is Soul a Valentine to rhythm-and-blues? Yes. Is it an unconventional buddy movie? Yes. Is it a mentor/student tale in which both individuals learn from each other? Yes. Is it an excursion into a realm where the existential has been anthropomorphized for easier understanding? Once again, yes. In short, Soul adopts many of the elements and ideas that have made Pixar films so beloved over the years. Unlike many of the more commercialized entries into the production company's catalog, this one seeks to expand the mind and touch the heart without much concern about how many toys it will sell or whether there's sequel potential. Indeed, by shifting the movie from theaters to Disney+ due to pandemic concerns, the studio has preserved (and perhaps enhanced) the movie's audience and eliminated concerns about box office performance.
The "soul" of the title has a double meaning. The lead character, Joe (Jamie Foxx), is a blues musician who has toiled in obscurity. When his shot at the big time arrives after an impromptu introduction to a popular diva (Angela Bassett), he is elated. Finally, no more teaching music to mostly-disinterested kids at a New York elementary school. But, with his head in the clouds, he's paying too little attention to the ground and falls through an open manhole. The next thing Joe knows, he's on a conveyor belt headed for The Great Beyond. And The Great Beyond doesn't have nightclubs. Being equal parts clever and desperate, Joe finds a loophole in the afterlife's bureaucracy but discovers that a return to his body, while not impossible, will require a great deal of effort (not to mention a little deception). He needs a partner.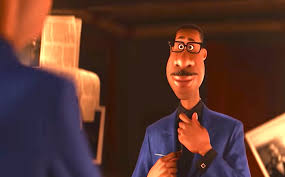 22 (Tina Fey) is a young soul – someone who hasn't yet been born into the physical world. Unlike most babies-to-be, 22 is content to remain in the pre-life. Joe makes a deal with her. In exchange for giving him her "pass" to Earth, he'll help her remain where she is. It's a match made in heaven (or nearly so) but things don't go as expected. A last-minute snafu results in both Joe and 22 going to Earth – with her in Joe's old body and Joe inhabiting a cat. Meanwhile, in the afterlife, a soul-counter named Terry (Rachel House) has figured out that the count is off – something that absolutely, positively cannot be countenanced.
Good animated films are often referred to as "working on multiple levels." Oftentimes, this takes the form of a narrative and thematic content that are aimed primarily at younger viewers with a few (sometimes off-color) jokes and references for adults. Soul, not unlike many of the better Pixar offerings, takes this to a deeper stage, offering a path of understanding to children for complex, metaphysical ideas. Without becoming doctrinaire or espousing a particular religious ideology, Soul offers insight into the concept of death and the potential of an afterlife. It does this while maintaining a light tone and avoiding many of the obvious pitfalls that could accompany addressing such subject matter. Much as Inside Out gave life and personality to emotional traits, Soul does something similar for the basic essence of a person.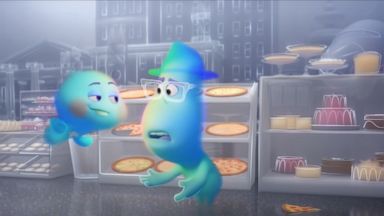 Most conventional animated films feature a villain – an Ursula, Gaston, or Scar. Some of Pixar's most inventive productions have eschewed this common dynamic. Soul offers a buddy movie foundation and the framework of a chase (tied into a race against time) but there's no real "bad guy." (Terry, who is presented as an antagonist, is accorded minimal screen time and any interference ultimately means little.) This is about the bonding that occurs between Joe and 22 and the things they learn about themselves and one another in the process.
Much as Coco was heavily influenced (both in terms of the musical score and the look of the animation) by Mexican/mariachi music, Soul is imbued by R&B. From the cool blue tint of many scenes to the score (credited to Jonathan Batiste and the Nine Inch Nails duo/frequent David Fincher-collaborators, Trent Reznor and Atticus Ross), the "Soul" influence is unmistakable. Voicework features the skin tone-appropriate talents of Jamie Foxx, Phylicia Rashad, and Angela Bassett to go along with the less conventional choices of Tina Fey and British talk show icon Graham Norton.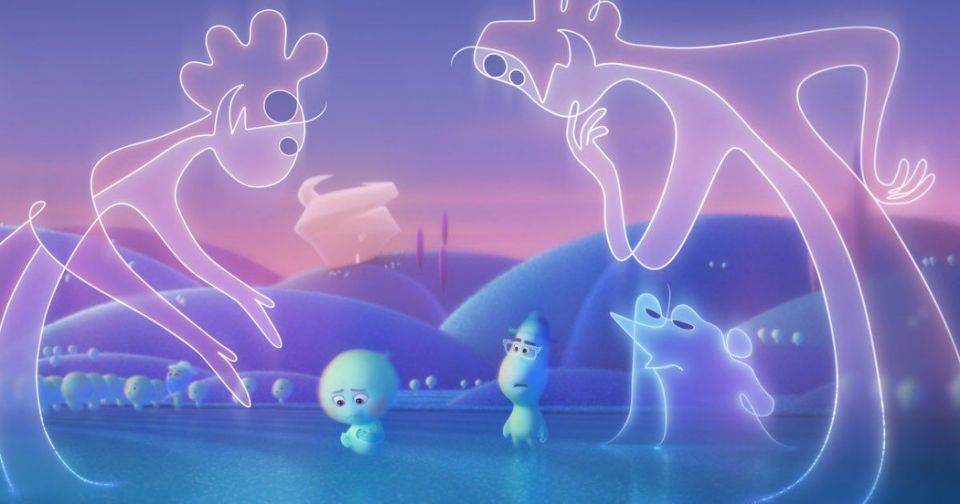 The film's dual setting of both a contemporary New York City and a fantastical afterlife allows the animators to replicate a recognizable location (albeit with a Woody Allen-ish romantic sheen) and craft something purely imaginary. The similarities between Pixar and the work of Hayao Miyazaki are often remarked upon; nowhere is this more obvious than in Soul, which owes as much of its spirit as its look to the work of the Japanese master.
Putting aside box office considerations resulting from factors beyond the studio's control, 2020 has been an unusual year for Pixar. Instead of churning out sequels as in recent years, there have been two non-franchise releases (the other being Onward). Soul in particular serves as a reminder of the need to balance both new and existing properties. Aside from the obvious need to have the former in order to create the latter, there's something magnificent in allowing a seasoned veteran like Peter Docter (whose impressive previous resume includes Inside Out, Up, and Monsters Inc.) convert his ideas into images and allow us to experience the result.
---
Soul (United States, 2020)
Director:
Pete Docter
Cast:
Jamie Foxx
,
Tina Fey
,
Graham Norton
,
Rachel House
,
Alice Braga
,
Richard Ayoade
,
Phylicia Rashad
,
Angela Bassett
Screenplay:
Pete Docter & Mike Jones & Kemp Powers
Cinematography:
Matt Aspbury, Ian Megibben
Music:
Jonathan Batiste, Trent Reznor, Atticus Ross
U.S. Distributor: Disney+
---
Three...better movies of this genre
worse movies of this genre
Three...better movies of Jamie Foxx
worse movies of Jamie Foxx
Three...better movies of Tina Fey
worse movies of Tina Fey
Three...better movies of Graham Norton
(There are no more better movies of Graham Norton)
worse movies of Graham Norton
(There are no more worst movies of Graham Norton)