Support the Girls (United States, 2018)
August 22, 2018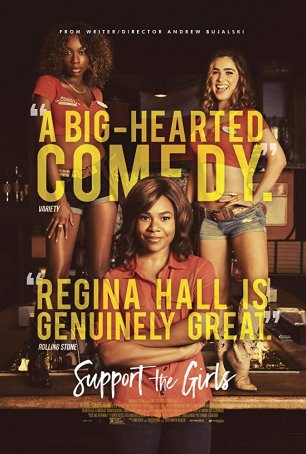 Support the Girls belongs to a small genre that pushes back against the concept of film as "escapism." By rejecting melodrama and artificial comedy, Support the Girls seeks to provide an honest peek into the life of one woman. Unfortunately, as intriguing as that might sound as an idea, it doesn't offer the most invigorating 90 minutes. By not giving us much more than we could get by talking to our neighbors and hanging out in a sports bar for an hour, Support the Girls invites questions about why it exists and whether it offers an experience worth the price of admission and the investment of time.
If there's a compelling reason to see the film, it's Regina Hall. Playing Lisa, the owner of a Hooters-like establishment, Hall commits to writer/director Andrew Bujalski's vision and, as a result, crafts a fully realized character. To the extent that we're drawn into Support the Girls, it's because of Hall's performance. Bujalski (whose resume includes a lot of obscure indies and one semi-recognizable title, 2015's Results) wisely allows everything to flow around his lead actress and her importance to the project becomes evident during a 10-15 minute period late in the proceedings when she's not around.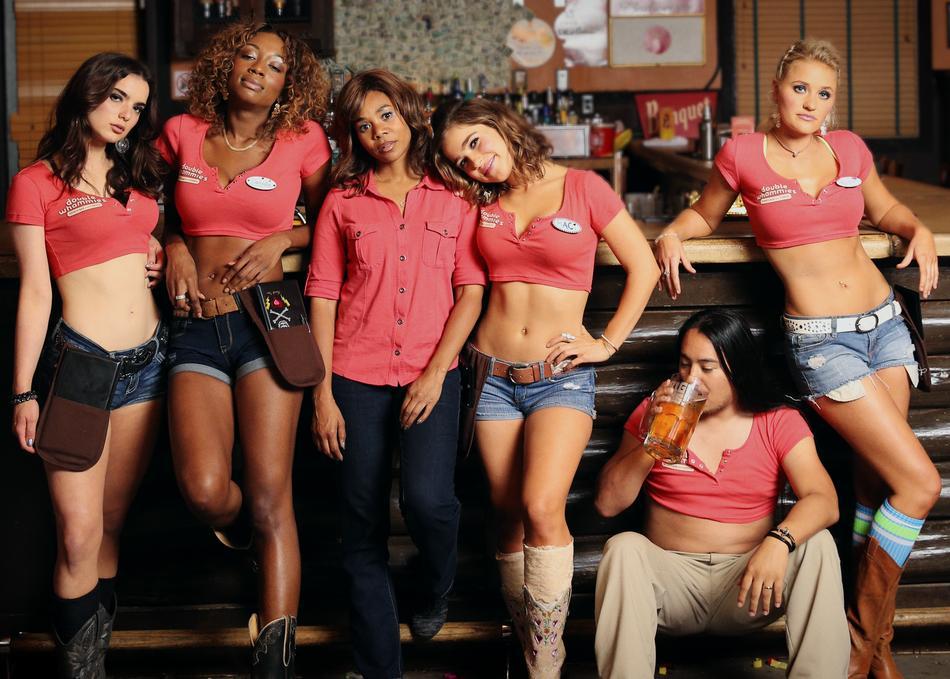 Support the Girls opens with Lisa sitting in her car outside her place of work. She's crying. Her home life is deteriorating but it's time to start the day at Double Whammies. Today will feature a car wash fundraiser for one of the waitresses who has amassed hospital bills, the hiring of new staff, the arrest of a would-be burglar who has become caught in a vent, and a conflict with the restaurant's owner, the pugnacious Cubby (James Le Gros), who constantly threatens to fire Lisa. As the general manager of Double Whammies, Lisa is responsible for the day-to-day running of the place and she has formed a mother-daughter relationship with two of her employees: the whip-smart Danyelle (Shayna McHayle, a.k.a. "Junglepussy") and the naïve-but-caring Maci (Haley Lu Richardson). Much of the film is constructed around Lisa's interactions with those two – at least until Cubby enters the story.
Support the Girls offers a credible insider's perspective of how an establishment like Double Whammies is run. If you were ever interested in what goes on behind-the-scenes at a Hooters, this movie pulls back the curtain. It covers everything from the basic philosophy (burgers, beer, and boobs) to the details of how to keep the customers entertained when the cable goes out. The film tangentially touches on the seeming contradiction of how a place where the women wear skimpy costumes that accent their assets can be considered "family friendly."
Being a slice-of-life offering, Support the Girls has what could charitably be called a minimalist narrative with no real conclusion. For Lisa, there's a life-changing event, then everything sputters to a halt. She's a strong character stuck in a less-than-captivating production. Like The Florida Project, this movie doesn't have a lot in the story department but, unlike the 2017 indie darling, it doesn't offer a unique perspective or a weirdly compelling setting. Worth a look if you're interested in seeing Regina Hall at her best but don't expect a lot beyond the one great performance.
---
Support the Girls (United States, 2018)
---
Three...better movies of this genre
worse movies of this genre
Three...better movies of Regina Hall
worse movies of Regina Hall
Three...better movies of Haley Lu Richardson
worse movies of Haley Lu Richardson
Three...better movies of Shayna McHayle
(There are no more better movies of Shayna McHayle)
worse movies of Shayna McHayle
(There are no more worst movies of Shayna McHayle)