What Happened to Monday (U.K./France/Belgium/U.S.A., 2017)
August 17, 2017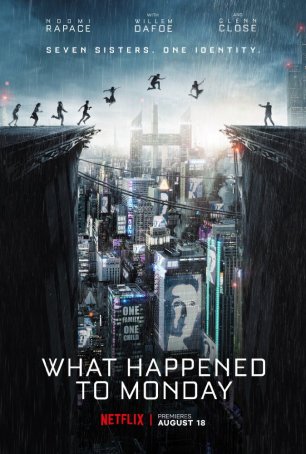 Few things are more depressing in moviedom than films that squander a great premise. Such is the case with What Happened to Monday, a sci-fi thriller than all-but-abandons its deep philosophical underpinning in order to pursue a straightforward action-oriented agenda. Although it would be unfair to criticize Tommy Wirkola's (Hansel & Gretel: Witch Hunters) production for being something other than what was intended, it is fair to comment that his subject matter deserves at least minimally thoughtful consideration. Links between climate change, population growth, and a potentially catastrophic worldwide famine are reduced to background plot points. The moral/ethical conundrums of the "solution" are paid lip service but not aggressively integrated into the story.
The film's background is presented in a clear, concise fashion using a voiceover narration. Toward the middle of the 21st century, the planet's food production is no longer sufficient to satisfy a burgeoning population. To rectify this situation, a policy is enacted whereby each couple can have only one child. "Siblings" are outlawed; in the event that one is produced (either in violation of the law or as a result of multiple births), the additional child/children must be given up to the government for cryogenic freezing. This program is the brainchild of Dr. Nicolette Cayman (Glenn Close), a politically ambitious scientist who sees the rulership of the unnamed country as her ultimate goal.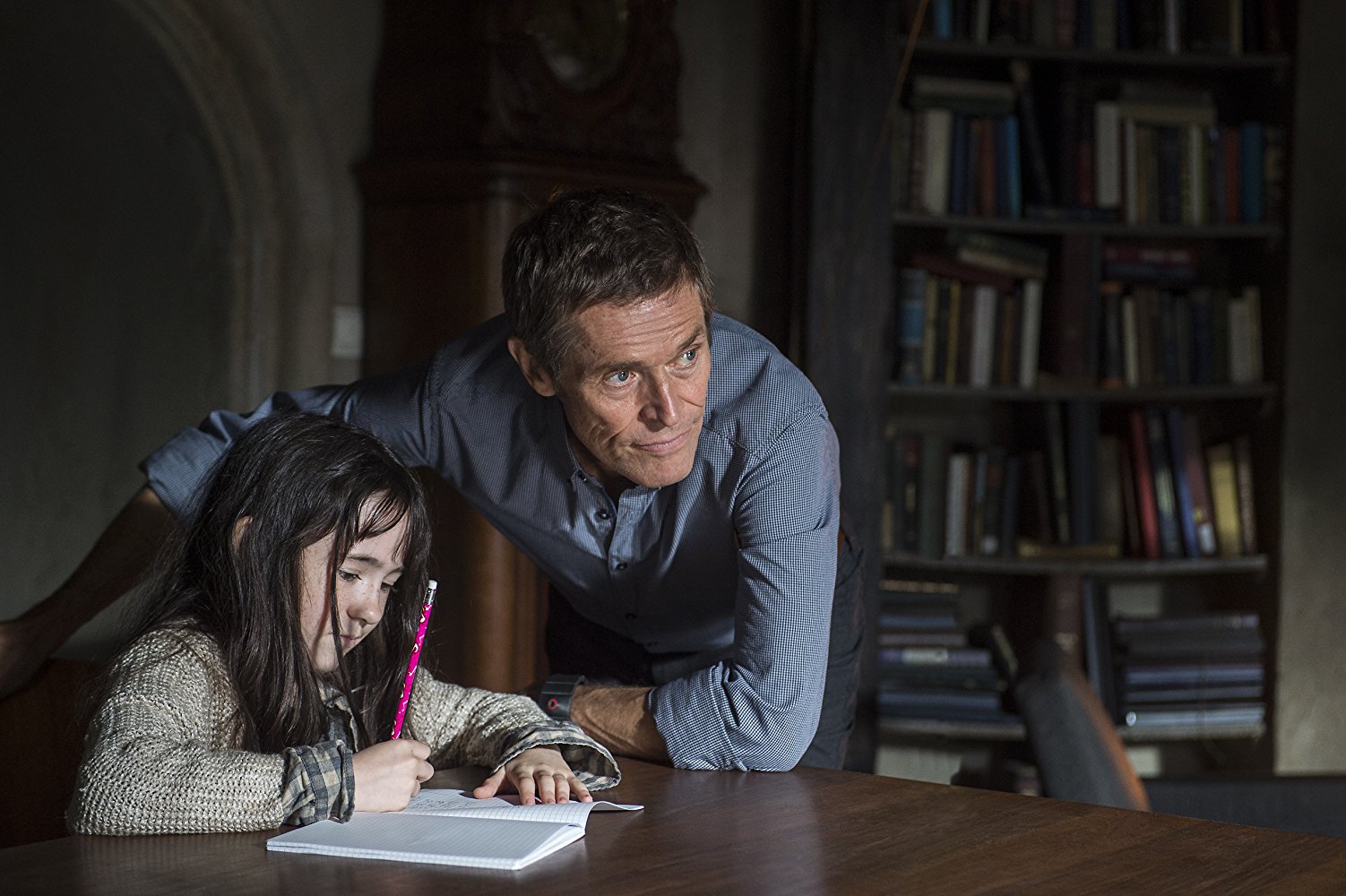 Trapped by this law are the septuplets of Karen Settman, a young woman who dies giving birth to her seven daughters. They are taken in by Karen's father, Terrence (Willem Dafoe), who names them after the days of the week and raises them to imitate a single person to avoid detection. By the time the main story begins around 2076, Monday and her sisters (all played by Noomi Rapace) live together in a cramped apartment using the collaborative identity of their mother, "Karen Settman." Employing makeup and wigs to cause them to appear identical, each of them goes outside on "their day" (Monday's day is Monday, for example) while the others remain inside. That way, they can maintain the fiction that Karen Settman is a lone child with no siblings.
Some of What Happened to Monday's early scenes are intriguing as the screenplay provides insight into the sometimes-strained relationship among the sisters. They are not unanimous in their belief that continuing their grandfather's plan is the best way forward. Thursday, the most rebellious of the sisters, wants her freedom. Everyone feels cooped up. And, although they have daily meetings to synch up on the details of Karen's life using a diary-cam, at least one of the women is hiding a secret.
One unsettling scene hints at what What Happened to Monday could have been had the writers shown interest in a less superficial story. During a flashback to the sisters as girls, Thursday runs off for a skateboarding adventure. She has an accident and is injured, losing the tip of one finger. After she returns home and gets medical attention, Terrence calmly explains to the girls that, for their safety, they must all be exactly the same. He then has Monday spread her hand on the table and, after injecting her with a pain-killer, he sterilizes a meat cleaver. The act of cutting off part of her finger isn't shown but the implication is sufficiently disturbing that graphic imagery isn't necessary.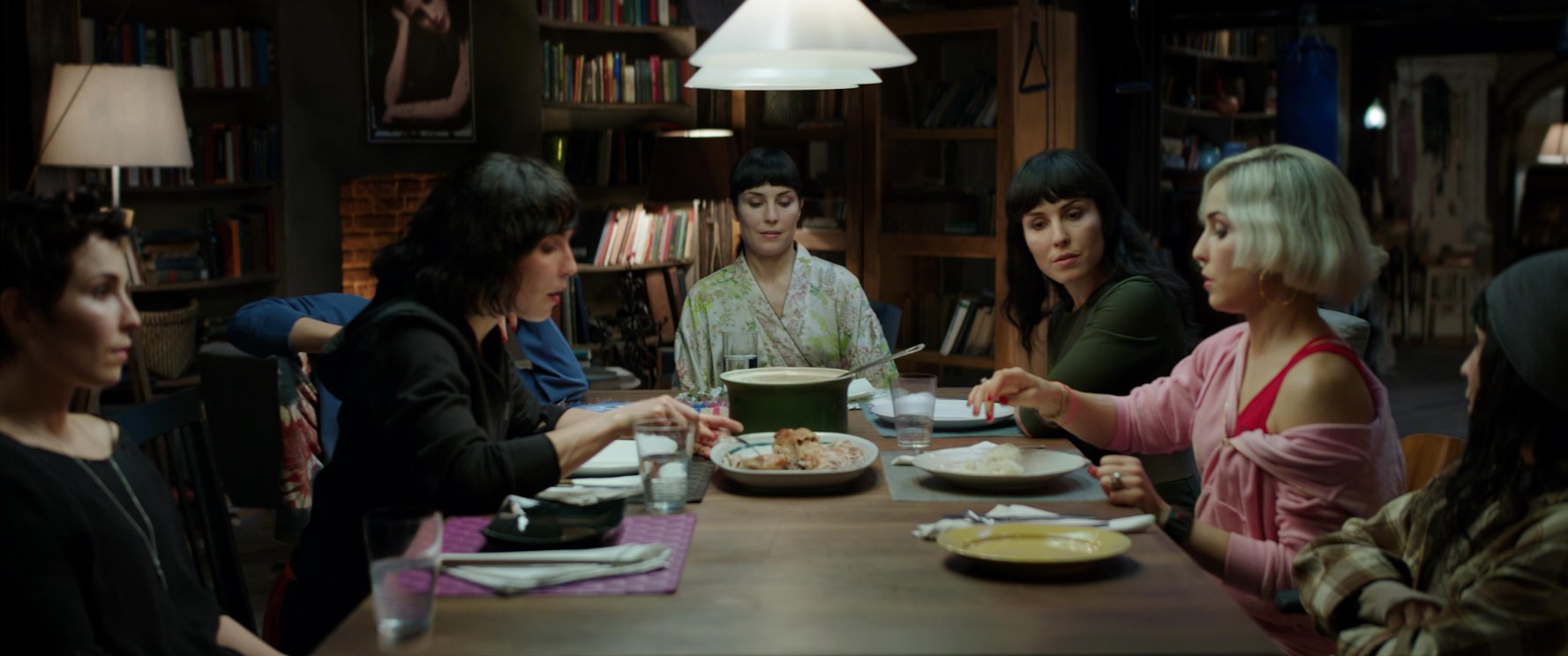 Sadly, however, with all this interesting background in place, the movie turns into a generic action/thriller with the sisters being hunted by the government while seeking to expose Cayman as a dangerous fanatic. Having seven identical protagonists allows the filmmakers latitude, making at least a few of the characters disposable. The fight scenes are brutal but feature combatants with superhero-like abilities. One man gets hit in the head with a pot four times and keeps coming. Another individual survives a three-story plunge out a window. And, lacking the high-energy choreography of films like John Wick and Atomic Blonde, the fights seem clunky and labored. There's one near the end of the film where (for reasons I can't elaborate) it's almost impossible to figure out what's going on.
The degree to which we're able to differentiate among Monday, Tuesday, Wednesday, Thursday, Friday, Saturday, and Sunday is a combined function of Noomi Rapace's acting and the costume/makeup people. Attempts are made to give each of the sisters a unique look – one has short hair, one is "nerdy", one is blonde, etc. Rapace's approach to crafting different personalities, which is similar although not as successful as Tatiana Maslany's in Orphan Black, allows at least three of the Settman women to "come alive", although none is truly fleshed out. Rapace does her best given the constraints of the screenplay and the 2-hour time limit but she falls short of Maslany's achievement.
Netflix is releasing What Happened to Monday in August as the next in a line of high-profile direct-to-streaming titles, following the critically-lauded Okja. This is a more conventional, mainstream film than the offbeat Korean monster movie but it's also less satisfying. The story is sufficiently energetic to keep boredom at bay and, considering the ease with which it can be accessed, one can make a case for watching it. But the disappointment of what What Happened to Monday could have been dogs this movie as it navigates safe, predictable roads through an unsurprising twist to a preordained ending.
---
What Happened to Monday (U.K./France/Belgium/U.S.A., 2017)
---
Three...better movies of this genre
worse movies of this genre
Three...better movies of Noomi Rapace
worse movies of Noomi Rapace
Three...better movies of Marwan Kenzari
(There are no more better movies of Marwan Kenzari)
worse movies of Marwan Kenzari
(There are no more worst movies of Marwan Kenzari)
Three...better movies of Willem Dafoe
worse movies of Willem Dafoe