Movies starring Alessandra Mastronardi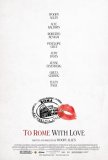 To Rome with Love
Once upon a time, calling a movie "lesser Woody Allen" might be considered a slap in the face. Now, it's more-or-less expected. In the last decade, Allen has directed two good movies: Match Point and Midnight in Paris. Everything else has been med...
Unbearable Weight of Massive Talent, The
The "hook" intended to lure in viewers to Tom Gormican's The Unbearable Weight of Massive Talent is the marquee-topping selection of Nicolas Cage as "Nick Cage." The film gets a lot of mileage (perhaps too much) out of this meta casting....