Unbearable Weight of Massive Talent, The (United States, 2022)
April 25, 2022
The "hook" intended to lure in viewers to Tom Gormican's The Unbearable Weight of Massive Talent is the marquee-topping selection of Nicolas Cage as "Nick Cage." The film gets a lot of mileage (perhaps too much) out of this meta casting. More an affectionate homage than an acerbic satire, the movie offers Cage fans an abundance of Easter Eggs. The humor is uneven but rarely seriously off-key. Taken as a whole, the production feels like an instantly forgettable diversion that no more evinces unbearable weight than it does indefinite staying power. This is the kind of movie you see in the evening and will have forgotten about by the next morning.
There's nothing unique about an actor playing a fictionalized version of himself/herself. (What this says about ego and Hollywood is a subject for elsewhere.) Often, however, it's more in the nature of a cameo or supporting performance. (The best recent example might be Keanu Reeves in the indie rom-com Always Be My Maybe, where he was by far and away the best thing the otherwise mediocre movie had going for itself.) The underlying premise of The Unbearable Weight of Massive Talent is that Nick Cage, movie star, is forced into the role of Nick Cage, action hero, when he accepts a job to appear at the birthday party of an uber-rich superfan. In detailing Nick's shaky financial footing and diminished box office clout, the film pokes fun at the rumors that have dogged the actor in recent years (he has become known as someone who won't turn down any role as long as there are enough zeroes on the left side of the decimal point).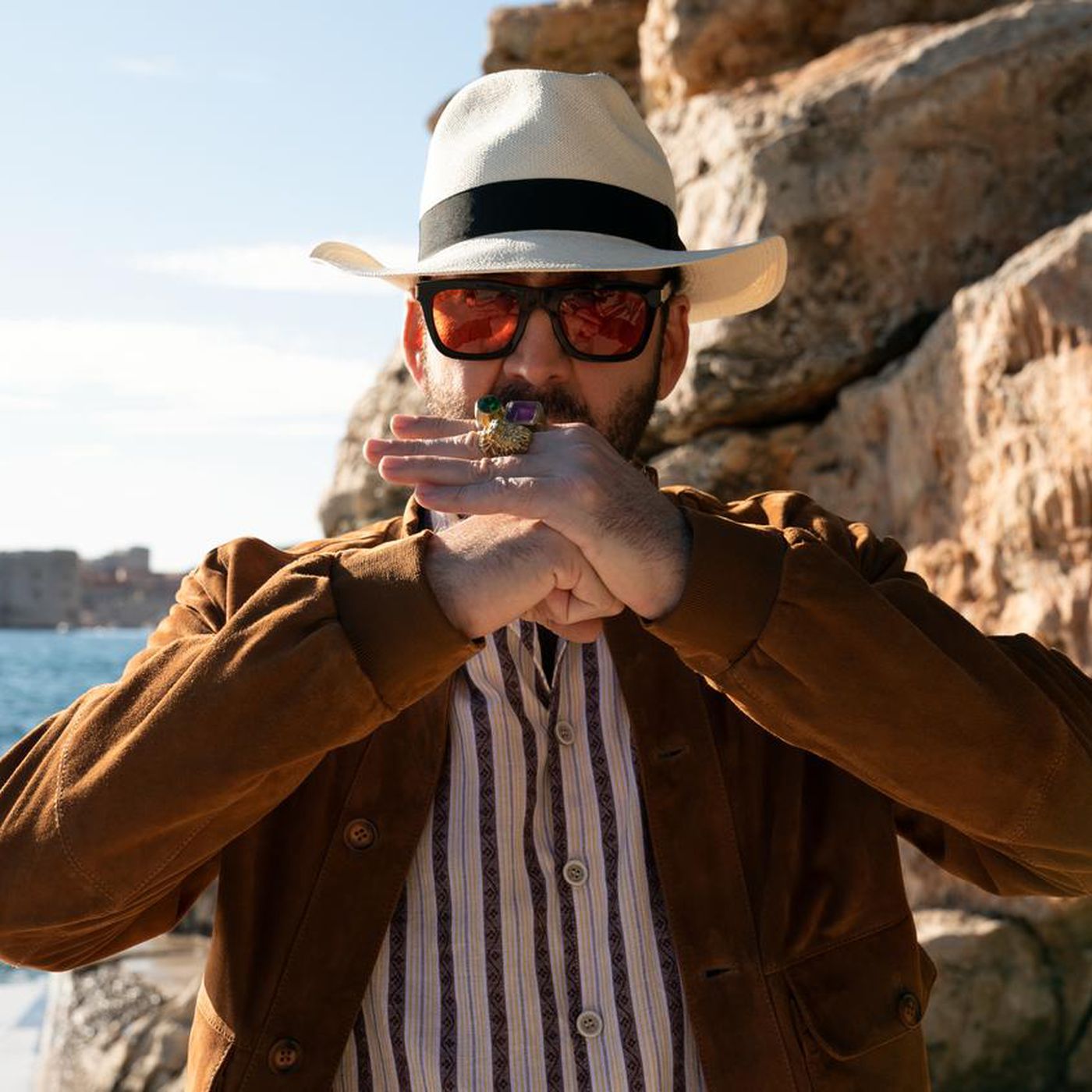 Nick wants to get back on top the old-fashioned way – by earning it. His figment-of-the-imagination alter-ego, who goes by the name of "Nicky" (a.k.a. "Nicolas Kim Coppola") and uses CGI de-aging to recreate Cage's Wild at Heart look, bullies him into trying for splashy roles rather than those that might showcase his acting. When he is turned down for a promising job by David Gordon Green (playing himself in a cameo) and is without a paycheck with the bills coming due, he is forced to accept an invitation to travel to Mallorca to entertain Javi Gutierrez (Pedro Pascal), who offers a $1M salary for a few days' work. Unfortunately, there's some dispute about how Javi has acquired his millions. The FBI believes him to be an international weapons smuggler and has two agents – Vivian (Tiffany Haddish) and Martin (Ike Barinholtz) – on the job. Both are surprised by Cage's appearance and they have a spirited argument about his best film.
How good is the movie? If the same production had been mounted with Cage playing a generic down-on-his-luck actor, viewers would have noted the "real life" similarities but that version of The Unbearable Weight of Massive Talent would have merited little more than a collective shrug. Although it's true that the movie is more amusing than many action/comedies and doesn't take the "plot" as seriously as some (focusing less on the criminal elements and more on the buddy-film aspects), the only thing special about the film is Cage playing a distorted version of Cage. The idea is more enticing than the actuality. The movie also has fun with a couple of non-Cage titles: The Cabinet of Dr. Caligari (identified by Nick as a favorite) and Paddington 2 (a surprise entry into Javi's personal Top 3).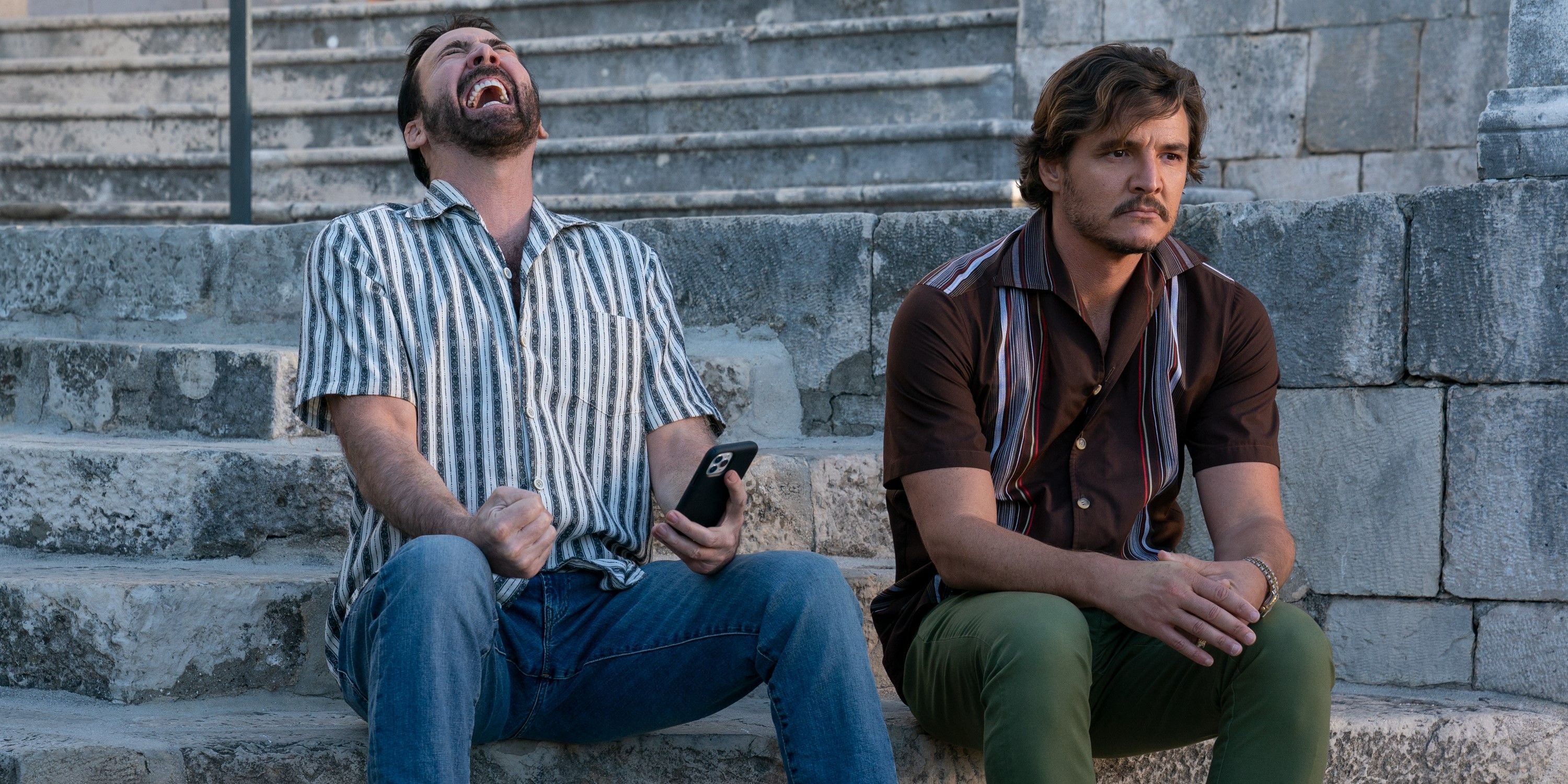 Over the course of a long and productive career, Cage's versatility has earned him a legion of fans and those who consider themselves to be in that category will be satisfied by both the actor's performance and the narrative into which it is woven. Cage plays Cage with a hint of self-mockery and adequate self-awareness. Despite the nearly constant stream of references of everything from Con Air to Leaving Las Vegas, he isn't really playing himself (something he did do in David Gordon Green's Joe). Cage has taken the real "Nic" out of the part, leaving behind only superficial aspects. The best part of his portrayal? The chemistry that develops between Cage and Pedro Pascal. Other participants include Sharon Horgan as Nick's ex-wife, Lily Sheen as his (fictional) daughter, and Neil Patrick Harris as his agent (whose last name is Fink).
When initially approached about the project by the filmmakers, Cage was reluctant. He relented at just the right time. After spending years churning out direct-to-video title after direct-to-video title, Cage has again been getting good reviews for some of his recent projects. Because The Unbearable Weight of Massive Talent is so much better than 75% of what Cage has made during the past decade, a certain degree of overpraise is to be expected. It's a painless diversion – no more, no less – that gets an injection of energy from the lead actor's willingness to not take himself too seriously.
---
Unbearable Weight of Massive Talent, The (United States, 2022)
---

Three...better movies of this genre
worse movies of this genre
Three...better movies of Nicolas Cage
worse movies of Nicolas Cage
Three...better movies of Pedro Pascal
(There are no more better movies of Pedro Pascal)
worse movies of Pedro Pascal
Three...better movies of Tiffany Haddish
(There are no more better movies of Tiffany Haddish)
worse movies of Tiffany Haddish