Movies starring Amanda Bynes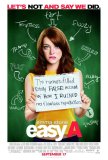 Easy A
Most movies about teenagers come in one of two flavors: romantic comedies or sex comedies. Then there are films like Easy A - smart, satirical jabs at aspects of popular culture that defy simplistic classification. These may be set in schools but... Hairspray
Hairspray follows in the footsteps of Little Shop of Horrors and The Producers as campy movies that became even more campy stage musicals before returning to the screen in lavish song-and-dance productions. (Spamalot may be the next title to follo... Robots
Robots is every bit as visually engaging as the best of the Pixar (or Dreamworks) digitally animated fare. The landscapes are stunning, the characters are intricately formed, there's plenty of break-neck action, and Robin Williams provides a helpi... She's the Man
"Be not afraid of greatness: some are born great, some achieve greatness and some have greatness thrust upon them". - Twelfth Night, Act II, Scene V That single quotation, and a few of the names and plot points are all that remain of Shakespeare...