Movies starring Ariadna Gil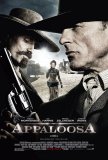 Appaloosa
One of the most evident signs of the shift in movie-goers' tastes over the years has been the decline of the Western. Once among the most popular of film genres, it now ranks near the bottom. If there's a benefit to this downturn, it's that mode... Belle Epoque
"Belle Epoque is the story of Paradise: too good to last. It's about the discovery of life, but the real one, I mean: freedom, art, love, sex, friendship...all the things that make life interesting. It's an oasis... Maybe it's too idealistic, b... Pan's Labyrinth
One of the most anticipated releases of the 2006 holiday season is the latest offering from Mexican director Guillermo del Toro, whose previous credits include The Devil's Backbone, Blade 2, and Hellboy. With Pan's Labyrinth, del Toro opens a lands...