Movies starring Ashley Scott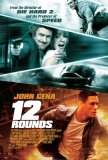 12 Rounds
12 Rounds is the unholy stepchild of Die Hard with a Vengeance and Speed, starring a man whose lack of range makes Steven Seagal seem nuanced by comparison. John Cena is so wooden that one worries about his being in scenes with fire for fear that ... Into the Blue
On some level, I feel that I should have been able to enjoy Into the Blue. It has all the elements one would expect from a "so bad it's good" feature: cheesy dialogue, a script that could have been written by two chimpanzees, acting that would mak... Walking Tall
The Rock's on a roll. Anyone who doubts Dwayne Johnson can be the new millennium's answer to Arnold needs to look no further than his recent resume. The parallels are astonishing. Both come from non-acting fields where brawn is a key requisite. ...