Movies directed by Renny Harlin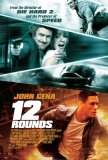 12 Rounds
12 Rounds is the unholy stepchild of Die Hard with a Vengeance and Speed, starring a man whose lack of range makes Steven Seagal seem nuanced by comparison. John Cena is so wooden that one worries about his being in scenes with fire for fear that ... Cliffhanger
Gabe Walker (Sylvester Stallone) is a member of a mountain climbing rescue team. When one of his operations goes wrong and the girlfriend of his best friend, Hal Tucker (Michael Rooker), is killed, Gabe blames himself and leaves. Eight months lat... Cutthroat Island
Renny Harlin, whose previous directorial efforts include Die Hard 2 and Cliffhanger, seems fond of big, explosive action pictures. Unfortunately, excepting his debut (the middle film in the Die Hard trilogy), plot coherency hasn't been a particula... Deep Blue Sea
At first glance, Deep Blue Sea might look like just another dumb, pointless monster movie crawling from the depths to take a run at the mid-summer box office chart. However, while I won't argue that this creature feature is going to enrich the min... Die Hard 2
It's rare that the sequel to a good movie lives up to expectations. Such is the case with Die Hard 2, the somewhat-muddled but still entertaining return of Bruce Willis' John McClane. Fortunately, the original Die Hard was good enough that there'... Mindhunters
What should a viewer expect from a movie that has lain in limbo for more than two years while at least three aborted release dates passed it by? Pretty much what Mindhunters delivers. The only outstanding question is why Dimension decided to dump t...