Movies starring Dougray Scott Dark Water
Dark Water is the latest in the gaggle of Japanese ghost stories turned into major American motion pictures. The obvious virtue of this effort is that, unlike its predecessors The Ring and The Grudge, it makes sense. The problem is that director ... Mission: Impossible II
For those who didn't get enough of James Bond late last year when The World Is Not Enough blazed its way into theaters, Mission: Impossible II offers a chance to once again get shaken and stirred. Oh, the film isn't an official entry into the dura...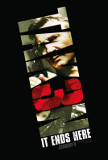 Taken 3
Taken 3 is exactly what one might anticipate from an unnecessary sequel in a mediocre franchise. Even those desperate for a Liam Neeson action fix may be disappointed. The film, directed like its immediate predecessor by Luc Besson disciple Olivier M...