Movies starring Eva Marie Saint North by Northwest
Most movie-goers will concede that, during his Hollywood years, Alfred Hitchcock crafted four masterpieces: 1954's Rear Window, 1958's Vertigo, 1959's North by Northwest, and 1960's Psycho. What divides fans and critics about these movies is choo... On the Waterfront
The recipient of eight Oscars (including Best Picture), On the Waterfront represented a defining moment in the careers to two key participants: actor Marlon Brando and director Elia Kazan. A gritty, uncompromising look at union corruption on the d... Superman Returns
At the end of Superman II, the producers promised "Coming Soon: Superman III." It has taken 26 years for that promise to be fulfilled. To be sure, there were movies in the 1980s called Superman III and Superman IV, but those were bad jokes masquera...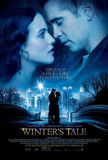 Winter's Tale
We live in a cynical world. A romantic fairy tale like Winter's Tale might have worked better in a kinder, gentler age but, in today's era of sarcasm and scorn, its flaws (of which there are many) are magnified. For something this sentimental to wo...