Movies starring Jodelle Ferland Silent Hill
When it comes to movies based on computer games, Silent Hill is not the Holy Grail, but it's a step in the right direction. The film is overlong, with too many unnecessary scenes (a lot of the movie seems like pointless running around), but it pac... Tideland
Time and time again throughout Terry Gilliam's career, the director has been forced to endure studio interference. According to executives at some of the companies that have distributed the former Monty Python animator's films, his creative vision...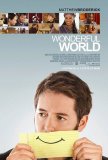 Wonderful World
Wonderful World feels like a modern-day half-baked riff on Charles Dickens' A Christmas Carol. Despite a film festival pedigree (it was shown at a number of local festivals on the 2009 circuit), the movie is so lightweight and inconsequential that ...