Movies starring Matt Craven Assault on Precinct 13
What is the world coming to when the film community is remaking John Carpenter movies? Admittedly, Assault on Precinct 13 isn't the best example of Carpenter's expert craftsmanship, but it was the picture that got him noticed, and that notice enab... Crimson Tide
Crimson Tide is a white-knuckler with a cop-out ending. It's a thrill-a-minute ride that concludes with a whimper, like a roller-coaster that has all the drops and twists early. Make no mistake, this is a good source of early summer fun, but with...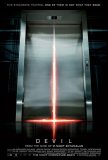 Devil
The underlying premise of Devil is the kind of thing Alfred Hitchcock could have used to develop a tightly-wound, pulse-pounding suspense movie. Unfortunately, Hitchcock is dead and the two men shepherding Devil through its production are not near...