Movies starring Matthew Perry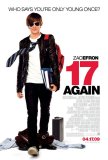 17 Again
The reason "body swap" movies (in which someone's mind is transposed into a different body) are so popular is because they are ripe with potential. Unfortunately, that potential is rarely reached. Productions like Big and Prelude to a Kiss are th... Whole Nine Yards, The
The Whole Nine Yards suffers from split personality syndrome - it's a strange hybrid of film noir and comedy. At first, this might not seem like an unusual approach, until you recall that most movies of this ilk are satires. That's not what's goi... Whole Ten Yards, The
I might have felt sad about what director Howard Deutch and screenwriter George Gallo have done to the characters from The Whole Nine Yards if I cared about them in the first place. The problem with a movie like Jonathan Lynn's 2000 noir comedy is...