Movies starring Michael Rapaport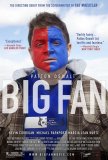 Big Fan
There are different kinds of sports fans. The casual aficionado will check the papers for game results and occasionally watch the broadcast (or part of one) of an event and, while he (or she) will not be indifferent to the victory or loss of a fav... Deep Blue Sea
At first glance, Deep Blue Sea might look like just another dumb, pointless monster movie crawling from the depths to take a run at the mid-summer box office chart. However, while I won't argue that this creature feature is going to enrich the min... Mighty Aphrodite
The film opens in an amphitheater in Greece, with an appropriately-garbed Greek chorus chanting of the deeds of Achilles and Oedipus. Suddenly, unexpectedly, the masked men and women decide to switch to the tale of Lenny Weinrib (Woody Allen) -- d...