Movies starring Mimi Rogers Austin Powers: International Man of Mystery
Through the years, there have been many big-screen attempts to satirize James Bond, from the terrible misfire Casino Royale to the recent, even-worse Spy Hard. In between, even the "official" Bond series got in on the act -- during the Roger Moore... Door in the Floor, The
As a character study that examines a pair of reprehensible individuals, The Door in the Floor does an excellent job. The problem with the film is simple: how many people want to spend nearly two hours in the company of such characters. The viewe... Dumb and Dumberer
Just when I thought it was safe to go back in theaters on Friday the 13th – with Jason having decided to postpone his duel with Robert Englund's nightmare-prowling pizza face until later in the summer – along comes a seemingly innocent movie th... Lost in Space
Lost in Space is New Line Cinema's bid to enter the space franchise race. Undoubtedly impressed by the long-term, consistent profitability of Paramount's Star Trek movies (the ninth of which will be released this year), New Line has decided to res...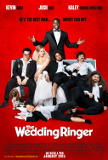 Wedding Ringer, The
Kevin Hart may be the next great raunchy comedian movie star - a high-energy performer capable of juggling drama and comedy while following in the footsteps of Robin Williams, Eddie Murphy, Jamie Foxx, and others. If that's the case, The Wedding ...