Movies starring Thomas Hayden Church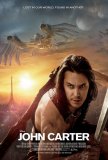 John Carter
With its derivative story elements, epic scope, and straightforward action orientation, John Carter is a throwback to a simpler time when it was enough to have a heroic protagonist face off against all manner of monsters and bad guys. The special e... Over the Hedge
Over the Hedge, a feature-length adaptation of the popular comic strip, offers further proof that the Golden Age of Digital Animation has come and gone. This is arguably the most entertaining animated film since The Incredibles, but it's not much ... Sideways
Sideways is from Alexander Payne (Election, About Schmidt), whose films simultaneously satirize and observe life in America. Unlike David Lynch, who uses saws and butcher knives to dissect the American dream, Payne prefers a scalpel. Lynch often ri...