Movies with cinematographer Lee Daniel Before Sunrise
Richard Linklater, the creator of Slackers and Dazed and Confused, has succeeded where many before him have failed -- in fashioning a modern-day romance that is both original and enthralling. Before Sunrise is nothing short of movie magic, and the... Before Sunset
Forget Spider-Man's tussle with Doc Ock. Forget Shrek's trek to Far Far Away. And forget Harry Potter's latest attempt to endure the snipes of Snape. For me, the sequel to see during the summer of 2004 is Richard Linklater's Before Sunset, a fol...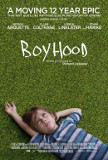 Boyhood
One thing becomes clear upon watching Boyhood: director Richard Linklater is fascinated by the concept of following a fictional character through real time. Most filmmakers lack the patience to attempt something like this. In spirit, if not in the ... Fast Food Nation
The idea underlying Fast Food Nation is intriguing: take the premise of the best-selling non-fiction book by Eric Schlosser and convert it into the backstory of a fictional film. Where director Richard Linklater runs into trouble is in the executi...