Movies directed by Henry Selick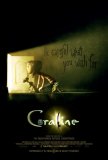 Coraline
Henry Selick has a particular sensibility and, when choosing material for his movies, he seeks stories that fit into the slightly twisted, quasi-fairy tale realm where he feels comfortable working. Thus, in the past, he has collaborated with Tim B... Nightmare Before Christmas, The
When I was a child, one of the reasons I enjoyed the Christmas season so much was the annual arrival of those endlessly-repeated television specials: Rudolph, the Red-Nosed Reindeer, Santa Claus is Coming to Town, The Year Without a Santa Claus. ... James and the Giant Peach
Almost everything that was true of 1993's Nightmare Before Christmas holds for 1996's James and the Giant Peach. Based (rather faithfully) on Roald Dahl's children's story, this movie uses a combination of live-action sequences and stop-motion an...