Movies directed by Robert Redford Horse Whisperer, The
Low, gray clouds scud across the sky while the grass of a seemingly-endless plain ripples in response to the prompting of a spring breeze. Thunder rumbles in the distance. On another day, a bright sun gazes down on those same fields while cattl... Lions for Lambs
Lions for Lambs is one of those movies in which the principals talk a lot but don't say much. The film is built not upon characters and plot but upon ideas. That would be fine if the ideas were revolutionary or interesting, but they're fairly com...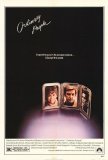 Ordinary People
The passage of time often impacts how films are viewed. Some, like Citizen Kane, evolve from being modest successes into masterpieces. Others, like Robert Redford's Ordinary People, do not fare as well. Lauded by critics and the Academy alike, O... Quiz Show
"Something changed with this [quiz show scandal]. It really marked the end of a period of innocence in our social history. No longer did people believe that what you saw on television was the truth... It may sound peculiar to us today that a...