Movies directed by Roland Joffe Captivity
When it comes to movies, I am not a crusader. Rarely do I find the content of a motion picture objectionable on ethical grounds. Then again, films as morally repugnant as Captivity don't come along too often (thankfully). There is no requirement...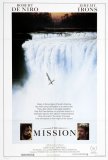 Mission, The
Spoilers: This review speaks in specific terms about the ending of the film. If you haven't seen it and intend to do so, avoid reading beyond the first few paragraphs. The Mission represented Roland Joffé's follow-up to his deeply unsettling... Scarlet Letter, The
Welcome to Massachusetts, 1666, where Puritans, Indians, and adultery come together in Roland Joffe's overlong, overwrought re-interpretation of Nathaniel Hawthorne's classic, The Scarlet Letter. Literary purists will be aghast at some of the libe...