Movies directed by Taylor Hackford Devil's Advocate, The
Taylor Hackford's The Devil's Advocate has many laudable qualities, but subtlety is not among them. The story, which postulates that the devil is walking among us today, gives Satan's human alter-ego a truly obvious name: John Milton (for those w...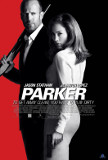 Parker
Parker delivers just about what the average viewer would expect from it: a Jason Statham-flavored action thriller (as opposed to, say, a Matt Damon-flavored action thriller or a Rock-flavored action thriller). Statham, like John Wayne in his heyday... Ray
Taylor Hackford's Ray has a tremendous performance by Jamie Foxx and a soundtrack that is jammed with recordings by the late Ray Charles, but both work in service of a paint-by-numbers screenplay that runs too long and could have been developed in ...