Movies starring Richard Schiff Arrival, The
The biggest alien invasion picture of the summer of 1996 is Independence Day. But it's not the first. The Arrival, with a significantly lower budget than Fox's July 3 release, has that distinction, and, while this particular film doesn't boast an... Dr. Dolittle
When I first heard that Twentieth Century Fox intended to re-make Dr. Dolittle with Eddie Murphy in the title role, I suspected that it was a bad move (the success of The Nutty Professor notwithstanding). Now that I have endured the 85 minute moti... Lost World, The: Jurassic Park 2
When Jurassic Park was released in 1993, it set a new standard for state-of-the-art visual and audio effects. It was suddenly possible to see humans and dinosaurs interacting in a way that had never before been possible, and to feel the entire theat...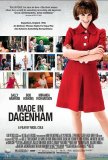 Made in Dagenham
Made in Dagenham is a fact-based "social conscience film," meaning that it explores an historical struggle against a societal ill. In this case, it's gender inequality - unequal pay for equal work. By chronicling one of the key events that led to t... Ray
Taylor Hackford's Ray has a tremendous performance by Jamie Foxx and a soundtrack that is jammed with recordings by the late Ray Charles, but both work in service of a paint-by-numbers screenplay that runs too long and could have been developed in ...