Search for Ethan Hawke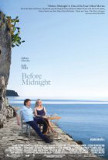 Before Midnight
Richard Linklater's Before trilogy (Before Sunrise, Before Sunset, Before Midnight) looks to be headed in the same direction as Michael Apted's Up series: an exploration of the human condition over the passage of time. When Linklater and actors Eth... Before Sunset
Forget Spider-Man's tussle with Doc Ock. Forget Shrek's trek to Far Far Away. And forget Harry Potter's latest attempt to endure the snipes of Snape. For me, the sequel to see during the summer of 2004 is Richard Linklater's Before Sunset, a fol... Hottest State, The
Like Woody Allen's Annie Hall but without the humor, The Hottest State tells the full story of a relationship: the first meeting, the Honeymoon phase, then the bitter deterioration of love into anger and recrimination. Ethan Hawke has taken his 19...