Movies with music written by Michel Legrand Les Miserables
Claude Lelouch's Les Miserables is one of the year's motion picture triumphs: an epic drama that takes the themes of Victor Hugo's novel and transplants them to the twentieth century. Rather than merely re-telling a story that has previously been...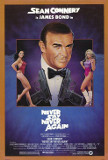 Never Say Never Again
In 1971, following the release of Diamonds Are Forever, Sean Connery announced that he would "never again" play the role of James Bond. As a result, the producers brought in Roger Moore, and the series continued. 12 years later, in 1983,... Ready to Wear
"[Ready to Wear/Pret-a-Porter] is just a silly little movie, it's not a serious epic. So just enjoy, laugh with it, have a good time. It's no big deal." - Robert Altman, director of Ready to Wear One wonders whether Robert Altman arrived at ... Umbrellas of Cherbourg, The
By the 1990s, the movie musical has become a dead art form. Four recent revival attempts have not been met enthusiastically. The first two, Newsies and Sarafina, went to video after approximately one-week theatrical runs (even the Disney name c...