Movies starring Sophia Loren Grumpier Old Men
As 1993 drew to a close, movie-goers in search of light entertainment were treated to the delightful (if formulaic) Grumpy Old Men, a reunion of the often-paired odd couple of Jack Lemmon and Walter Matthau. Now, two years later, John Gustafs...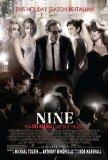 Nine
Nine represents director Rob Marshall's second big-screen musical spectacle. His previous effort, Chicago, won an Oscar; although Nine is likely to win its share of praise, it probably won't come close to achieving the same level of acclaim. Alth... Ready to Wear
"[Ready to Wear/Pret-a-Porter] is just a silly little movie, it's not a serious epic. So just enjoy, laugh with it, have a good time. It's no big deal." - Robert Altman, director of Ready to Wear One wonders whether Robert Altman arrived at ...