Nine (United States, 2009)
December 15, 2009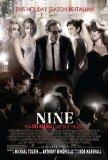 Nine represents director Rob Marshall's second big-screen musical spectacle. His previous effort, Chicago, won an Oscar; although Nine is likely to win its share of praise, it probably won't come close to achieving the same level of acclaim. Although the production numbers are equally impressive, this film is neither as inspired nor as rousing. Part of the problem may be that there are too many high profile actresses vying for the spotlight and each has to be given her moment to shine. Also, despite following its stage inspiration and bringing structure to Fellini's 8 1/2 (the ultimate source material), Nine still suffers at times from a lack of narrative drive and it doesn't have the surreal, dreamlike quality of 8 1/2 to fall back upon.
The story unfolds in 1960s Italy where the biggest Italian film director, Guido Contini (Daniel Day-Lewis), is about to embark upon his latest (and ninth) project. The production, called Italia, is shrouded in secrecy, primarily because Guido is suffering from writer's/director's block. He hasn't written a line of the screenplay. About the only thing he knows is that Italia will star his muse, international sensation Claudia (Nicole Kidman). Feeling burned out and pressured by the "money men," Guido checks into a spa, but his problems follow him. His mistress, Carla (Penelope Cruz), turns up, as does his long-suffering wife, Luisa (Marion Cotillard). He is also being pursued by an American journalist named Stephanie (Kate Hudson). His favorite costume designer, Lilli (Judi Dench), tries to keep him on the straight-and-narrow, but without much success. He has daydreams and flashbacks of himself as a nine-year old interacting with his mother (Sophia Loren) and watching the erotic dancing of Saraghina (Fergie). As the threads of Italia's framework slip through his fingers, Guido appears headed for a nervous breakdown and perhaps a separation from his beloved Luisa.
Nine contains ten songs, three of which were written specifically for the movie. All are solos, with Daniel Day-Lewis and Marion Cotillard getting two apiece while the other six actresses each receive one. Although some of the songs advance the plot, several feel as if they have been included specifically to give an actress a chance to sing and dance. This is especially true of Kate Hudson's Stephanie, whose "Cinema Italiano" was not in the Broadway production. Fergie's "Be Italian," despite being one of the musical's best numbers, is also extraneous. Too often, the narrative portions of Nine feel like bridges to move from one song to the next. In the best musicals, song and dialogue blend seamlessly; that's not always the case here.
Regardless of whether they appear to "belong" or not, the nine numbers are professionally staged. The actors, some of whom are not known for their singing voices, uniformly impress. Who knew Daniel Day-Lewis and Kate Hudson could sing? The most powerful song, "Take It All," is delivered by Marion Cotillard with a level of passion and intensity that surpasses any non-singing moment. Cotillard is uniformly good, however, easily outshining her female co-stars. Her scenes with Day-Lewis are dramatically effective. By the end of the film, although the average viewer won't care whether Italia gets made, he may be wholly invested in the Guido/Luisa relationship. That's where the payoff lies. It is, however, a little disappointing that there's no big number to close out the movie. Most musicals save their best for last; Nine closes on an oddly low-key note.
The most awkward character is Stephanie, who seems to have been shoehorned into the production to provide another excuse for a song. Her number, the aforementioned "Cinema Italiano," is enjoyable; it just doesn't seem to belong. And Guido's near-dalliance with her occurs at a critical point during his marital strife when it is unlikely he would be interested in pursuing any woman other than Luisa. Stephanie disappears from the movie after this, to reappear only when everyone gathers for a fantasy sequence near the end.
A number of the songs are burlesque numbers - one of Cotillard's as well as the dances of Fergie, Dench, Cruz, and Hudson. The "PG-13" rating limits the amount of flesh that can be shown (there is no nudity beyond a brief hint by Cotillard at the end of "Take It All"), but Nine is awash in innuendo, hip gyrations, and crotch grabbing. Still, the proceedings seem tame - almost as if the practicality of avoiding an "R" restrained Marshall from taking a few of the numbers a little further (in particular, "Take It All" and "Be Italian").
Daniel Day-Lewis, one of today's most serious method actors, channels equal parts Fellini and Marcello Mastroianni. As far as he's concerned, this is a serious endeavor that just happens to feature a few songs. Day-Lewis' performance brings a level of dramatic heft to Nine that at times makes the tone funereal. This is not a happy motion picture, which makes the peppy, poppy nature of "Cinema Italiano" seem especially out of place as compared to the bitter, angry "Take It All." Nine's handling of two key themes from 8 1/2 - the struggle between commerce and art in motion pictures and the difficulty of breaking a creative block- are watered down to the point where they're minor elements. They're present, but the film doesn't do anything interesting or unique with them.
Nine, which was awarded numerous Tony awards during both its original 1982 run and a 2003 revival, works better on stage, where the audience is there experiencing things live. Marshall experiences difficulty melding the inherent spectacle of the musical numbers with the intimacy of the drama and the mix of fantasy and reality that are carry-overs from 8 1/2. Nine is entertaining (particularly when someone is singing), but this isn't on the crowd-pleasing level of a Chicago or a Dreamgirls. However, there's little shame in being "merely" engaging in an era when big-budget musicals are members of an endangered species.
---
Nine (United States, 2009)
---
Three...better movies of this genre
worse movies of this genre
Three...better movies of Daniel Day-Lewis
worse movies of Daniel Day-Lewis
(There are no more worst movies of Daniel Day-Lewis)
Three...better movies of Marion Cotillard
worse movies of Marion Cotillard
Three...better movies of Penelope Cruz
worse movies of Penelope Cruz