Movies with screenplay written by Mitchell Kapner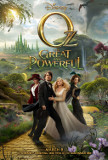 Oz the Great and Powerful
Oz the Great and Powerful is director Sam Raimi's prequel to The Wizard of Oz. This new vision of The Land of Oz is an imaginative mix of live-action and CGI that pays homage to the iconic images and timeless sense of wonder in the classic The Wiza... Whole Nine Yards, The
The Whole Nine Yards suffers from split personality syndrome - it's a strange hybrid of film noir and comedy. At first, this might not seem like an unusual approach, until you recall that most movies of this ilk are satires. That's not what's goi...