Addams Family 2, The (U.K./U.S.A/Canada, 2021)
October 01, 2021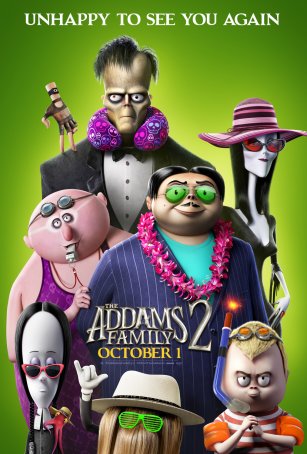 In 2019, Sony Pictures gambled that sufficient nostalgia still existed for The Addams Family for a new motion picture iteration (animated, based on the cartoons of Charles Addams) to be lucrative. The producers who greenlit the production were proved right, even if the creative end result was tepid at best. The new cartoon contained the elements necessary to engage children and provide adults with a chance to bask in their memories of the classic TV series (or the 1990s films). Impressive box office returns meant that an Addams Family 2 was inevitable. The hope was that, having gotten the "origin story" out of the way, the filmmakers might be able to do something with the fish-out-of-water concept. Unfortunately, the sequel has even less of a reason to exist than its predecessor. A series of loosely connected skits, The Addams Family 2 lacks a coherent narrative and appears to have been targeted almost exclusively at the pre-teen crowd. Right down to the too-obvious-to-miss breaks in the action (designed for commercial insertion when it's streamed on Peacock), this has a made-for-TV feel.
With the lone exception of Finn Wolfhard as Pugsley, who has been replace by Javon Walton, the cast has returned: Oscar Isaac as Gomez, Charlize Theron as Morticia, Chloe Grace Moretz as Wednesday (whose role is increased for this installment), Nick Kroll as Uncle Fester, Conrad Vernon as Lurch, Bette Midler as Grandma, and Snoop Dogg as Cousin It. The only newcomer of note is Bill Hader, who plays the devious Cyrus.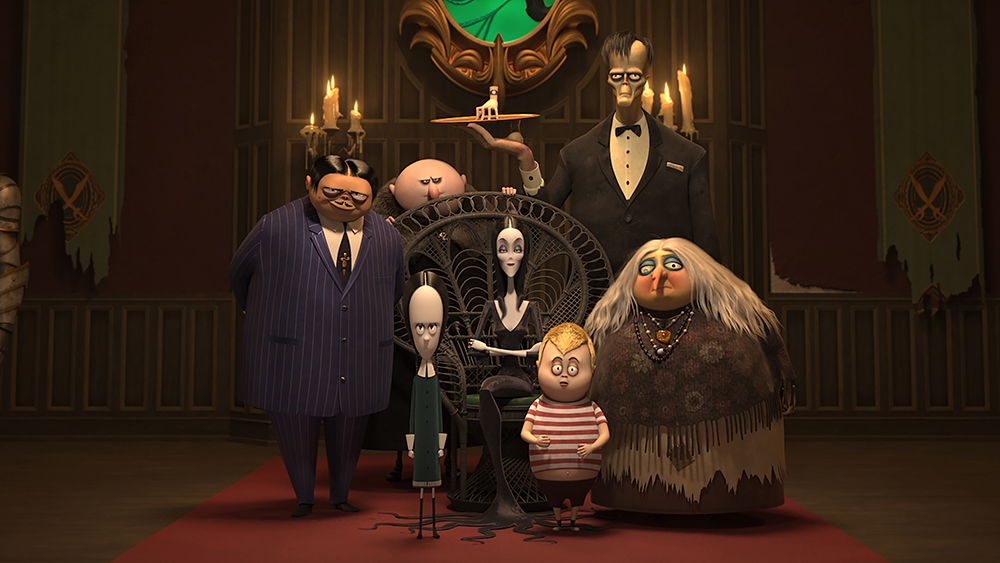 The movie might easily be called The Addams Family Goes on Vacation. In an effort to get closer to their aging kids, Gomez and Morticia bundle Wednesday and Pugsley abord a creepy RV and go on a cross-country journey, stopping at such notable spots as Niagara Falls, Sleepy Hollow, and the Grand Canyon. The final destination is Sausalito, where Cyrus, a scientist and megalomaniac, has set up his high-tech laboratory. Cyrus claims that Wednesday is his biological daughter (switched at birth) and wants to welcome her into his family. Of course, he's not being entirely forthcoming and events climax with nothing short of an improbable kaiju-inspired knock-down.
Visually, the movie works. The animation isn't top-notch, Pixar-quality but neither is it bottom-of-the-barrel. The character designs generally do a good job of realizing Charles Addam's original drawings while at the same time incorporating traces of the actors providing the voices. For example, Gomez resembles Peter Lorre with hints of Oscar Isaac. If you look closely at Morticia, you'll see a faint resemblance to Charlize Theron. This is by far the most interesting aspect of The Addams Family 2.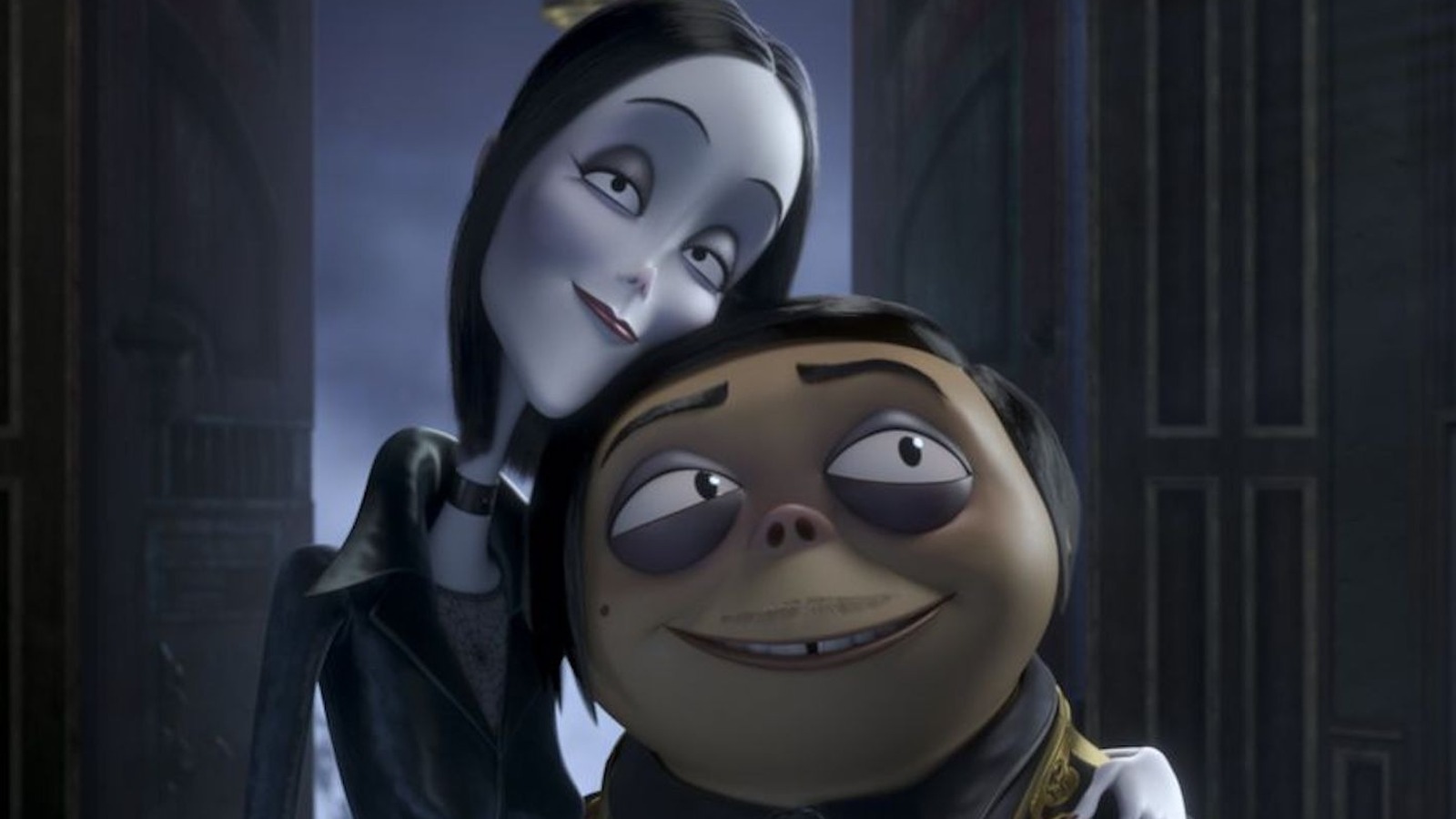 The story is the kind of thing one might expect from a movie that was put together quickly for financial gain. It's pure product. The screenplay takes the Addams Family on a road trip stopping off at various locations but none of the skits are especially amusing or otherwise fun. They also illustrate why the basic premise works best in small doses. Taken individually, each of these episodes might have made a passable short piece of entertainment but, combined together, they result in an overlong exercise in mediocrity.
To employ an overused saying, The Addams Family 2 "is what it is." I suspect most who enjoyed the first movie will be entertained by this sequel, although perhaps not to the same degree. It's generic but not so bad that it becomes unwatchable. The lack of inspiration is emblematic of the entire animated genre these days; this example isn't an exception or an outlier. It's something to watch featuring familiar characters. Expectations of anything more are misplaced where this franchise is concerned.
---
Addams Family 2, The (U.K./U.S.A/Canada, 2021)
Director:
Greg Tiernan, Conrad Vernon
Cast:
Oscar Isaac
,
Charlize Theron
,
Chloë Grace Moretz
,
Nick Kroll
,
Javon Walton
,
Snoop Dogg
,
Bette Midler
,
Bill Hader
,
Wallace Shawn
Home Release Date: 2022-01-18
Screenplay:
Dan Hernandez & Benji Samit, based on characters created by Charles Addams
Cinematography:
Music:
Mychael Danna, Jeff Danna
U.S. Distributor: United Artists
---

Three...better movies of this genre
worse movies of this genre
Three...better movies of Oscar Isaac
worse movies of Oscar Isaac
Three...better movies of Charlize Theron
worse movies of Charlize Theron
Three...better movies of Chloë Grace Moretz
(There are no more better movies of Chloë Grace Moretz)
worse movies of Chloë Grace Moretz