Alice in Wonderland (United States, 2010)
March 05, 2010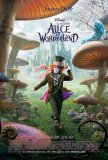 This review is based on an IMAX 3-D screening.
Lewis Carroll's "Wonderland" stories, much like the collected works of Roald Dahl, can be perceived from a number of perspectives. Although traditionally seen as a children's tale, Alice's Wonderland saga rides a dark undercurrent - something that can be a little creepy and unsettling. For his interpretation, Tim Burton - no stranger to the concept of a twisted fairy tale - has softened some of the sharper edges, added a dose of high octane action, and still managed to keep Alice in Wonderland in touch with its dark side. The movie carries a mild PG rating but may be too intense for younger children.
Burton, working from a screenplay by Linda Woolverton (who wrote the scripts for two Disney animated classics, Beauty and the Beast and The Lion King), brings a fresh perspective to the Alice in Wonderland chronicle while remaining principally faithful to the source material, at least in spirit if not in all the particulars. Here, Alice (Mia Wasikowska) is not a little girl. She's a 19-year old woman about to be forced into a socially advantageous but personally odious marriage. When she follows the White Rabbit (voice of Michael Sheen) down the rabbit hole and into Wonderland, it's as much to escape from the reality of her current situation as it is to visit a new world. In Wonderland, her coming is greeted with interest by the likes of the Cheshire Cat (voice of Stephen Fry) and the Blue Caterpillar (voice of Alan Rickman) since it is written that she will be the Champion of the White Queen (Anne Hathaway) in her battle against her evil sister, the Red Queen (Helena Bonham Carter). Alice is supposed to take up the Vorpal Blade and duel the Jabberwocky (voice of Christopher Lee) - except Alice has no interest in fighting anyone or anything. But after befriending the Mad Hatter (Johnny Depp), she gains a new respect for the land in which she is trapped.
Wonderland is a magical place to behold, although it in many ways resembles the otherworld of Narnia as recreated in the recent Disney co-produced pictures, The Lion, the Witch and the Wardrobe and Prince Caspian. Although Burton imprints his own macabre humor-tinged signature on a strange and wondrous place where six impossible things happen before breakfast, his vision is less overtly weird than it has been for past adaptations of literary works (Sleepy Hollow, Charlie and the Chocolate Factory). This is about as close as Burton gets to "playing it straight" and the result is engaging. One can quarrel about the level of action at the climax, which reinforces a growing belief that all family movies must be as frenetic as possible. (Remember the mini-Scrooge chase scene in Robert Zemeckis' A Christmas Carol?) Still, while this part of the movie owes more to Burton than to Carroll, it is effectively wedded to the overall story; I suspect few outside of Carroll's most devoted advocates will mind.
Mia Wasikowska, a 20-year old Australian-born actress, is immensely appealing Alice. Her interpretation of the character emphasizes all the right qualities: bravery, compassion, faithfulness, and heroism. Even though the dimensions of her body keep changing, the size of Alice's heart remains the same. For Wasikowska, despite not being a complete unknown in North America, having appeared in the monster movie Rogue and the HBO TV series In Treatment, this will expand her recognition into the stratosphere. She makes Alice in Wonderland her own, stealing it away from supporting actor Johnny Depp.
Speaking of Depp, he's a bit of a disappointment. The role of The Mad Hatter requires little more of Depp than that he act bizarre while going a little over-the-top - something he does exceedingly well. There's not much of a character there. It's almost as if Depp is on hand mainly because of the drawing power of his name. In fact, there has been a quality of sameness in Depp's most recent three live-action collaborations with Burton (with Sweeney Todd and Charlie and the Chocolate Factory preceding this one). Maybe it's time for them to take a break from one another.
A few words must be said about the decision to release Alice in Wonderland in 3-D: it's a money-grab. At best, 3-D is extraneous; at worst, it's distracting. The colors are muted and there is noticeable blurring during some of the most rapid action sequences. In the wake of Avatar, which raised the bar for 3-D, Alice in Wonderland is discouraging. I can imagine this will be a more enjoyable experience in 2-D. I remarked in my review of Avatar that the sense of immersion was so strong I forgot I was wearing the 3-D glasses. That was not the case here.
Comparing this live-action, special effects-rich version of Alice in Wonderland to the popular 1951 animated version is as ill-advised as comparing it to The Wizard of Oz, with which it shares traits. Burton has crafted something all-new for this generation, and has done a solid job with his re-imagining. It's a workmanlike effort that will enchant all but the youngest children while holding the interest of parents. That, by definition, makes for a worthwhile family outing.
---
Alice in Wonderland (United States, 2010)
Run Time: 1:48
U.S. Release Date: 2010-03-05
MPAA Rating:
"PG"
Genre:
FANTASY/ADVENTURE
Subtitles: none
Theatrical Aspect Ratio: 1.85:1
---
Three...better movies of this genre
worse movies of this genre
Three...better movies of Mia Wasikowska
worse movies of Mia Wasikowska
Three...better movies of Johnny Depp
worse movies of Johnny Depp
Three...better movies of Helena Bonham Carter
worse movies of Helena Bonham Carter