Jane Eyre (United Kingdom, 2011)
March 13, 2011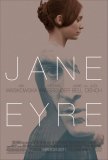 Jane Eyre is like Hamlet: a version arrives every few years without regard to whether a new adaptation is wanted or needed. It's not only a classic, but a staple as well, and many serious directors are itching to put their imprint upon it. The 2011 edition, a workmanlike effort in which the good choices outnumber the mistakes, is neither the best Jane Eyre nor the worst. It's somewhere in the middle of the pack, alongside its immediate cinematic predecessor, Zeffirelli's 1996 production. A better barometer for the necessity of Cary Fukunaga's film, however, might be its less-than-literate box office competition. Applying that consideration, maybe we do need this Jane Eyre after all.
It is impossible to fit the entirety of Charlotte Brontë's novel into a single two-hour movie, although it has been tried (rarely with much success). In order maintain a reasonable pace and not overwhelm the viewer with exposition overflow, cuts have to be made. In this case (as is often true with Jane Eyre adaptations), the filmmakers focus on the gloomy romance between Jane (Mia Wasikowska) and Rochester (Michael Fassbender). Other stages of her life, such as the period she spends at Gateshead Hall with her spiteful aunt, Mrs. Reed (Sally Hawkins), and her time at the Lowood Charity School, are relegated to brief flashback accounts. The film accords a little more time to the days Jane spends in the company of St. John Rivers (Jamie Bell) and his sisters, but that's primarily because this is used as a framing device that establishes the "present." The lion's share of screen time is devoted to Jane's years at Thornfield Hall (also presented in flashback), where she tutors Rochester's ward, forms a friendship with his housekeeper, Mrs. Fairfax (Judi Dench), and develops an infatuation for the master of the house.
The chief weakness evident in Fukunaga's adaptation is a lack of evident heat or passion in the relationship between Jane and Rochester. They go through the staid romantic motions but there's a palpable distance in their interactions, as if they remain strangers. In some ways, this may be a truer reflection of the novel's approach than can be found in sudsier versions, but it's difficult to become enraptured by the Jane/Rochester love story when one considers the relative coolness with which it is brought to the screen. This observation is not meant to impugn the performances of the leads. Both Mia Wasikowska and Michael Fassbender are very good in their respective roles. Wasikowska reminds us that she was the best thing about Alice in Wonderland. Her face often expresses thoughts and emotions more deeply than her dialogue intimates, and she brings a steely determination to Jane, who has at times been singled out as one of the first feminist heroines of Western literature. Fassbender, whose recent appearances include Fish Tank and Inglourious Basterds, continues a display of impressive range. Support is provided by Judi Dench as the friendly Mrs. Fairfax; Jamie Bell as St. John; and Sally Hawkins as Jane's petty, vindictive aunt.
Fukunaga elects to play up the gothic aspects of the novel. His interpretation of the romance may lack a strong emotional component, but there's an undercurrent of horror in the way he presents the story, including an actual "boo!" moment. The film boasts a dark, almost nightmarish atmosphere, and the lack of happy and/or uplifting moments fits perfectly with this tone. Even instances that should be suffused with joy, such as when Rochester proposes to Jane, are muted by the way in which Fukunaga desaturates actual and emotional color. (Thankfully, Jane Eyre is not in 3-D. If it was, the images would be so dark that it would impossible to follow the action.)
The strengths of the film can be traced back to the novel and to the unsparing pruning shears of screenwriter Moira Buffini, who slices away what can be cut without losing the heart and soul of the source material. The actors bring their characters to life, although none of the performances will be regarded as iconic and the interaction between the leads could use a spark to ignite the simmering sexual tension between them. Jane Eyre is good enough to provide lovers of classic literature with a reason to venture to theaters without being subjected to a salacious or demeaning adaptation. However, the film's stately approach, even with its horror overtones, is unlikely to win new converts to the Jane Eyre fan club, and there is nothing so definitive about the production that it will dissuade future filmmakers from bringing their interpretations to the screen.
---
Jane Eyre (United Kingdom, 2011)
---
Three...better movies of this genre
worse movies of this genre
Three...better movies of Mia Wasikowska
worse movies of Mia Wasikowska
Three...better movies of Michael Fassbender
worse movies of Michael Fassbender
Three...better movies of Judi Dench
worse movies of Judi Dench