Asteroid City (United States, 2023)
June 25, 2023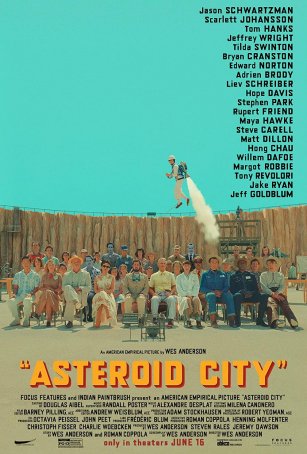 It takes about ten seconds to identify Asteroid City as a "Wes Anderson movie" and that's arguably the movie's Achilles Heel. Anderson's style and approach have become so baked-into his projects that they threaten to overwhelm the material. Like Woody Allen during the middle years of his filmography, there's a sense of sameness surrounding Anderson's movies even though the narrative material varies greatly. It's almost as if he's trapped by his brand and feels the constant need to double-down on his idiosyncrasies because that's what his fans expect.
In this case, the obtuseness is even more evident than in Anderson's previous endeavor, The French Dispatch. Here, he presents a story-within-a-story and uses wildly diverse production elements to delineate the two. The umbrella narrative focuses on the made-for-TV broadcast of a play called "Asteroid City." The majority of the movie presents the text of "Asteroid City" using 1950s-style aesthetics to bring the characters to life. The behind-the-scenes sequences are shot in black-and-white with a 1.33:1 aspect ratio. When the film takes us into the story, the screen expands to 2.35:1 and a hyper-realistic color palette comes into play, reminiscent of some of the most eye-popping Technicolor productions of the era.
The "outer story" employs a narrator (Bryan Cranston, who, in one of the film's best gags, accidentally stumbles into the main narrative and recognizes his error) who provides background on the play's feted writer, Conrad Earp (Edward Norton), as he seeks to bring his vision of "Asteroid City" to reality. We meet the actors and the director, Schubert Green (Adrien Brody), and are accorded various peeks at what goes on before the curtain opens.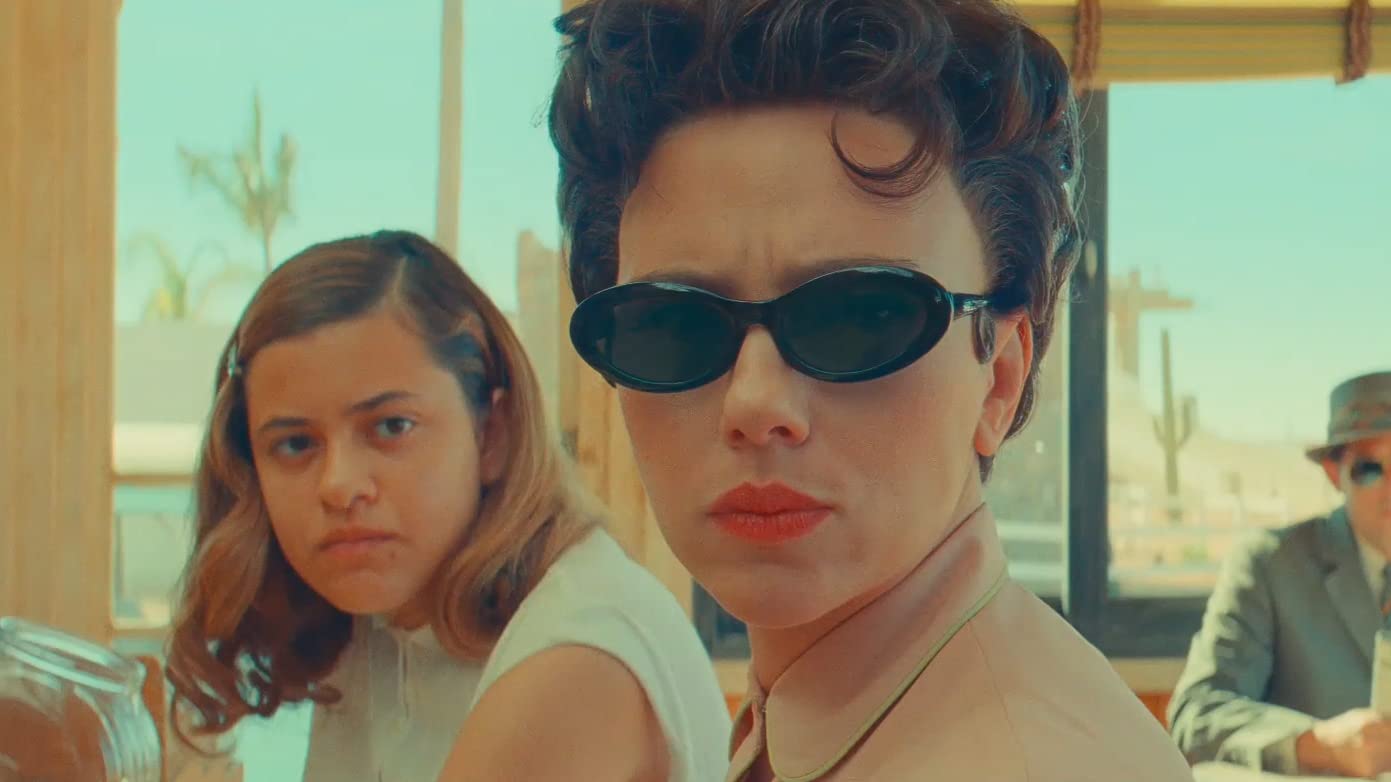 The "inner story" introduces viewers to war photographer Augie Steenback (Jason Schwartzman), his son Woodrow (Jake Ryan), and his three young daughters, who have traveled to Asteroid City so Woodrow can receive a Junior Stargazer award at an astronomy convention. Augie's wife (Margot Robbie) has recently died but he has yet to tell his children about their mother's demise. His father-in-law, Stanley Zak (Tom Hanks), is due to meet the family in Asteroid City and he pressures Augie to inform the kids of the truth before he arrives. Meanwhile, Augie strikes up a friendship with visiting actress Midge Campbell (Scarlett Johansson), whose daughter is another Junior Stargazer. Other participants in the convention include army General Grif Gibson (Jeffrey Wright) and astronomer Dr. Hickenlooper (Tilda Swinton). While events are ongoing, a UFO appears in the sky above the asteroid crater, a local tourist attraction, and an alien emerges to steal the meteorite that formed the crater. This "first contact" causes General Gibson to place the town under quarantine and institute a cover-up.
Anderson's whimsical approach to the story distances viewers from the characters so the main narrative is never seen as more than farcical commentary about government conspiracies and ufology. The dramatic elements are mostly inert, including a romance between Augie and Midge, Augie's difficulties coping with his wife's death, and Stanley's interactions with his daughter's family. Although the movie doesn't have many laugh-out-loud moments, the script is peppered with witticisms (in line with what we have seen from other collaborations between the director and Roman Coppola) and visual gags. In the middle of town, there's an unfinished overpass to nowhere. Out in the nearby desert, atom bomb tests frequently rock the ground. Random police chases occasionally zip along the town's main thoroughfare. And a confused roadrunner repeatedly crosses the road until the end credits arrive, when it does something else.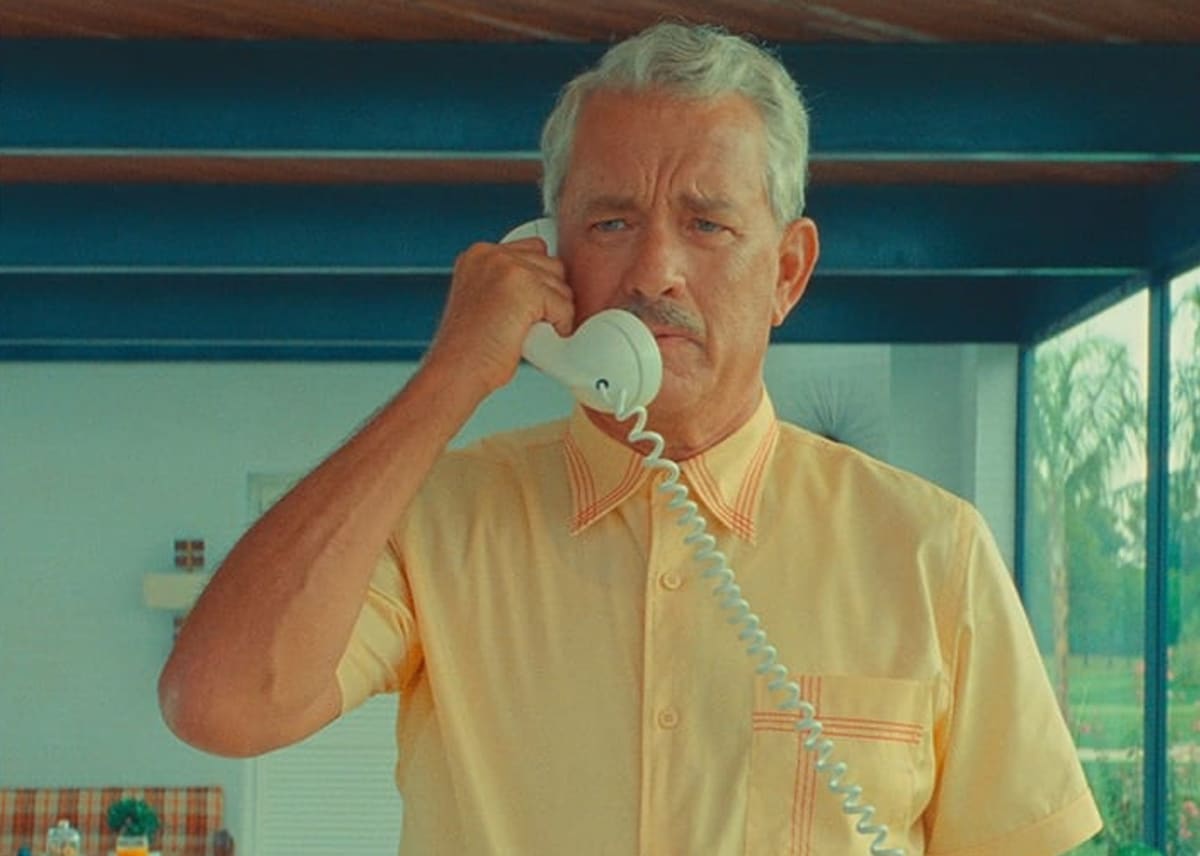 Like most Wes Anderson films (Moonrise Kingdom being a notable exception), Asteroid City works best as an uneven lark – a kind of extended mix of Saturday Night Live and Monty Python. It is visually arresting and filled with quirky comedic performances. The cast is as star-studded as any of the '80s Woody Allen ensembles, with small parts and cameos going to the likes of Liev Schreiber, Hope Davis, Maya Hawke, Rupert Friend, Steve Carell, Matt Dillon, Jeff Goldblum, Fisher Stevens, Bob Balaban, and Rita Wilson.
There's an argument to be made that Anderson is stuck in a self-indulgent rut but, although that's an accurate criticism, it's not entirely unwelcome (at least in small doses). The director's signature style can at times be off-putting and narrative often takes a backseat to approach but there's almost always enough on-screen to allow the viewer to put aside some reservations. Asteroid City doesn't represent Anderson in peak form but it's an occasionally enjoyable diversion that offers enough smiles and low-key laughs to paper over a few the filmmaker's annoying tendencies.
---
Asteroid City (United States, 2023)
Run Time: 1:44
U.S. Home Release Date: 2023-08-15
MPAA Rating:
"PG-13" (Nudity)
Genre:
Comedy
Subtitles: none
Theatrical Aspect Ratio: 2.35:1
---

Three...better movies of this genre
worse movies of this genre
Three...better movies of Jason Schwartzman
worse movies of Jason Schwartzman
Three...better movies of Scarlett Johansson
worse movies of Scarlett Johansson
Three...better movies of Tom Hanks
worse movies of Tom Hanks