Bernard and Huey (United States, 2018)
June 08, 2018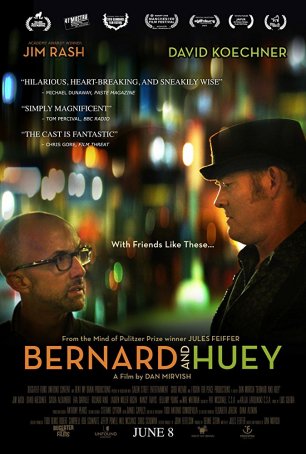 Perhaps the best way to describe Bernard and Huey is a coming-of-age story in absentia. When we meet the title characters, Bernard (Jim Rash) and Huey (David Koechner), they're middle-aged men in New York City. Via flashback, we uncover the personalities of the two best friends when they were in their early 20s. It's up the viewer to decode what happened in the intervening 25 years to transform them from their post-college selves into who they are in the present.
When he was 24 years old, Bernard was an introverted nerd or, as he puts it, a "wimp." His unlikely best buddy, Huey, was a womanizer who couldn't get a bedpartner out of his apartment fast enough the morning after an encounter. When they reconnect at age 49, the tables have turned. Bernard is the successful one, both romantically and professionally, and Huey is a burnt-out loser who couldn't get laid if he paid for it. Huey comes with baggage: an estranged wife (Bellamy Young) and an abandoned daughter, aspiring graphic novelist Zelda (Mae Whitman), who's brimming with hatred of her father. Subconsciously, that's probably why she starts up a relationship with Bernard, effectively torpedoing his friends-with-benefits liaison with psychologist Roz (Sasha Alexander). Huey, not having anywhere else to go, moves in with Bernard and the two find themselves re-discovering their quarter century-ago selves. For Bernard, that's not a good thing. For Huey, it's like locating the fountain of youth. As Bernard's May-October romance with Zelda sputters, Huey starts hooking up with a wide variety of women, including Roz and one of Bernard's co-workers, Mona (Nancy Travis).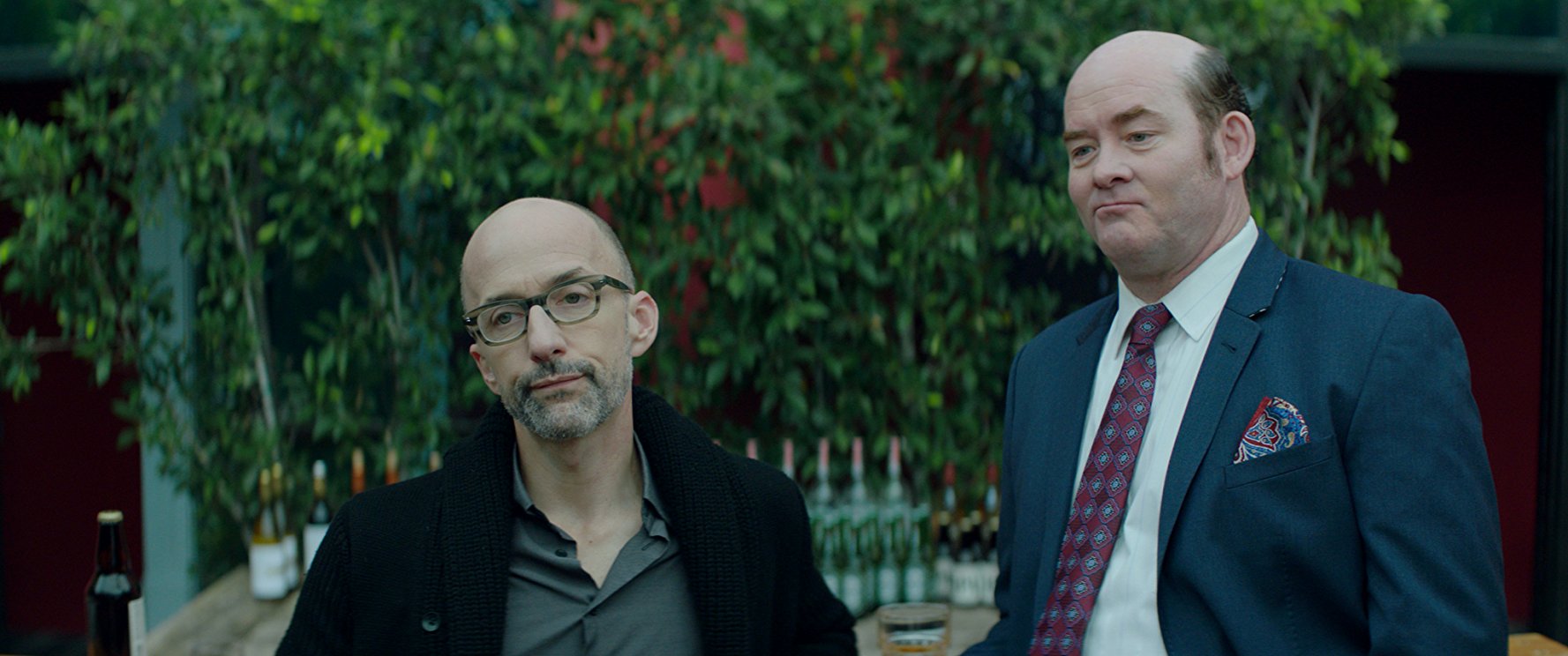 Watching Bernard and Huey is a pleasant enough experience. Jules Feiffer's screenplay, based on characters he created for his Village Voice comic strip, crackles with wit and intelligence. Feiffer, a Tony Award nominee and the writer of Mike Nichols' Carnal Knowledge, penned the screenplay in the mid-1980s but it has taken this long for it to make it to the screen with Dan Mirvish directing. Bernard and Huey shines because of the dialogue not because it's making any lasting or relevant statements about today's society. It's an old-fashioned character piece, more dramatic than comedic in tone but leavened with occasional humor. The acting is strong across-the-board.
Although the movie focuses on Bernard and Huey and their shifting relationship forms the production's lynchpin, the most interesting person is Zelda. Credit Mae Whitman for imbuing her character with fire and energy. Zelda's relationship with Bernard highlights the realities of a sexual liaison between an older man and a significantly younger woman. It evolves believably and addresses the age difference in a way that no Hollywood production would attempt. We know from the beginning that this isn't a happily-ever-after romance but more of a happily-for-a-few-days kind of thing.
Bernard and Huey is a small pleasure; it's almost always welcome to watch a character-based film crafted without pretentions, where the storyline doesn't overreach (or underreach), and the dialogue is designed to capture the attention rather than encourage sleep. Like many indies in 2018, the film may be hard to find during its theatrical run but should be relatively easy to locate via Video on Demand.
---
Bernard and Huey (United States, 2018)
---
Three...better movies of this genre
worse movies of this genre
Three...better movies of Jim Rash
(There are no more better movies of Jim Rash)
worse movies of Jim Rash
(There are no more worst movies of Jim Rash)
Three...better movies of David Koechner
(There are no more better movies of David Koechner)
worse movies of David Koechner
Three...better movies of Mae Whitman
worse movies of Mae Whitman