Extract (United States, 2009)
September 01, 2009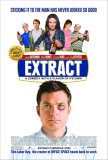 After the indignity visited upon his previous feature, Idiocracy, one can forgive writer/director Mike Judge's a certain mistrust of distributors. However, while the dump-and-run approach utilized by 20th Century Fox in 2006 is not in evidence here, neither has Miramax Films rolled out the red carpet for Extract. The film is making its way into a decent number of theaters, but the marketing campaign is minimal and it is being released on one of the two least appealing weekends of the year. Extract is no masterpiece, but it's considerably better than many 2009 films that have received a more robust backing.
The problem with the film is that, as satires go, this one has blunt teeth. It's funny, but not as funny as it should be. The jokes often provoke knowing chuckles, but there's a sense that opportunities for hilarity are being bypassed. Judge connects for a single when the potential is there for a double or a home run. The best parts of Extract are those that dissect every day, commonplace elements: the chatty next door neighbor, the dynamics of the sexless marriage, the banality of the workplace. The film's more plot-driven aspects are less compelling and too obviously artificial.
Joel (Jason Bateman) is one of those guys who seems to have it all: a beautiful house (with an in-ground pool), an attractive wife, and the presidency of his own company. But Joel isn't happy. His wife, Suzie (Kristen Wiig), is more interested in watching Dancing with the Stars than having sex with him. He finds the day-to-day business of running his flavor extract assembly line to be tedious. And the pool is badly in need of a cleaning. Then, just as Joel and his partner (J.K. Simmons) are being courted for a buyout by General Mills, a workplace accident fells floor manager-in-training Step (Clifton Collins Jr.), leaving him with one testicle fewer than he started. Initially, Step is disinclined to sue, but outside pressure causes him to change his mind. Meanwhile, Joel becomes infatuated with new employee Cindy (Mila Kunis), a con-woman whose agenda is more complicated than it initially seems. Joel wants to have an affair with Cindy, but he doesn't want the guilt of being unfaithful to Suzie. His bartender friend, Dean (Ben Affleck), offers a solution: hire a gigolo to seduce Suzie first then, after she has broken her vows, he can pursue Cindy. While under the influence of drugs and booze, Joel thinks this is a great idea. When he's sober, however, it's not as appealing - but by then it's too late.
The film's better performances come from secondary players. As leading man Joel, Jason Bateman displays the kind of ineffectual blandness Judge wants from him, but the character is as likely to be frustrating as endearing. Kristin Wiig isn't given much to do, although the overt weirdness she displays in many of her roles is arrested here. She's pretty normal, although her voice retains its trademark cadence. Mila Kunis is gorgeous but underused. Several extraneous scenes displaying Cindy's adeptness at theft appear to have been added just to give Kunis additional screen time. There's not much of a spark between her and Bateman, but this isn't a romantic comedy, so that's not a detraction.
The scene-stealers are Ben Affleck, Clifton Collins Jr., and David Koechner. Affleck, who has gradually been rebuilding his damaged reputation by appearing in under-the-radar films, gives a wonderful turn as the bartender who believes Xanax is the cure for everything, including the common cold. Collins Jr. provides surprising depth for a character that was likely two-dimensional on the written page. And Koechner is scarily good as the annoying, talkative neighbor. (Extract provides a wonderfully wicked twist to this minor subplot.)
Extract is being released Labor Day weekend because it's a throwaway - arguably a little too good to go directly to video, but not good enough to compete in a more crowded market. As satires go, it's amusing but doesn't offer much that's biting or clever. It works on its own low-key terms and is not unpleasant to sit through, but that could be considered damning with faint praise. And, although it's not as consistently smirk-inducing as Idiocracy, it's almost guaranteed to be seen by more people, so that's a silver lining for Judge.
---
Extract (United States, 2009)
---
Three...better movies of this genre
worse movies of this genre
Three...better movies of Jason Bateman
worse movies of Jason Bateman
Three...better movies of Kristen Wiig
worse movies of Kristen Wiig
Three...better movies of Mila Kunis
worse movies of Mila Kunis