Burnt Orange Heresy, The (U.K./Italy, 2019)
August 08, 2020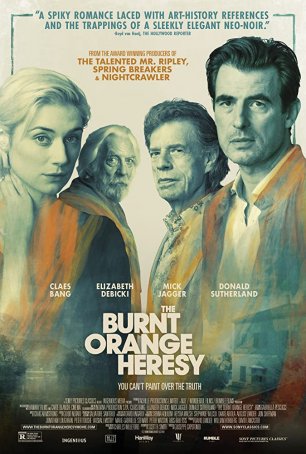 If I was to review Giuseppe Capotondi's The Burnt Orange Heresy based exclusively on the film's first half, I would have nothing to offer but raves. Unfortunately, the film's final 30 minutes prove unable to deliver on the promise of the early acts. With an abrupt and unwelcome shift in tone and a surprisingly ordinary resolution, The Burnt Orange Heresy falls short of its Hitchcockian aspirations. At the end, the sense of disappointment is perhaps more acute with this movie than with others because the early scenes set the bar high – too high, unfortunately, for the rest of the narrative to follow through on.

The film begins with what amounts to a nearly perfect introductory scene. Art critic James Figueras (Claes Bang) gives a speech about "The Power of the Critic," what constitutes great art, and why perspective and backstory are sometimes more important than technique to a painting's value. The sequence is important for several reasons: it provides insight into James' wit, intelligence, and arrogance; it introduces a theme about the struggle between reality and reputation; and it establishes a playful tone. Shortly after James' talk, he meets Bernice Hollis (Elizabeth Debicki), an American woman in Europe who strikes up a conversation with the art critic and ends up in bed with him. She becomes his companion in the adventure upon which he is about to embark.

Courtesy of eccentric billionaire Joseph Cassidy (Mick Jagger in a scenery-chewing performance that validates the cliché of "don't quit your day job"), James has an opportunity to meet the reclusive painter Jerome Debney (Donald Sutherland, who stepped into a role originally planned for Christopher Walken). Once a sensation in the art world, Jerome has retired into self-imposed obscurity. The chance for an interview offers James a ticket into the big time but comes at a price: Joseph wants one of Jerome's new paintings as payment, and he's not picky about what James has to do to acquire it. Meanwhile, the seemingly affable Bernice, a teacher from a small town just south of Duluth, may be hiding something.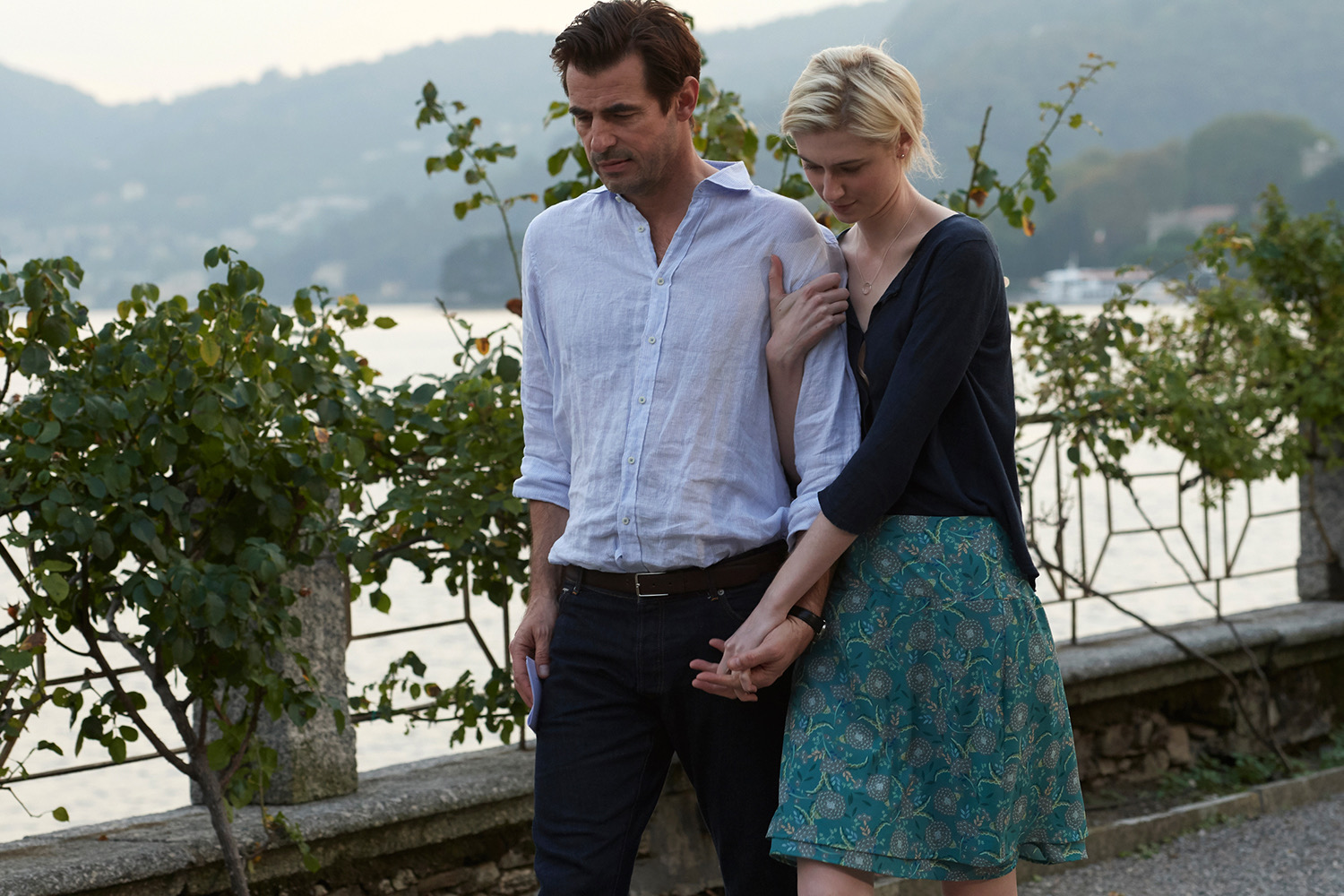 With his rugged good looks, Claes Bang (the Danish actor who gained international recognition after appearing in The Square) presents James as an agreeable mix of intelligence, danger, and desperation. His appeal is primal and he shares strong chemistry with Elizabeth Debicki. Their sex scene is one of the screen's hottest in recent years. The relationship between James and Bernice is one of the best aspects of The Burnt Orange Heresy and the way in which the screenplay treats it toward the end is unfortunate. Is there shock value in it? Yes, but that's in part because the characters act contrary to how they have previously been established and developed.

Few actors do world-weary better than Donald Sutherland and he dials that quality to an "11" in playing Jerome, who wallows in misery as he accepts his life of self-abnegation. Like much of The Burnt Orange Heresy, Jerome seems to be more interesting and complex upon his introduction than he turns out to be. The script neatly dispenses with him once he's no longer needed and the character is written out in a too-convenient fashion.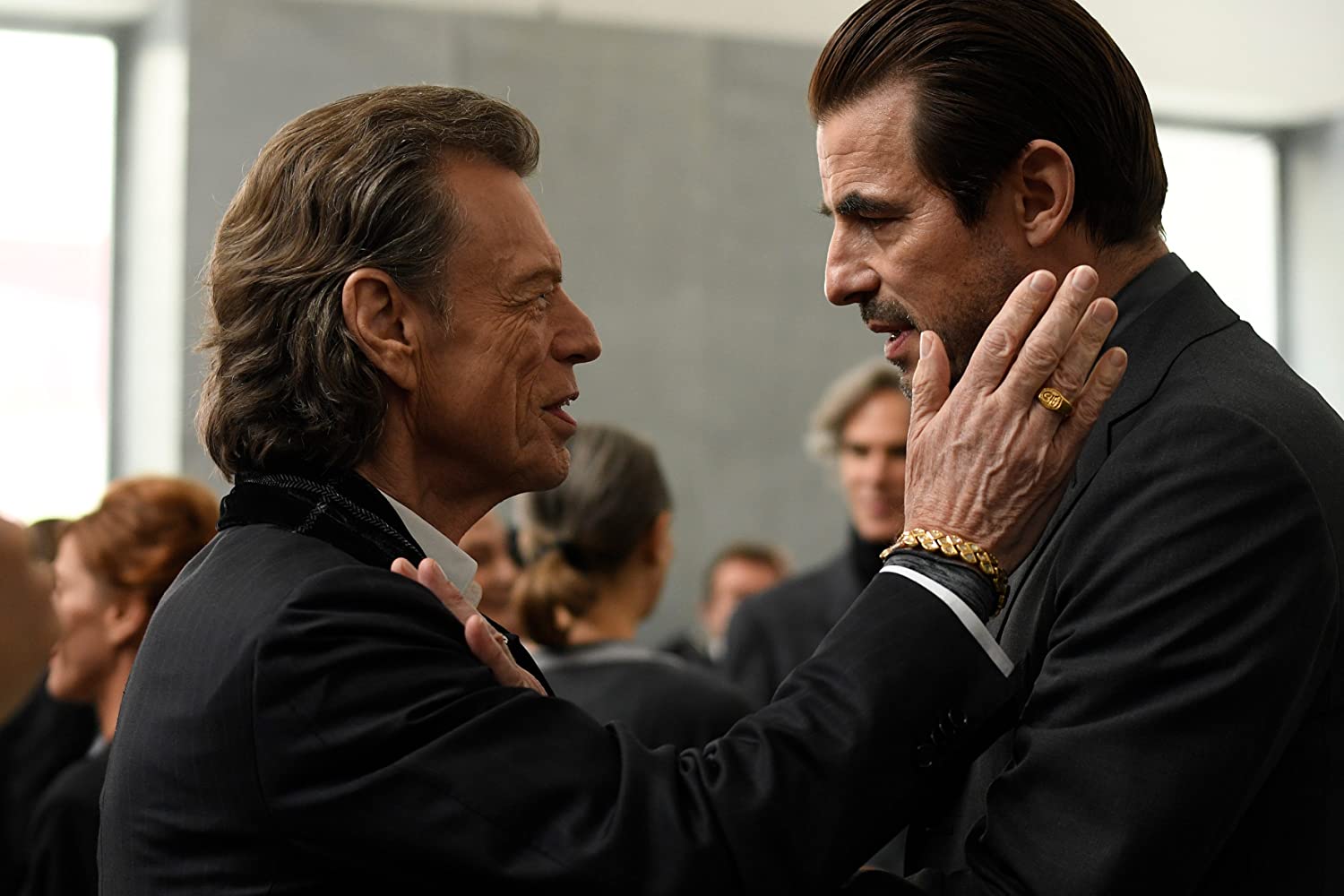 Although the film's resolution isn't entirely satisfying, it offers an intriguing possibility that time doesn't allow the narrative to pursue with any vigor. Like Francis Urquhart in House of Cards and its sequels, To Play the King and The Final Cut, James must confront certain "ghosts" he has empowered – something that renders any potential successes as hollow. But there are only hints of this in the closing confrontation.

There are enough elements in The Burnt Orange Heresy to offer a fitfully entertaining 100 minutes. The playful relationship between James and Bernice, flavored by questions about the former's sincerity and the latter's motives, is sufficiently tasty to warrant the price of admission. But the screenplay, adapted by Scott B. Smith (who wrote both the novel and the screenplay treatment for Sam Raimi's brilliant 1998 neo-noir thriller, A Simple Plan) from Charles Willeford's 1971 novel, proves unable to provide the roadmap for a top-notch caper movie, thereby reducing the best parts of the production to side-notes rather than primary characteristics.
---
Burnt Orange Heresy, The (U.K./Italy, 2019)
---

Three...better movies of this genre
worse movies of this genre
Three...better movies of Claes Bang
(There are no more better movies of Claes Bang)
worse movies of Claes Bang
(There are no more worst movies of Claes Bang)
Three...better movies of Elizabeth Debicki
worse movies of Elizabeth Debicki
Three...better movies of Donald Sutherland
worse movies of Donald Sutherland