Everybody's Fine (United States, 2009)
December 03, 2009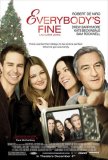 Everybody's Fine explores universal themes - concepts that many sitting in the audience will relate to from one perspective or another. It's about the ways in which the expectations of a parent can shape the life of a child - both in terms of what he or she will do to satisfy those expectations and how a failure to live up to them can create a rift. The movie also recalls the Harry Chapin song, "Cat's in the Cradle," which is about a father who is too busy for his son when the child is young but has the tables turned on him later in life - by the time Dad has the time, the son is preoccupied. The same dynamics introduced in the song are at work in the lives of the characters presented in this film.
British-born director Kirk Jones (Nanny McPhee, Waking Ned Devine) is re-working a 1990 film by celebrated Italian director Giuseppe Tornatore (Cinema Paradiso). The original starred Marcello Mastroianni in the role now inhabited by Robert DeNiro. Jones tones down some of the strong emotions found in Tornatore's movie, giving this interpretation a more low-key tone. The approach is double-edged: it mutes the movie's impact but also lessens the sense of manipulation. Everybody's Fine works on its own terms as a road movie in which an aging man embarks upon an unexpected journey of self-discovery where he finds that some of the "cornerstones" of his life are not as certain as he believes them to be. The veil of willful blindness is lifted.
As the film opens, recent widower Frank (DeNiro) is planning for a visit from his four grown-up children; they haven't been together since the funeral of his wife eight months ago. One-by-one, however, they cancel, citing job pressures. Recognizing that his health is failing and he might not have long to live, Frank makes the impulsive decision to go on the road and visit his children one-by-one. He wants to get to know who they have become. They were close to their mother but not to him. He was the breadwinner who pushed them to aspire to greatness, but not the parent they could confide in.
His first stop is in New York, where his youngest son, David, an artist, lives. David is not home - we soon learn from another source that he is having drug problems and is in Mexico. Traveling by bus and train, Frank heads west to Chicago, where he surprises his advertising executive daughter, Amy (Kate Beckinsale), who does what she can to hide the obvious rift that has developed between herself and her husband. After spending only a night with Amy, Frank moves on to Denver, where his son, Robert (Sam Rockwell), has established his home. Frank had been led to believe Robert is an orchestra conductor but, in fact, he is only a percussionist. Frank's final stop is Las Vegas, where his youngest daughter, Rosie (Drew Barrymore), lives. In an effort to impress him, she borrows a spacious apartment from a friend and passes it off as her own, and introduces Frank's grandchild as an infant she's baby-sitting for. Frank is savvy enough to see through the illusions conjured by his children and recognizes they are pretending because they don't want to disappoint him by showing areas of their lives where they have fallen short of his aspirations for them.
Robert DeNiro gives an amazing portrayal- one that is remarkable because he is playing an ordinary man. DeNiro, best known for his larger-than-life roles in both dramas and comedies, provides a natural, understated performance. There's nothing extraordinary about Frank, and therein lies the genius of the actor's work. DeNiro successfully erases his personality and we are left with only Frank: a solid working man who is bored with retirement and struggling to find his place in a world where his everyday constants - his wife and his job - are no longer around. There were times when I looked at Frank and saw my grandfather. On other occasions, I caught a glimpse of my father. And once or twice, I even saw future echoes of myself.
Everybody's Fine doesn't strike as forceful an emotional chord as the original. Jones builds a wider buffer between the characters and the audience. The movie works because so much of what's on screen will resonate with viewers. The movie has its share of gently comedic moments but it is mostly a drama. It follows the general trajectory of a road movie, although this is a case when reaching the final stop is important because it's as much a psychological destination as a geographical one. The original Italian version is not obscure (although I don't believe it's available on Region 1 DVD) but this is an effective re-packaging and is worth the 90-odd minutes spent in the theater joining Frank on his journey of self-discovery.
---
Everybody's Fine (United States, 2009)
---
Three...better movies of this genre
worse movies of this genre
Three...better movies of Robert DeNiro
worse movies of Robert DeNiro
Three...better movies of Kate Beckinsale
worse movies of Kate Beckinsale
Three...better movies of Sam Rockwell
worse movies of Sam Rockwell