Express, The (United States, 2008)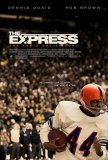 The Express is the latest movie to join an ever-expanding subgenre of the "sports movie" category: fact-based films that explore the impacts of integration into various contests during the latter half of the 20th century. We have already seen productions like Remember the Titans , Glory Road, Pride, and The Great Debaters approach the subject matter in ways not dissimilar to those found in The Express. Although this film is more about an individual than a team, it emphasizes the difficulties encountered by early athletes of color as they broke barriers and blazed trails. (It's interesting that the best-known representative of this group, Jackie Robinson, only has a 1950 B-movie to tell his story, although there is a new project on the drawing boards.)
The Express, despite including almost every sports movie cliché known to man, tells an engaging and at times powerful tale of one individual's struggle against the system. The film is reasonably true to life, although it tweaks real events so they fit a little better into the sports movie formula. The structure is nontraditional, with the emotional climax coming about 90 minutes into the story, allowing for a poorly focused, overlong epilogue that rambles a bit in trying to tie things up by explaining why the title character did not become a household name like his predecessor, friend, and hero, Jim Brown.
The action begins on New Year's Day, 1960 at the Cotton Bowl in Texas, with the #1 ranked Syracuse Orange Men taking on the University of Texas Longhorns. The standout halfback of the Orangemen is Ernie Davis (Rob Brown), the "Elmira Express," and one of three black players on the team from New York. Ernie is playing in front of a crowd whose partisanship is matched only by its racism. As he stands at the line of scrimmage, awaiting the next play, Ernie flashes back to events that led him to this point, beginning with his childhood outside of Pittsburgh, progressing through his recruitment by Syracuse coach Ben Schwartzwalder (Dennis Quaid), and finishing with his leading his team to an undefeated season in 1959.
Football is a metaphor for life in The Express. Ernie's struggles on the field parallel the country's pains as it lurches unevenly toward equality. Even in Northern cities, Ernie's skin color earns him stares and cold shoulders. (Witness the scene when he first arrives at the mostly-white campus of Syracuse.) When the Orange Men travel south, however, he is greeted with open hostility and prohibitions against staying in the same hotels as his white teammates. Although the film is centered on Ernie, it also shows the development of Coach Schwartzwalder's character. A native of West Virginia with strong negative feelings about blacks, Schwartzwalder is shown overcoming his inherent bigotry and becoming one of Ernie's defenders.
This isn't an actors' movie, but the principles all do sound jobs. Rob Brown brings a soft-spoken, quiet charm to Ernie. The intensity in his eyes defines the performance. When the character refrains from reacting to prejudice around him, the volcanic fury in those eyes leaves no doubt as to how Ernie feels. Dennis Quaid, the movie's biggest name, fills a supporting role more than adequately. There's nothing new in his portrayal of the gruff coach who bonds with his player, but Quaid does it well enough. He is familiar enough with sports movies (Any Given Sunday, The Rookie, Everybody's All American), but this is his first role on the other side of the bench. Charles S. Dutton, taking a part originally to have been essayed by Forrest Whitaker, has a small but important role as Ernie's grandfather. Darrin Dewitt Henson portrays football great Jim Brown, who played no small part in Ernie's decision to sign with Syracuse.
The film is a little scattershot in its presentation of non-football aspects of Ernie's life. His relationships with his grandfather and mother are glossed over. The Express intimates a relationship between Ernie and Sarah Ward (Nicole Behaire), but never develops the love affair. The script makes it clear that they're more than just friends, but are they lovers? Engaged? Married? The Express has so much ground to cover in about two hours that a lot of the smaller, richer issues that would have fleshed out Ernie's character were either excised from the screenplay or left on the cutting room floor, resulting in a portrait that is skewed and idealized. Nevertheless, as a story of courage and inspiration, this works as well as any sports-related bio-pic. The difference is that, while Ernie's on-field accomplishments were extraordinary, it was the environment in which he struggled to achieve them that makes him the worthy subject of a motion picture.
---
Express, The (United States, 2008)
Run Time: 2:09
U.S. Release Date: 2008-10-10
MPAA Rating:
"PG" (Mature Themes)
Genre:
DRAMA
Subtitles: none
Theatrical Aspect Ratio: 2.35:1
---
Three...better movies of this genre
worse movies of this genre
Three...better movies of Rob Brown
(There are no more better movies of Rob Brown)
worse movies of Rob Brown
(There are no more worst movies of Rob Brown)
Three...better movies of Dennis Quaid
worse movies of Dennis Quaid
Three...better movies of Darrin Dewitt Henson
(There are no more better movies of Darrin Dewitt Henson)
worse movies of Darrin Dewitt Henson
(There are no more worst movies of Darrin Dewitt Henson)