Movies starring Rob Brown Coach Carter
The main problem with Coach Carter can be summed up simply: too much sermonizing. In a way, it's hard to fault the film, because its heart is in the right place. The movie wants to impress upon teenagers that education is the first step on the pa...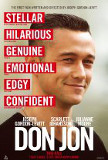 Don Jon
Don Jon is about addiction, obsession, and compulsion. It's about how the elements that drive and define our lives can impede normal, productive behavior. And, unlike a dark film like Shame, which deals with the same subject, it attacks its thesis ...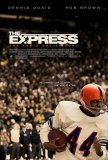 Express, The
The Express is the latest movie to join an ever-expanding subgenre of the "sports movie" category: fact-based films that explore the impacts of integration into various contests during the latter half of the 20th century. We have already seen prod... Finding Forrester
With next year's Oscar nominations set squarely in its sights, Finding Forrester arrives in theaters at the right time of the year (December) with the right kind of star power (Sean Connery, F. Murray Abraham, Anna Paquin) and the sort of feel-good... Take the Lead
It's Dangerous Minds with dancing. That's the sinking feeling I got while watching Take the Lead, one of the year's most uninspired inspirational stories. Culled from the real-life experiences of Pierre Dulaine (Banderas), Take the Lead warps and...