Movies directed by Thomas Carter Coach Carter
The main problem with Coach Carter can be summed up simply: too much sermonizing. In a way, it's hard to fault the film, because its heart is in the right place. The movie wants to impress upon teenagers that education is the first step on the pa... Save the Last Dance
Save the Last Dance, a movie about finding salvation on the dance stage, takes a little Pygmalion, a little Romeo and Juliet, and a lot of formula, wraps them up with a neat bow, and delivers a passably entertaining package. The film stumbles not ... Swing Kids
Hamburg. Nazi Germany. 1939. Peter (Robert Sean Leonard), Thomas (Christian Bale), and Arvid (Frank Whaley) are three "Swing Kids" -- young rebel Germans who have fallen in love with the forbidden: American movies, British fashion, and Swing musi...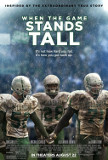 When the Game Stands Tall
When the Game Stands Tall is one of those cliché-riddled feel good movies that, by trying too hard to be inspirational, ends up as cloying and overly sentimental. At first glance, the narrative trajectory might seem to be on a different vector fr...