Greatest Show on Earth, The (United States, 1952)
May 20, 2018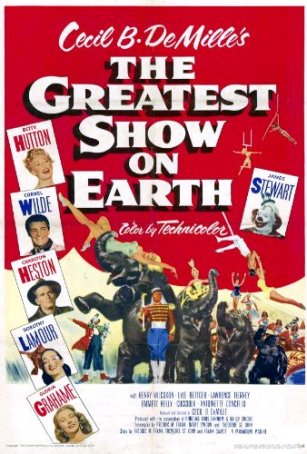 The Greatest Show on Earth, the penultimate film credited to Cecil B. DeMille, contains all the elements loved by the great director: larger-than-life characters, sumptuous visuals, a long running time, and cutting-edge special effects. Although The Greatest Show on Earth isn't as popular as DeMille's swansong, The Ten Commandments, it's every bit as much of a spectacle and gave the filmmaker the only Best Picture Oscar of his 42-year career, which stretched all the way back into the early days of silent cinema. The Greatest Show on Earth has often been cited as one of the worst films to win the top Academy Award and, although I'm not going to argue with that sentiment, there were extenuating circumstances. To some degree, this was a "career achievement award" for DeMille – an honorary Oscar posing as a legitimate one. It may have also been influenced by the politics of the day. DeMille was a die-hard Republican and The Greatest Show's main competitor, High Noon, was penned by blacklisted screenwriter Carl Foreman.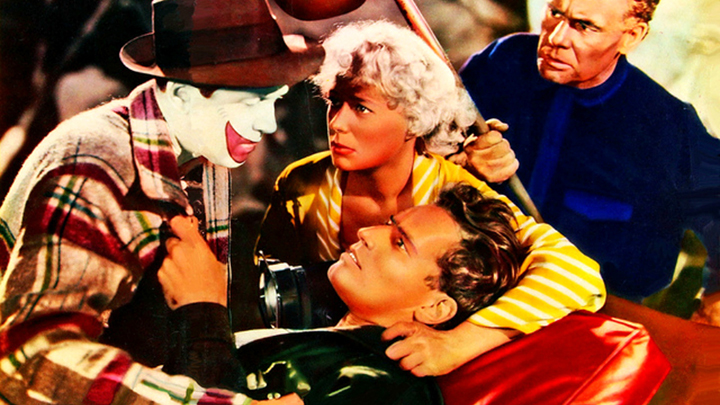 The Greatest Show on Earth takes place under the Big Top of Ringling Brothers and Barnum & Bailey's Circus. (A payment of $250,000 was made to secure the naming rights, cooperation, and participation of the troupe.) It functions as three things: a quasi-documentary, a sudsy melodrama, and a time capsule. The first and third aspects are the most compelling for modern viewers. Unfortunately, the cheesy story, combined with ripe dialogue and riper acting, make this bloated film difficult to sit through today.
Much of why The Greatest Show doesn't work is related to how things have changed since it was produced. In 1952, the circus was still a popular form of entertainment. Now, it's a cultural artifact that generates little excitement or interest. The movie takes an inordinate amount of time exhibiting circus acts and performances. This would have enthralled '50s audiences. It is more likely than not to bore anyone watching today. Those scenes, like the behind-the-scenes peeks at circus life (such as a segment about how the huge canvas tent was erected), are interesting from a documentarian's perspective but, even viewed as such, they go on too long. Upon its release, The Greatest Show was immensely popular. It was a critical darling (check out some of the contemporaneous reviews) and popular blockbuster. Not only did it win the Best Picture Oscar but it made the most money of any film released in 1952.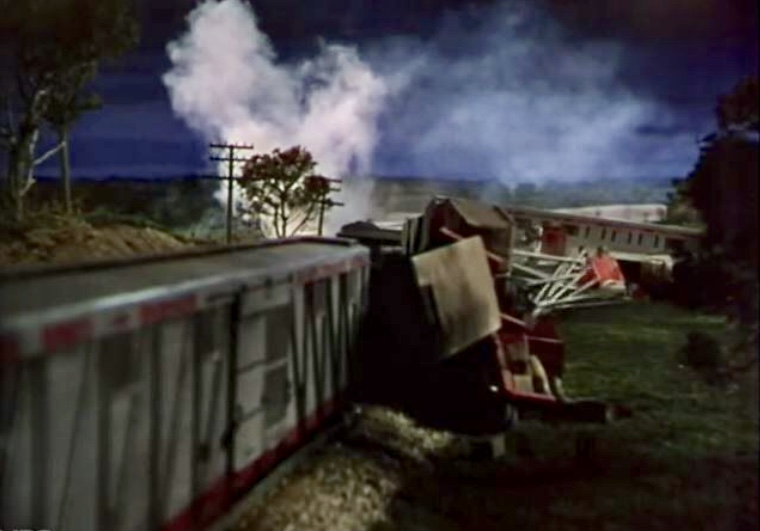 The story is pure soap opera played by some of Hollywood's legendary names. Bill Braden (Charlton Heston) is the circus manager; it's his job to keep things moving smoothly and ensure that the show stays in the black. As is mentioned more than once, he has "sawdust" in his veins – a reference to how he prioritizes the circus over all else. He's involved in a romantic triangle with his long-time love, trapeze artist Holly (Betty Hutton), and a new arrival, the aerial daredevil The Great Sebastian (Cornel Wilde). Holly is attracted to Sebastian, who has a reputation as a womanizer, and Bill's seeming indifference drives her into his arms. Two of Sebastian's ex-lovers, elephant performer Angel (Gloria Grahame) and iron-jaw acrobat Phyllis (Dorothy Lamour), trade barbs with the French Casanova. Meanwhile, the caring clown Buttons (James Stewart) keeps a low profile and never removes his makeup as he hides a tragic event from his past. And the villainous Mr. Henderson (Lawrence Tierney) plans to use the circus as a cog in his nefarious gangster's schemes.
Filmed in technicolor, The Greatest Show was designed to pump up the "wow!" factor and, while this would have worked for audiences accustomed to black-and-white for both movies and TV, it's lost on today's audiences. The special effects seem primitive and unconvincing. Although the train wreck represents an impressive use of models (intercut with live-action shots of real, trained animals escaping their cages), some of the moving backgrounds are too obviously fake. In a post-Star Wars, post-Jurassic Park era, it's difficult to look back at the technical achievements of something like The Greatest Show on Earth in quite the same way.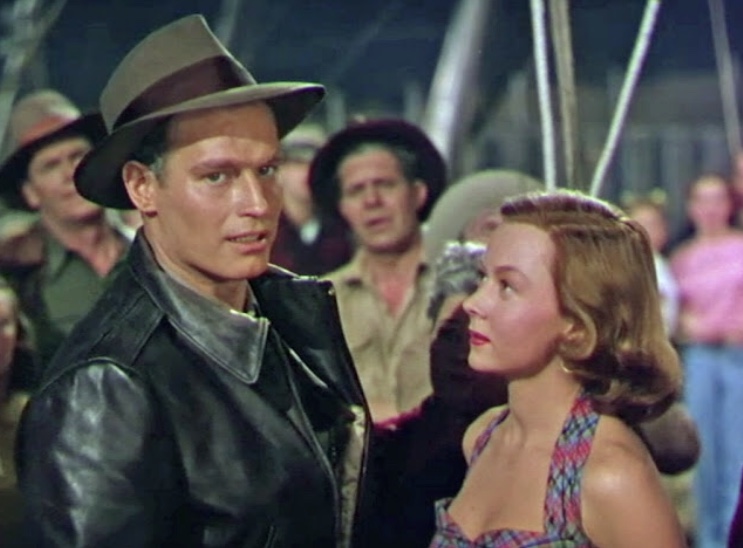 For his leading man, DeMille bypassed several high-profile names to go with Charlton Heston who, at the time, had only a small handful of credits to his name. His matinee good looks and low-key, masculine approach to the role (mixing in some wry humor with tough-guy practicality) proved popular with audiences and catapulted Heston onto the 1950s A-list. An avalanche of movies would follow, including an iconic appearance as Moses in DeMille's The Ten Commandments. The film's biggest star was James Stewart, although he's buried under makeup in a supporting role for the entirety of the 151-minute running length. The trio of female leads – Betty Hutton, Gloria Grahame, and Dorothy Lamour – were all popular figures of the day. Lamour was best known for her appearances in the Bob Hope/Bing Crosby road pictures. (Hope and Crosby have cameos as circus spectators in The Greatest Show.) Hutton had a string of hits behind her, including 1950's Annie Get Your Gun. And Grahame, who replaced a pregnant Lucille Ball, was an Oscar nominee (for 1947's Crossfire). She would go on to win an Oscar for her performance in another 1952 film, The Bad and the Beautiful. In addition to professional actors, The Greatest Show featured appearances by members of the 1951 edition of Ringling Brothers and Barnum & Bailey's circus, many of whom mingled freely with the stars.
The Greatest Show on Earth isn't a bad movie but the passage of time hasn't been kind to it. Like many lesser films released during this era, it is dated. The things that made it popular upon its release either don't apply or don't work for a 2018 audience. The story, which retains an element of corny appeal, is hamstrung by a too-long running length that tries the viewer's patience. The interminable circus sequences, although interesting for cultural anthropologists, quickly become tedious. Greatest may have applied in the 1950s, when the circus was king and DeMille was revered, but the word is strangely out-of-place in today's climate.
---
Greatest Show on Earth, The (United States, 1952)
---

Three...better movies of this genre
worse movies of this genre
Three...better movies of Charlton Heston
worse movies of Charlton Heston
(There are no more worst movies of Charlton Heston)
Three...better movies of James Stewart
worse movies of James Stewart
(There are no more worst movies of James Stewart)
Three...better movies of Betty Hutton
(There are no more better movies of Betty Hutton)
worse movies of Betty Hutton
(There are no more worst movies of Betty Hutton)