House with a Clock in its Walls, The (United States, 2018)
September 19, 2018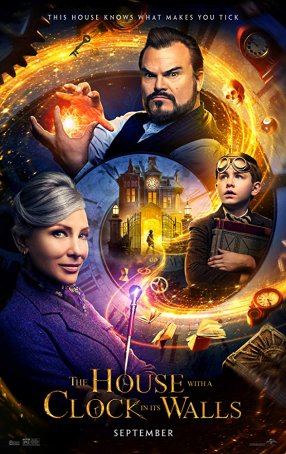 The awkwardly-titled The House with a Clock in Its Walls is a classic example of a film that works better for children than adults. Seemingly made with the under-10 crowd in mind, the screenplay (credited to Eric Kripke, adapting the book by John Bellairs) doesn't bother to entice or interest any parents who might be in the audience. Although the movie isn't bad enough to qualify as a slog for older viewers, the boilerplate story makes it tough to stay engaged. Unlike the Harry Potter movies, The House with a Clock in Its Walls fails to find the sweet spot for cross-generational appeal.
Kids, on the other hand, will likely be enthralled. This movie is in their strike zone from the easy-to-identify-with main character to the bright, colorful visuals and the creepy villain. It's scary in a way that shouldn't cause many nightmares, although the homicidal jack-o-lanterns may be a little intense for anyone under six. Jack Black's participation immediately calls to mind Goosebumps and that's a reasonable association. Goosebumps was pitched at a slightly older audience and threw in a few bones for adults, but the end game was similar. The release of a Goosebumps sequel along with The House with a Clock in Its Walls is going to make this autumn a Jack Black bonanza.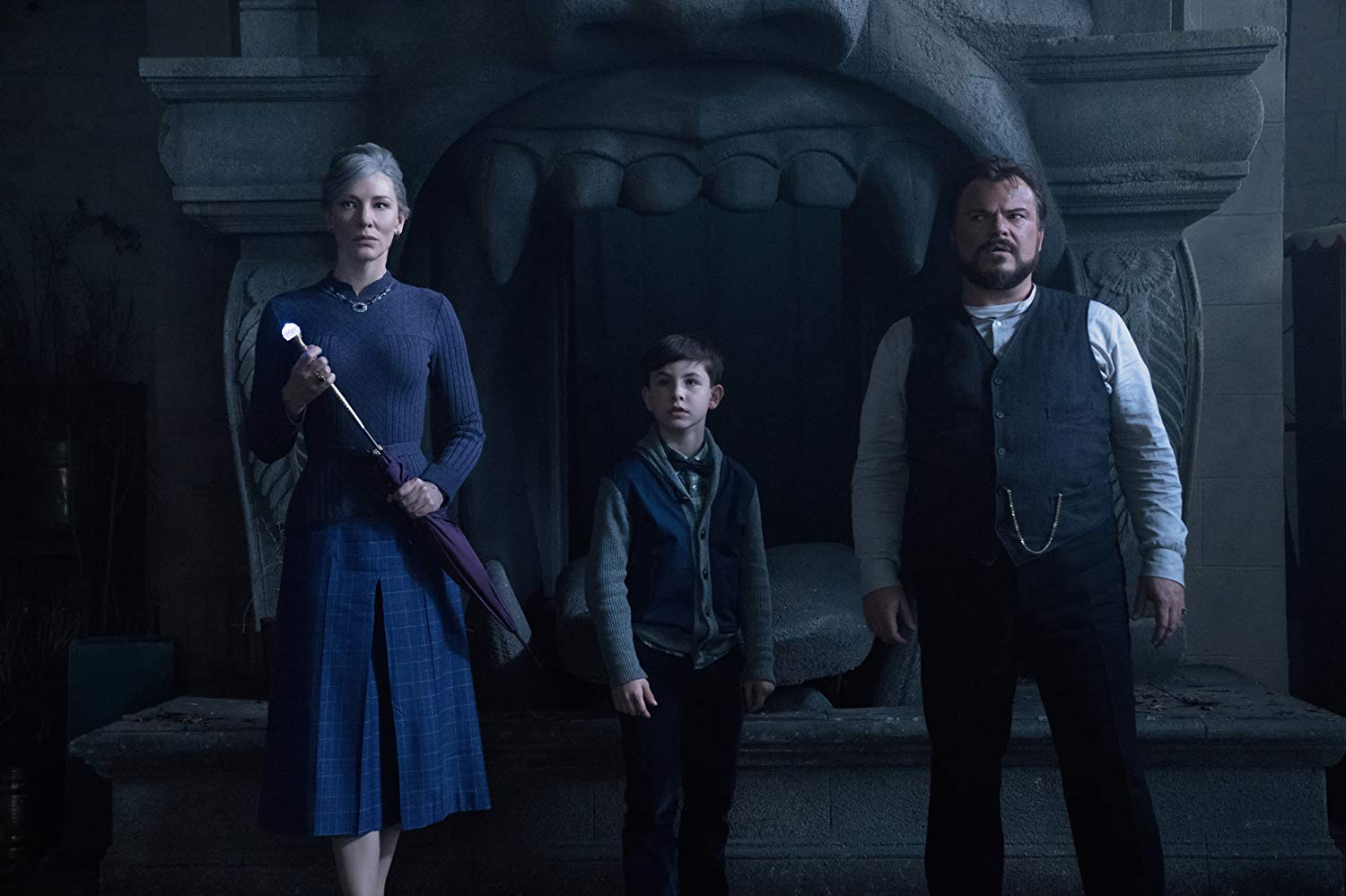 The film's three main characters are an orphan, a warlock, and a good witch. Jonathan Barnavelt (Jack Black) lives in the eponymous mansion, which is where he invites his only living relative, his nephew Lewis (Owen Vaccaro), to live after the young boy's parents are killed in a car crash. Jonathan is a recluse of sorts – his only friend is his sharp-tongued (platonic) compatriot of many years, Florence Zimmerman (Cate Blanchett), whose prodigious magical powers have faded. Jonathan's house once belonged to the black wizard couple Isaac and Selena Izard (Kyle MacLachlan and Renee Elise Goldsberry), but the two died when an experiment to create a doomsday clock went wrong. Since then, the warlock has been working to rehabilitate the home. He happily welcomes Lewis, informing him that, although there's no bedtime or mealtime, he has one rule: the contents of a locked cabinet must not be disturbed under any circumstances. The moment he says that, everyone in the audience knows what's going to happen…
The House with a Clock in Its Walls seems like an odd choice for gore-master Eli Roth, the director of the hard-R Hostel and its sequel (those movies gave rise to the term "torture porn"). To say Roth is "restrained" for this production would be an understatement, although there are a few disquieting images that make this a dubious option for very young and/or sensitive children. (However, in a desensitized culture, I doubt many kids will be fazed by anything in The House with a Clock in Its Walls.) The movie is based on a 1973 children's book (which would be classified as a Young Adult offering in today's parlance), which started a series. The novel, written by John Bellairs, featured illustrations by Edward Gorey, and Roth has attempted to replicate their essence on-screen. This, as much as anything, may be why the movie occasionally has a Tim Burton-esque feel.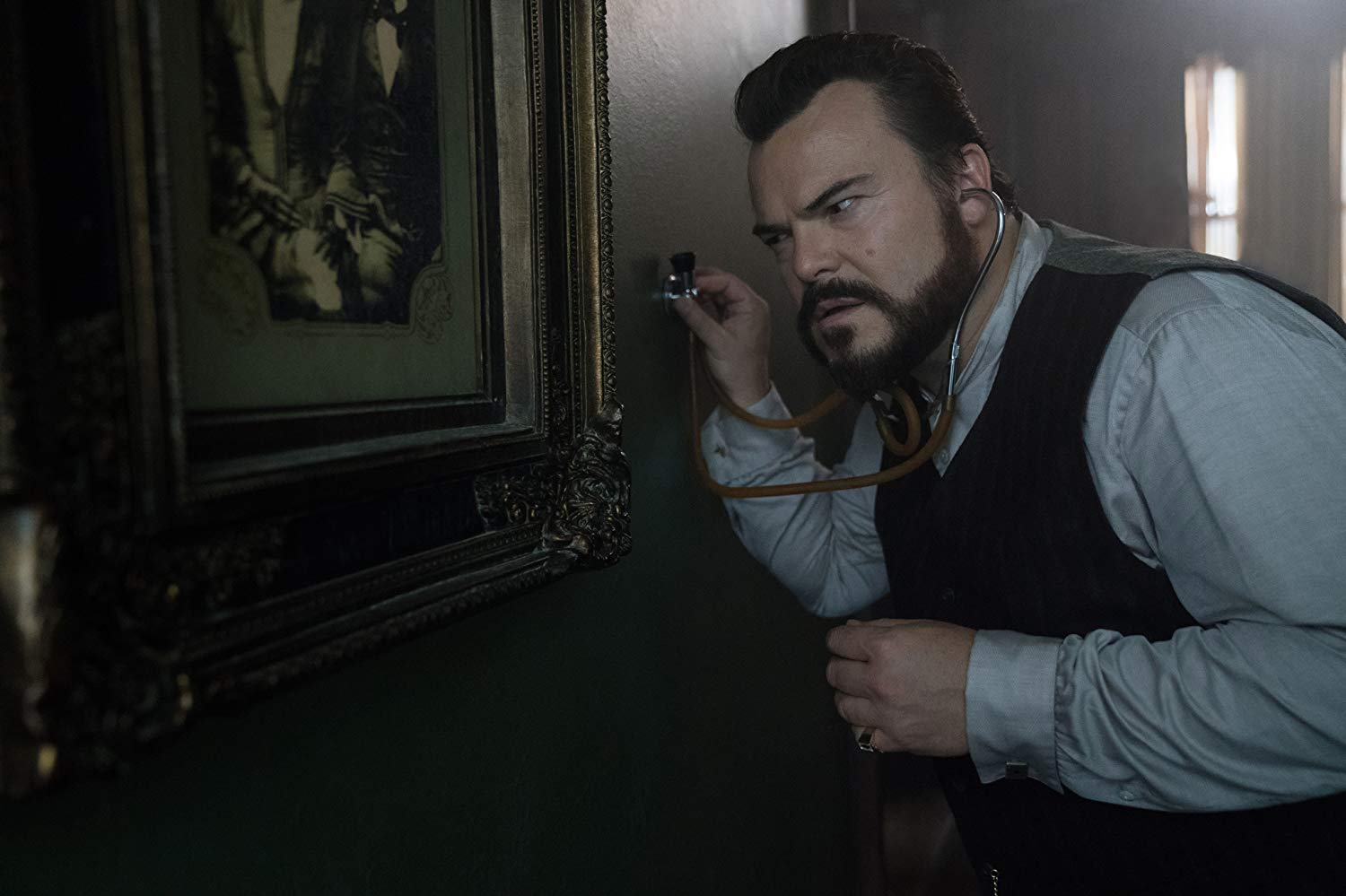 Overall, the movie's sense of atmosphere is weak. The house lacks the kind of mystical aspect that infused Hogwarts in the Harry Potter movies. Here, there's a recliner that acts like a puppy, a stained-glass window that changes its images, and the ticking that resonates throughout the building in the middle of the night. What's missing is a sense of wonder. As seen through the eyes of a boy who has never been exposed to real magic, there should be an emphasis on the newness of the experience.
It would be unfair to accuse Cate Blanchett of slumming and her performance lacks the wooden, disinterested quality one often associates with a "name" actor appearing in something below their normal paygrade. Blanchett is invested and her whiplash delivery of Florence's insults is one of the film's pleasures. She and Black play well off one another. Owen Vaccaro (who previously appeared in the two Daddy's Home films) is effective as the oddball Lewis, who is desperately lonely and dangerously curious.
The House with a Clock in Its Walls makes an adequate early Halloween treat for children who enjoy spooky/scary movies that don't go too far over-the-top. Jack Black is a steady presence and Owen Vaccaro provides young viewers with a stand-in presence inside the story. It's hard to recommend the film for older movie-goers (especially if they aren't accompanying their offspring) – it's straightforward, lacking in complexity, and the few small pleasantries it offers aren't worth 105 minutes spent in a theater. This is a rare age-dependent split verdict.
---
House with a Clock in its Walls, The (United States, 2018)
---

Three...better movies of this genre
worse movies of this genre
Three...better movies of Jack Black
worse movies of Jack Black
Three...better movies of Cate Blanchett
worse movies of Cate Blanchett
Three...better movies of Owen Vaccaro
(There are no more better movies of Owen Vaccaro)
worse movies of Owen Vaccaro
(There are no more worst movies of Owen Vaccaro)