Ice Age: Continental Drift (United States, 2012)
July 11, 2012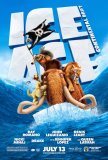 With the Ice Age movies, you get what you expect. This is the fourth installment of a franchise that has been around since 2002. (In this case, it was decided against recasting all the voices and re-telling the first story with only a few cosmetic changes.) It is as comfortable and predictable as any Saturday morning cartoon, although with higher production values and a spiffier look. There's nothing in any way offensive about Ice Age: Continental Drift, just as there's no particular reason to recommend it. As family offerings go, it's perfectly mediocre. Kids will enjoy themselves and adults won't feel the urge to spend the duration hiding out in the restrooms. Some of the jokes are funny. Some of the action is, if not exciting, then at least colorful and lively. And, as always, Scrat the sabertooth squirrel steals the show, even though the Wiley Coyote-inspired ne'er-do-well is only in a handful of segments.
This is the second animated movie of the year to take to the high seas (following in the wake of Pirates! Band of Misfits). In this case, our old friends Manny the Mammoth (voice of Ray Romano), Diego the Sabertooth Tiger (Denis Leary), and Sid the Sloth (John Leguizamo) run afoul of Pirate Captain Gutt (Peter Dinklage) when he boards an iceberg they're using to escape the effects of a continental upheaval. Manny's overriding goal is to get back to land and re-unite with his wife, Ellie (Queen Latifa), and teenage daughter, Peaches (Keke Palmer), but that doesn't coincide with Gutt's intentions. The leads to a musical number, a tussle, a shipwreck, a chase, and a love story for Diego involving the female tiger Shira (Jennifer Lopez), who is Gutt's first officer.
On a purely technical level, Ice Age: Continental Drift is a step behind both of 2012's big budget summer animated offerings, Brave and Madagascar 3. This is unsurprising, since Pixar and Dreamworks have always produced more visually pleasing efforts than 20th Century Fox. So there's a lot more detail in Brave and Madagascar 3 than in Ice Age: Continental Drift, although this film is by no means sloppily or haphazardly produced (and it has the best 3-D of them all, although, as is often the case, it's an unnecessary frill). Story-wise, however, it's the most pleasing of the three, trumping Madagascar 3 in how it employs familiarity and exceeding Brave in pacing and character arcs. Manny finds out a few things about being a dad, Peaches learns about friendship, and Diego falls in love.
The Ice Age vocal mainstays return to lend their talents to this latest installment. They are joined by enough new blood to liven things up, including Peter Dinklage, Keke Palmer, Jennifer Lopez, and Wanda Sykes. Of those, only Sykes leaves an impression. Playing Sid's Granny, she has all the best lines and, delivered in the actress' inimitable sarcastic voice, Granny becomes instantly memorable. Almost as memorable as Scrat.
There's little to be said about Ice Age: Continental Drift that I haven't mentioned in my reviews of Ice Age (2002), Ice Age: The Meltdown (2006), or Ice Age: Dawn of the Dinosaurs (2009). The sameness of the movies defies deep analysis much as the films themselves fail to do anything significantly different from their predecessors. The films exist as much to sell toys and Happy Meals as to be seen and enjoyed by children. They are what they are and, for those who enjoy this kind of thing, that's enough. The equation regulating whether or not to see Ice Age: Continental Drift is simple. Those who enjoyed one or more of the previous installments are encouraged to go. Those who didn't should stay far away.
Ice Age: Continental Drift is preceded by a Simpsons short which, it must be said, shows more genuine humor in its five minutes than the full feature does in seventeen times that much screen time.
---
Ice Age: Continental Drift (United States, 2012)
---
Three...better movies of this genre
worse movies of this genre
Three...better movies of (voices) Ray Romano
(There are no more better movies of (voices) Ray Romano)
worse movies of (voices) Ray Romano
(There are no more worst movies of (voices) Ray Romano)
Three...better movies of Denis Leary
worse movies of Denis Leary
Three...better movies of John Leguizamo
worse movies of John Leguizamo