King of Staten Island, The (United States, 2020)
June 10, 2020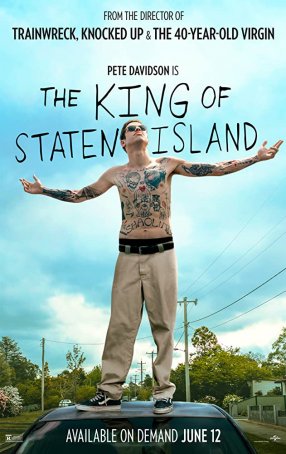 It's clear that director Judd Apatow is comfortable collaborating with stand-up comedians on projects that contain at least some autobiographical details. The King of Staten Island represents his third such film, following in the wake of Funny People (Adam Sandler) and Trainwreck (Amy Schumer). This time around, the co-writer/star is Pete Davidson, who is content to use significant chunks of his past in developing the screen personality of his character, Scott Carlin. Even more so than Sandler and Schumer, Davidson blurs the lines, and the result is familiar Apatow: simultaneously funny and touching with elements of pathos to go along with the raunchiness. However, The King of Staten Island runs too long and, as result, it loses steam while chugging toward the ending.

This is the belated coming-of-age story of 24 year-old Scott, a man-child stuck in a state of arrested development. Rootless, perpetually stoned, and entirely unconcerned about the future, Scott drifts through life. He still lives with his mother, Margie (Marisa Tomei); has a barely civil relationship with his younger sister, Claire (Maude Apatow), who's off to college; and is enjoying a friends-with-benefits situation with his longtime gal-pal, Kelsey (Bel Powley). Scott's dream job is to create the first tattoo bistro (get a tat and a meal at the same time) but he lacks the ambition to do anything to get it started. His friends – Oscar (Ricky Velez), Igor (Moises Arias), and Richie (Lou Wilson) – are no better positioned in life and, as a result, function as enablers.

Scott gets a shock to his system when his mother, a widow of 17 years, finds late-in-life love with fireman Ray Bishop (Bill Burr). Scott takes an instant dislike to Ray, in part because they get off on the wrong foot and in part because Scott can't stand the idea of someone supplanting his long-dead father. He devotes himself to discrediting Ray and, although he succeeds, his actions have the unintended consequence of bringing himself down at the same time.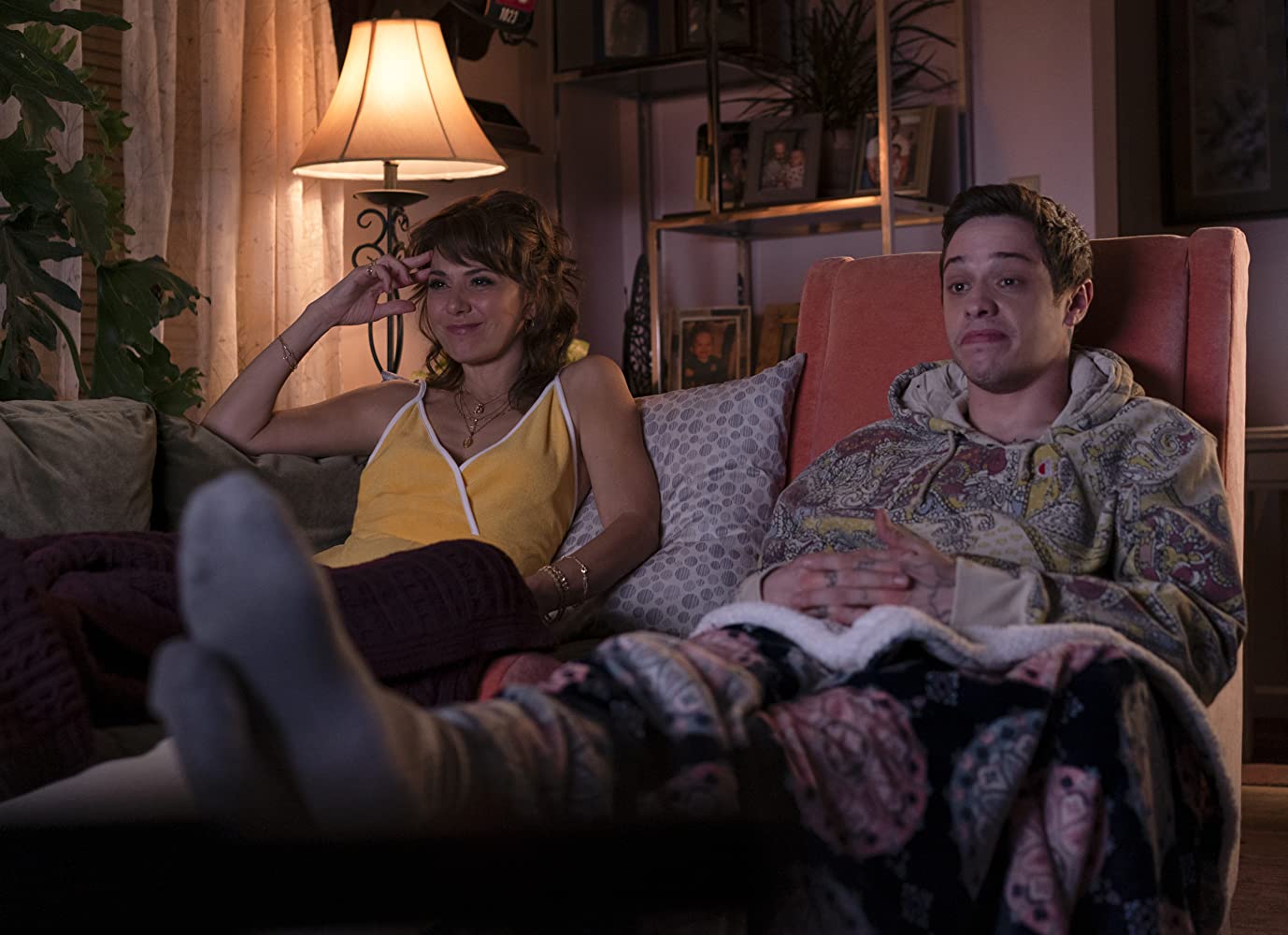 The broad strokes of Scott's background track with those of Davidson, who lost his firefighter father at age seven (he died in the 9/11 terrorist attacks) and lived most of his teenage and adult life as a rebellious, drug addicted outcast. Davidson, who has been candid about his past and his problems, has no difficulty inhabiting the uncomfortable interior of his prickly character. Scott isn't always sympathetic (in fact, he's quite often the opposite), but he feels real (as opposed to a screenwriter's construct). None of the film's secondary characters are as effectively realized but, because Davidson's portrayal is so arresting, it rarely matters.

Although it contains some painful scenes and dramatic moments – one of the most effective has Scott arguing about why firefighters shouldn't have families – The King of Staten Island is a comedy. As such, it serves up its share of laugh-out-loud moments. The movie opens with a dissection of The Purge. Later, when discussing the reputation of Staten Island (where the movie transpires), one character remarks: "We're the only place that New Jersey looks down on." And, in describing Scott's thin, unhealthy appearance, his sister remarks that he looks like an "anorexic panda."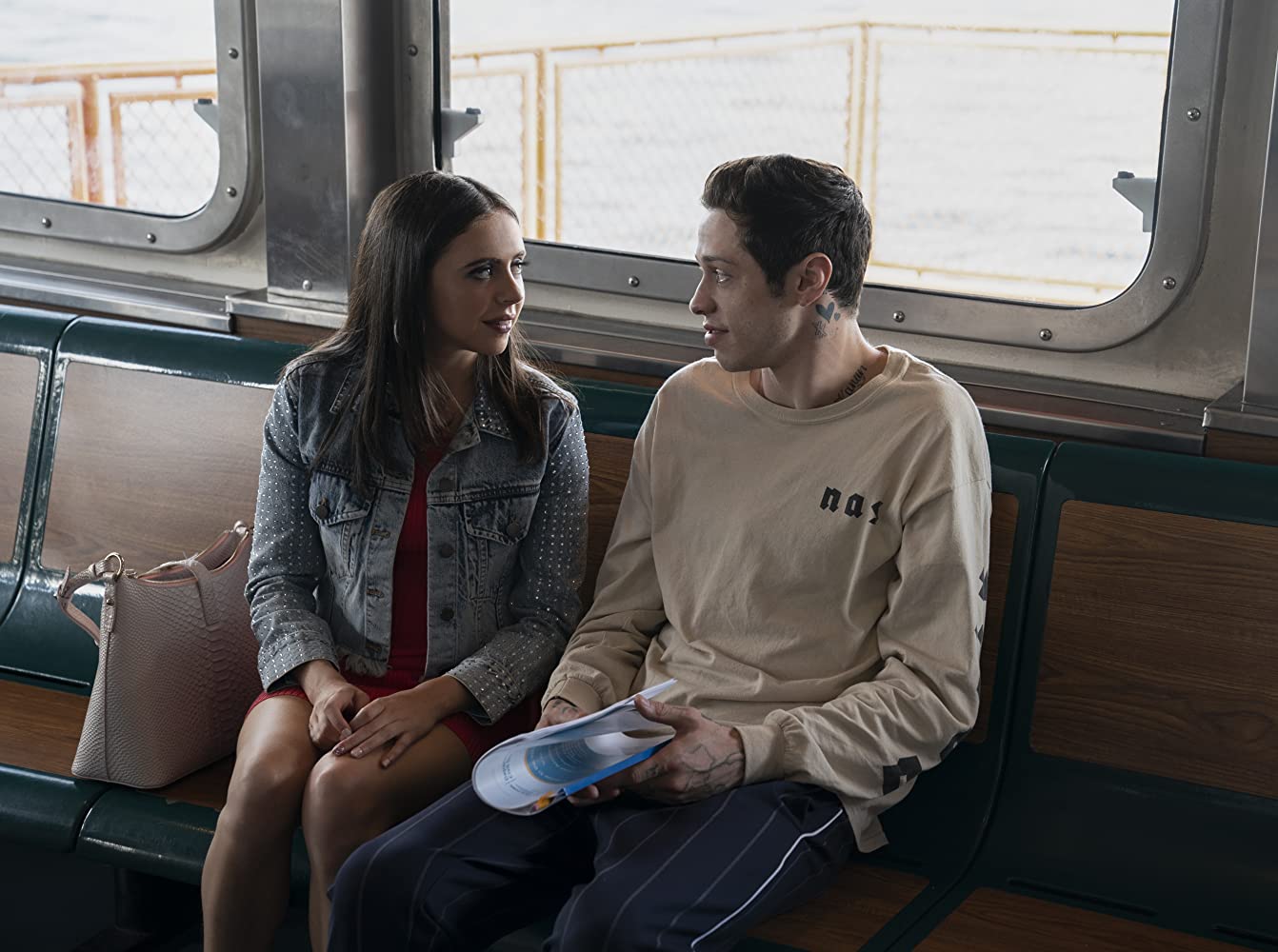 One key ingredient that separates Apatow's films from other comedies is the grounded nature of his characters and situations. Instead of creating over-the-top scenes and scenarios designed exclusively for their comedic potential, Apatow prefers to tether his humor to believable, relatable instances. He works hard to develop characters and say something of substance. It works better in some films than in others but none of his films, even the least appealing (in my opinion, that would be Funny People), is devoid of laugh-generating moments.

Apatow has been instrumental in the development of Davidson's career; an appearance by the comedian in Trainwreck indirectly led to Davidson's SNL appearances. It unsurprising, therefore, that the two work effectively together. As he is wont to do, Apatow allows his lead to personalize the character in both the writing and acting stage; it's difficult to envision anyone else playing Scott other than Davidson (although, with a little imagination, Sandler might be able to fill in – it's interesting how similar aspects of their public personalities are).

Pre-release interest in The King of Staten Island was strong. It was due to play at both the 2020 SXSW Film Festival and the Tribeca Film Festival before circumstances forced the cancelations of both events. Rather than delay the movie's opening, Universal elected to release it as a PVOD choice, making it one of the most high-profile titles to open exclusively into the home video market. Its pedigree is undeniable and it offers a strangely nostalgic reminder of what a real movie is like. The King of Staten Island checks a lot of boxes and is worth the price of a rental for anyone longing for a more complete entertainment experience than what most VOD movies offer.
---
King of Staten Island, The (United States, 2020)
---

Three...better movies of this genre
worse movies of this genre
Three...better movies of Pete Davidson
(There are no more better movies of Pete Davidson)
worse movies of Pete Davidson
(There are no more worst movies of Pete Davidson)
Three...better movies of Marisa Tomei
worse movies of Marisa Tomei
Three...better movies of Bill Burr
(There are no more better movies of Bill Burr)
worse movies of Bill Burr
(There are no more worst movies of Bill Burr)