Kung Fu Panda 3 (United States, 2016)
January 29, 2016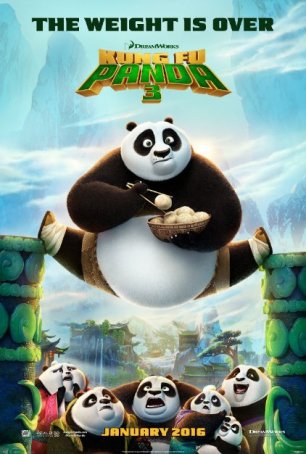 Kung Fu Panda 3 falls on the kids-only end of the family movie spectrum. Unlike the best animated films, Kung Fu Panda 3 is content to appeal primarily to younger viewers, offering little of substance for the parents who accompany them to theaters. It will find its strongest favor among those who enjoyed the previous adventures of Po the Panda (voice of Jack Black). The film exists because Kung Fu Panda and Kung Fu Panda 2 were box office goldmines, not because this third film has a new or innovative story to tell.  However, like most sequels, it pacifies its core demographic by offering "more of the same." To that extent, it can be said to be successful.
Dreamworks Animation is second to Pixar in terms of production quality. However, over the years, their various franchises (including Shrek, Madagascar, and Kung Fu Panda) have trended toward simplistic fare. The animation is bright, colorful, and slick and the stories feature a lot of action and comedy. Unfortunately, when it comes to thematic content, a movie like Kung Fu Panda 3 tosses in fortune cookies like "family is important" and "be yourself" with an obviousness that only a child could appreciate. It's a far cry from the subtle and emotionally moving way in which the best Pixar films have approached similar ideas. Then again, Kung Fu Panda 3 isn't trying to be the next great animated movie. It's trying to retain the audience that attended Kung Fu Panda 2. That's not creatively ambitious but it's savvy from a business perspective.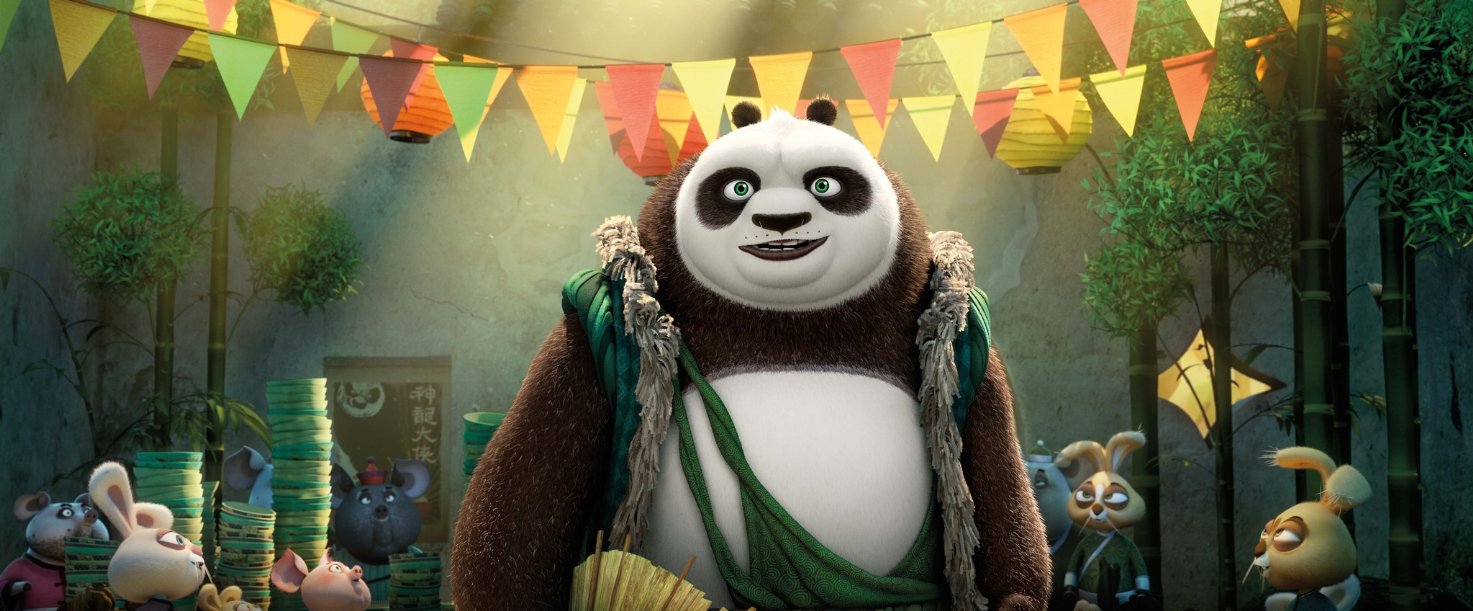 Kung Fu Panda 3 opens by introducing us to this episode's villain, the bull-like Kai (J.K. Simmons). Having conquered the spirit world by capturing the Chi of every legendary Kung Fu master, Kai intends to return to the material universe and pursue his domination. The only one to stand in his way is Po, who has been promoted by Master Shifu (Dustin Hoffman) from student to teacher. Po is having trouble adjusting to his new responsibilities and matters are complicated with the arrival of his "blood father," the panda Li (Bryan Cranston), who insinuates himself into Po's life and introduces him to an entire village of pandas. All of this is background to Kai's arrival and the defense Po must organize to save the world.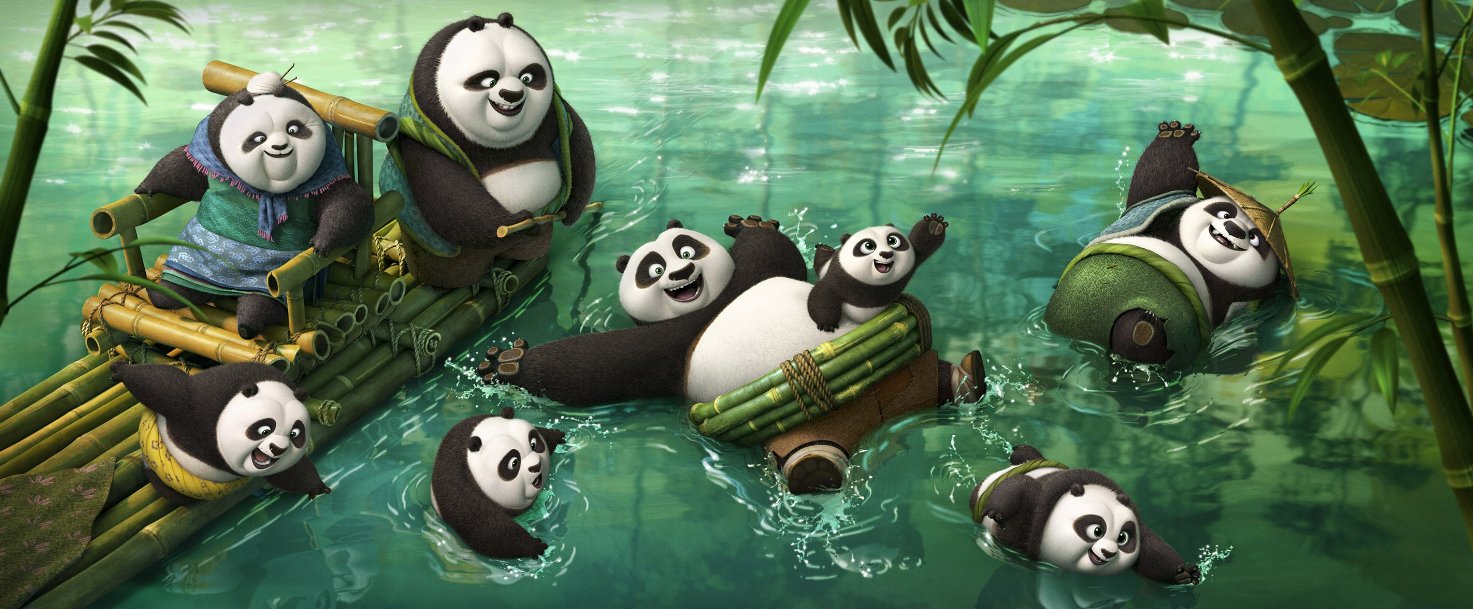 Kung Fu Panda 3's voice cast doesn't suffer from an abundance of unknown names. Although Jack Black continues to occupy the center position, the movie features no fewer than three Oscar winners (Angelina Jolie, Dustin Hoffman, J.K. Simmons) in supporting roles. In large part because they have so few lines, neither Jolie nor Hoffman is recognizable. Simmons effectively disguises his voice, as do other well-known actors like Kate Hudson and Seth Rogen. Kung Fu Panda 3 is therefore able to have the benefits of a "star-studded" cast without the drawbacks associated with too many recognizable voices.
Although the average child won't care much about the quality of the animation, Kung Fu Panda 3 boasts some of the brightest, liveliest computer animation in recent memory. There's nothing quirky or innovative about it but it's crisp and colorful. The 3-D is mostly forgettable although there are a few sequences that benefit from the gimmick. Like everything else in Kung Fu Panda 3, it's designed to appeal to its target demographic. Kids, especially those who enjoyed the previous Kung Fu Panda movies, will appreciate what the third movie has to offer. It's unfortunate that it provides a less fulfilling experience for older viewers, who may be diverted but are unlikely to be enthralled.
---
Kung Fu Panda 3 (United States, 2016)
Director:
Alessandro Carloni, Jennifer Yuh
Cast:
(voices)
,
Jack Black
,
Angelina Jolie
,
Dustin Hoffman
,
J.K. Simmons
,
Bryan Cranston
,
Kate Hudson
,
Jackie Chan
,
Seth Rogen
,
Lucy Liu
,
David Cross
,
James Hong
Home Release Date: 2016-06-28
Screenplay:
Jonathan Aibel & Glenn Berger
Cinematography:
Music:
Hans Zimmer
U.S. Distributor: 20th Century Fox
---

Three...better movies of this genre
worse movies of this genre
Three...better movies of (voices)
(There are no more better movies of (voices))
worse movies of (voices)
(There are no more worst movies of (voices))
Three...better movies of Jack Black
worse movies of Jack Black
Three...better movies of Angelina Jolie
worse movies of Angelina Jolie