Long Shot (United States, 2019)
May 01, 2019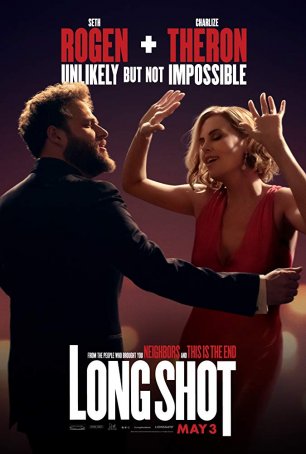 When I see a romantic comedy, I'm not expecting Ozu or Bergman or Truffaut or Scorsese. All I want – and I think it's a perfectly reasonable desire considering the genre – is to fall in love with the characters as they fall in love with each another. It's a hit-and-miss game that relies as strongly on chemistry between the leads as it does the comedic aptitude of the performers. Long Shot, a production that's as much a fantasy in the political realm as in the romantic one, is a pleasant trifle that leaves behind a warm fuzzy feeling, which is all one can realistically ask of movie of this sort.
While this is not Seth Rogen's first romantic comedy – he has previously appeared in the likes of Knocked Up and Zack and Miri Make a Porno – it's the first time he has been asked to swap bodily fluids with an Oscar-winning actress. One of the things that makes Rogen work in a role like this is that he can be serious when required and is excellent at playing the "ordinary" schlub. In Long Shot, it's perhaps ironic that his best scenes are the dramatic ones. His zany antics, of which there are a fair number, including a bone-crunching dive out a window, take a back seat to the hangdog expression on his face when he realizes he may have driven away the love of his life.
Charlize Theron has enjoyed a more diverse career than Rogen, having run the gamut from the darkness of Monster to the lightheartedness of A Million Ways to Die in the West, with plenty of action and grit in between. Lately, she has been gravitating more towards comedic roles and Long Shot represents her first true romantic comedy. Unsurprisingly for an actress of her caliber, she deftly navigates the humorous and serious aspects of her character while exhibiting enough chemistry with Rogen to make their paring not only believable but desirable.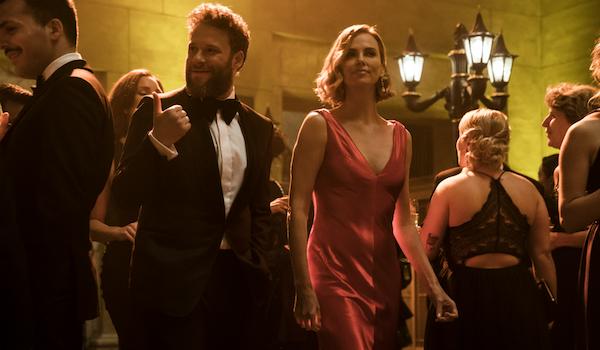 Long Shot's backstory, revealed in flashback, has a 16-year old Charlotte Field babysitting her 13-year old neighbor, Fred Flarsky. Desperately in love with the older girl, Fred takes a chance and kisses her at an inopportune moment. Awkwardness ensues when Fred's body reacts the way one would expect a 13-year old's body to react. Now, some 25 years later, they have gone their separate ways – Fred (Seth Rogen) is an angry, left-wing journalist and Charlotte (Charlize Theron) is the Secretary of State for preening, self-involved President Chambers (Bob Odenkirk). Their chance reunion occurs at a critical juncture in both their lives: Fred has just quit his job because he doesn't like the direction in which his newspaper is headed and Charlotte is preparing to run for president. Needing a speech-writer who can make her seem more "funny" and approachable, she taps Fred for the job, much to the dismay of her confidante and campaign manager, Maggie (June Diane Raphael). This being a romantic comedy, it's destined for Fred and Charlotte's relationship to cross over the platonic line and that's where things become complicated.
Although Long Shot incorporates political elements, director Jonathan Levine tries hard not to get too deep into the weeds. The most obvious satirical elements relate to the characters of President Chambers (a narcissistic personality who cares more about his acting career and personal finances than the state of the country) and media mogul Parker Wembley (Andy Serkis), who's an unsavory mix of Steve Bannon, Roger Ailes, and Gollum. While the screenplay takes a few pot-shots at the Republican party, it doesn't spare the Democratic party from its slings and arrows and there's a quasi-comedic Valentine tossed in the GOP's direction (I won't spoil its nature). Policy-wise, Long Shot stays far away from hot-button issues, settling on climate change/environmental topics as Charlotte's signature platform item. No mention is made of things like immigration, terrorism, income inequality, etc. The movie tries hard not alienate potential viewers without being completely vanilla.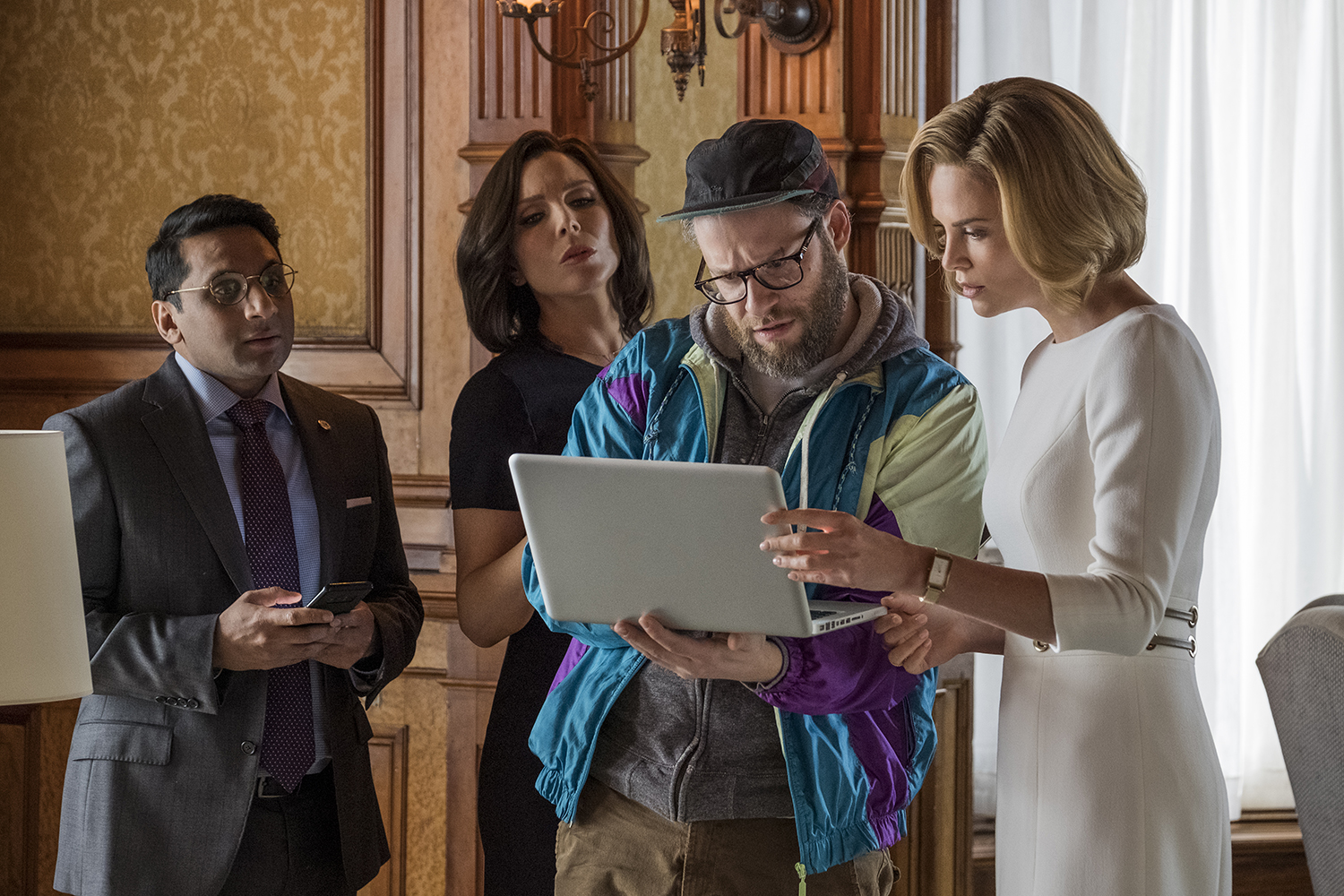 Structurally, Long Shot is old fashioned. It follows the rom-com formula closely. The "complications" come from two directions – Canada's randy Prime Minister James Steward (Alexander Skarsgard, with his third different look thus far in three 2019 releases) and the realities of politics, which say that the public will reject the "optics" of a relationship between Charlotte and Fred. From a content-perspective, however, there's nothing remotely old-fashioned about Long Shot. It's in Rogen's comfort zone – from the drug-fueled rave to the happy ending (and I'm not referring to what happens at the movie's conclusion).
We don't get many romantic comedies these days – they have faded out of view since their height of popularity in the 1980s and 1990s – and, when we do, adult-oriented ones are rarer than their teen counterparts. Long Shot reminds viewers how pleasant and giddy this sort of fairy tale can be, especially when brought to the screen by talented performers who can seduce viewers as effectively as their characters attract each other. With a little Mr. Smith Goes to Washington thrown in for good measure, Long Shot is a good way to cleanse the pallet after the epic action of the season's biggest film, Avengers: Endgame.
---
Long Shot (United States, 2019)
---

Three...better movies of this genre
worse movies of this genre
Three...better movies of Charlize Theron
worse movies of Charlize Theron
Three...better movies of Seth Rogen
worse movies of Seth Rogen
Three...better movies of June Diane Raphael
(There are no more better movies of June Diane Raphael)
worse movies of June Diane Raphael
(There are no more worst movies of June Diane Raphael)