Ma Rainey's Black Bottom (United States, 2020)
December 17, 2020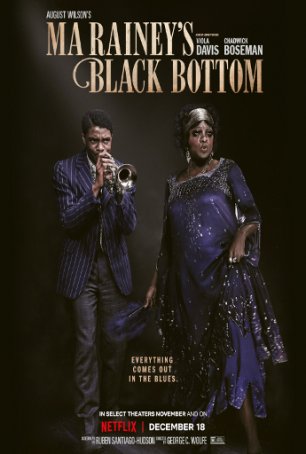 With a standout final performance by Chadwick Boseman and equally arresting work by Viola Davis in the title role, Ma Rainey's Black Bottom gets the year's award for least-likely title to vie for a ton of Oscar attention. Adapted from the 1982 Broadway production by August Wilson (one of his ten-play Pittsburgh Cycle), the movie takes dead aim at issues of race, religion, and the exploitation of black musicians by white music producers. The simple plot provides enough latitude for character development and thematic exploration. It also offers each actor at least one opportunity for a moment. Despite being set in the 1920s, Ma Rainey's Black Bottom is a none-to-gentle reminder that many of today's societal fissures have festered for well over a century. This story is as relevant today as when Wilson wrote it nearly 40 years ago. And it was as relevant then as when the characters (who are fictionalized versions of real men and women) walked the streets of Chicago.
The story is set in a recording studio where diva Ma Rainey (Viola Davis) is about to perform a session. While awaiting the arrival of the notoriously late Mother of the Blues, members of her backing band – trombonist Cutler (Colman Domingo), bassist Slow Drag (Michael Potts), pianist Toledo (Glynn Turman), and trumpeter Levee (Chadwick Boseman) – engage in conversation that starts out as seemingly light banter but becomes increasingly dark. Levee, a talented rebel with a forward-leaning style, reveals the secret from his past that has twisted his perspective toward God and humanity. He and Cutler face off over remarks he makes about religion but that confrontation only hints at Levee's instability. Meanwhile, Ma takes on her manager and a record producer, both of whom want her to cede the rights to control the presentation of her music.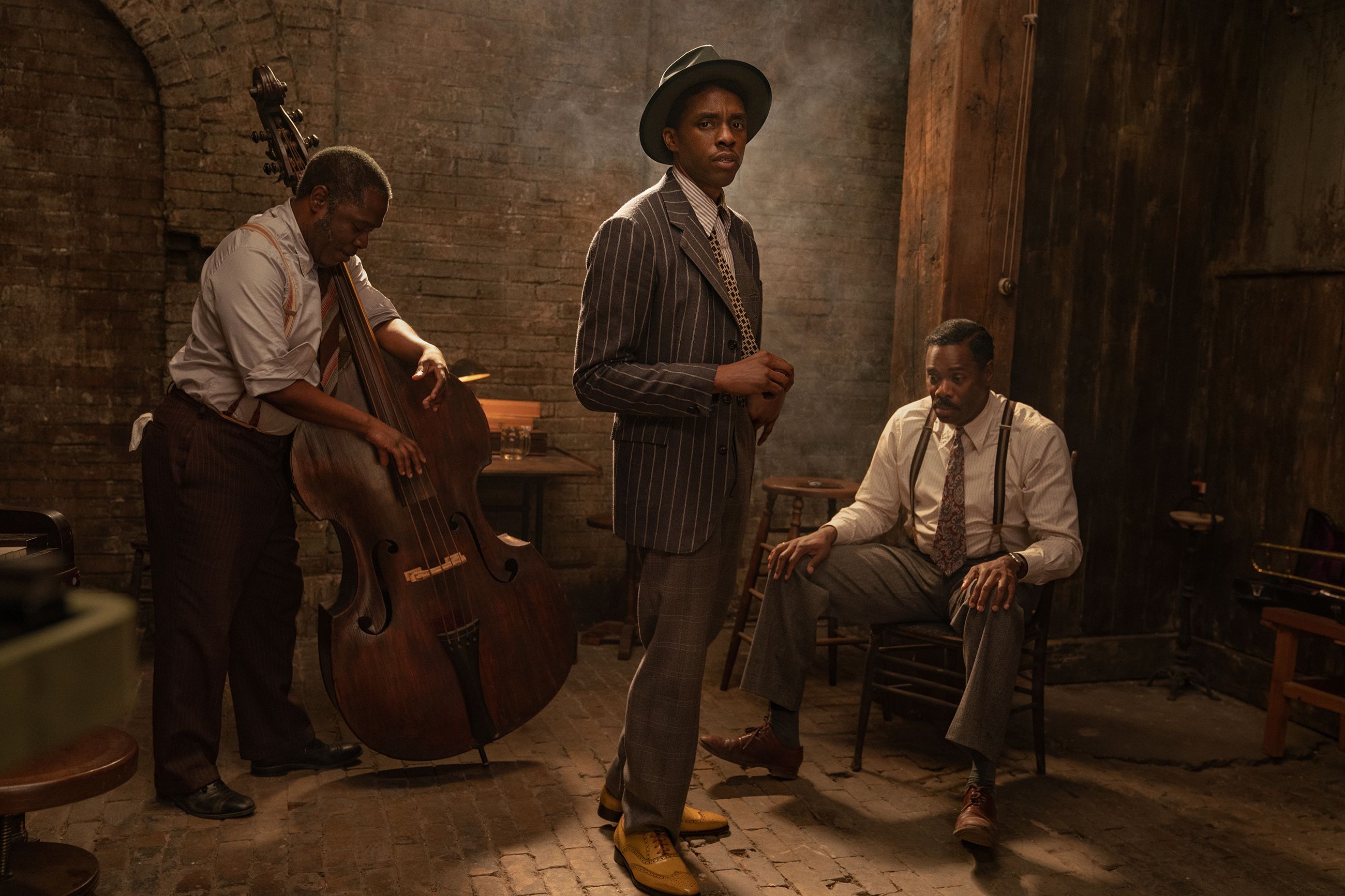 Levee's development as a character – from a charismatic background player to the volcanic central figure – is Ma Rainey's Black Bottom's highlight. A fascinatingly complex individual with a tragic backstory, Levee could easily have been a one-dimensional antagonist but neither Wilson's approach to him (as filtered through Ruben Santiago-Hudson's screenplay) nor Boseman's performance allows for such a shallow interpretation. Levee's antipathy toward God is perfectly understandable (and opens up questions about the degree to which white people once used their brand of religion to pacify and control black people) and, even as his actions become increasingly violent and deranged, it's hard not to see him more as victim than villain.
Although Ma's presence hangs over the entire production, she has limited screen time. (Viola Davis is more deserving of a Supporting Actress nomination – she's not really around long enough to qualify in the Lead category.) She's forceful and compelling when within the camera's range, however – a black woman with sufficient fame and self-esteem to stand up to white men in an era when such a thing was almost unimaginable. She refuses to capitulate and wins the battle of wills. Her attitude toward Levee, however, contributes to his collapse, although she has minimal contact with him during the course of the film.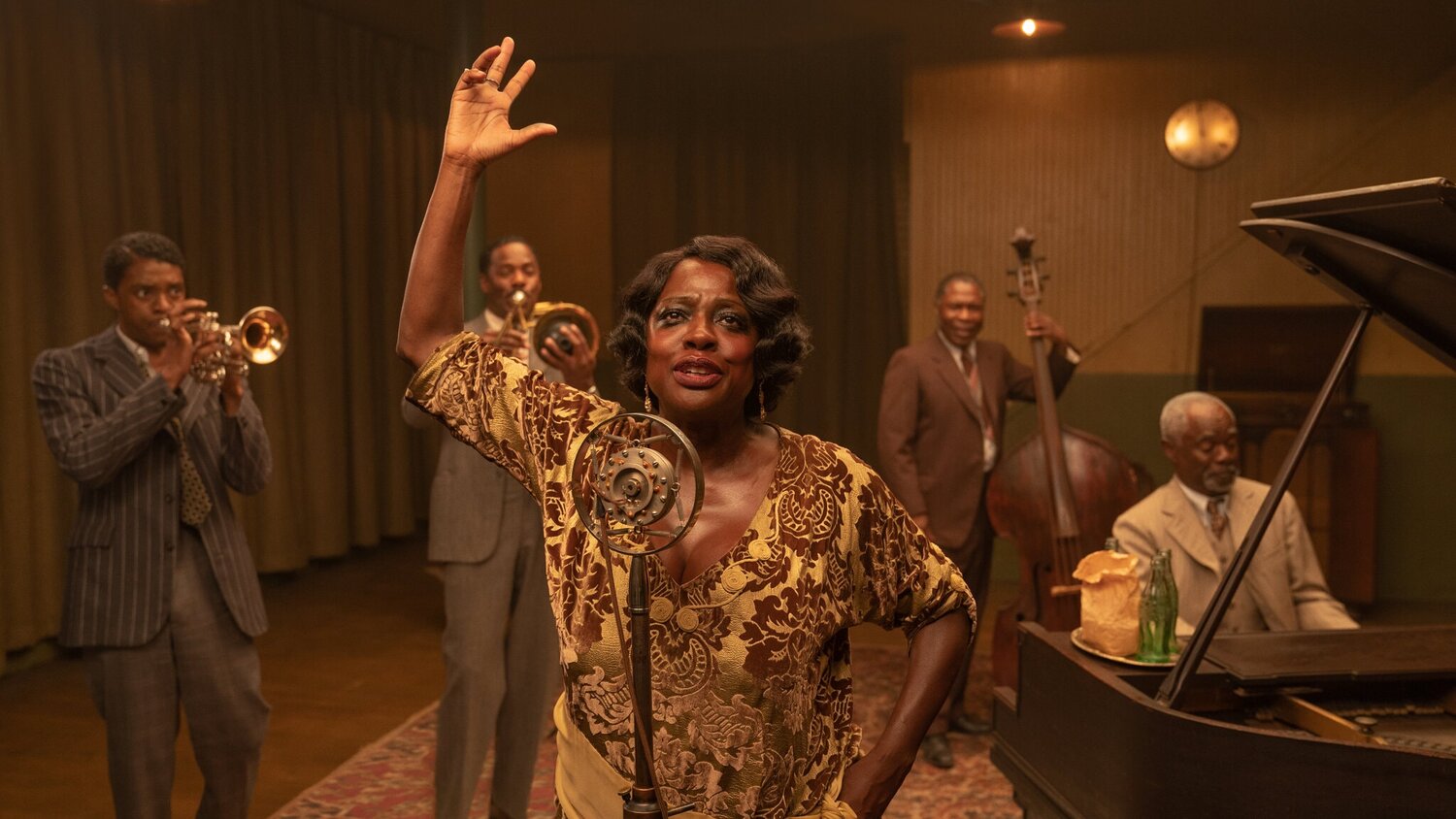 Ma Rainey's Black Bottom is a small film with big ideas, bigger speeches, and two towering performances. Boseman is almost certain to win a posthumous award for his interpretation of Levee. It's arguably the best on-screen performance he gave in a career littered with memorable portrayals and the consideration that he was aware of his mortality at the time he made the film adds an additional layer. In discussing the acting, however, I would be remiss to not mention the contribution of multiple Tony-winning director George C. Wolfe (he has also won a DGA Award and was nominated for both an Emmy and an Independent Spirit Award), whose generosity to the performers is evident in every scene.
More economical in length but no less powerful in impact, Ma Rainey's Black Bottom makes an excellent companion piece to the other recent adaptation of a Wilson play, Fences (which also starred Davis). Without resorting to cliches or slogans, both have a lot to say about the experience of colored people in yesterday and today's America.
---
Ma Rainey's Black Bottom (United States, 2020)
---
Three...better movies of this genre
worse movies of this genre
Three...better movies of Chadwick Boseman
worse movies of Chadwick Boseman
(There are no more worst movies of Chadwick Boseman)
Three...better movies of Viola Davis
worse movies of Viola Davis
Three...better movies of Glynn Turman
(There are no more better movies of Glynn Turman)
worse movies of Glynn Turman
(There are no more worst movies of Glynn Turman)