Get On Up (United States, 2014)
July 31, 2014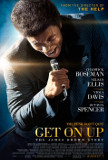 2014 has already seen one straightforward, largely unimaginative bio-pic of a '60s music icon (Frankie Valli in Jersey Boys) - now along comes another. Get on Up, like Jersey Boys, is more notable for its music than for anything else that ends up on screen. The basic equation goes like this: if you're a fan of James Brown's oeuvre, the film will keep you interested. If you're not, Get on Up will quickly become tedious and will wear out its welcome long before the end of its 133-minute run.
The movie recounts Brown's life from the early 1960s through the late 1980s. Along the way, there are a few flashbacks to his childhood (these attempt to "explain" some of his less appealing traits as an adult) and flash-forwards to the 1990s. At least to start with, the movie's chronology is laid out in a confusing fashion; it jumps around without rhyme or reason. It's fair to wonder whether director Tate Taylor (The Help) might be opting for an impressionistic perspective but things eventually settle down into a mundane linear approach with occasional detours.
Despite softening the lead character's unappealing traits, Get on Up falls short of being a whitewash. It acknowledges some of Brown's shortcomings - he's a narcissist, he is ungenerous with his band members (who hate him), and there is an instance of domestic abuse. But the screenplay attempts to explain or excuse at least some of these things and it ignores one of the most controversial aspects of Brown's career: his 1972 endorsement of Richard Nixon, which cost him a legion of fans. Because of its decision to cherry-pick aspects of Brown's life, Get on Up provides a skewed view. We never really sense what makes him tick. In the end, it's all about the music (which is dubbed). Unlike Jersey Boys, in which the actors did their own singing (mimicking the sounds of The Four Seasons), every sung note in Get on Up is from the late Brown.
Whatever failings the film may have, none can be laid at the feet of lead actor Chadwick Boseman, whose performance is phenomenal. Playing his second high-profile historical figure in two years (he was Jackie Robinson in 2013's 42), Boseman's physicality is impressive. He recaptures Brown's dance moves and stage presence flawlessly. Is this mimicry or acting? I'd lean more toward the latter although it's true that Get on Up's presentation of Brown is more that of a cartoon character than a fully three-dimensional personality.
One problem with bio-pics of music stars is that there's a sameness to them that the films are rarely able to overcome. This is true regardless of the subject - whether it's Ray Charles (Ray), Johnny Cash (Walk the Line), Frankie Valli, or James Brown. In the end, the decision whether or not to see the movie depends primarily on the individual's affinity for the performer because none of these productions offers content that's radical or surprising and the desire to cram in as much biographical information as possible results in uneven pacing and a too-long running length. (All of these titles clock in at between 2 1/4 and 2 1/2 hours.) Get on Up provides us with about an hour of James Brown-inspired performances, all of which Boseman infuses with passion and energy. Unfortunately, there's also about 70 minutes of other material, none of which merits more than cursory attention.
---
Get On Up (United States, 2014)
---
Three...better movies of this genre
worse movies of this genre
Three...better movies of Chadwick Boseman
worse movies of Chadwick Boseman
(There are no more worst movies of Chadwick Boseman)
Three...better movies of Nelsan Ellis
(There are no more better movies of Nelsan Ellis)
worse movies of Nelsan Ellis
(There are no more worst movies of Nelsan Ellis)
Three...better movies of Dan Aykroyd
worse movies of Dan Aykroyd