Marley & Me (United States, 2008)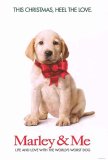 Want to see a grown man cry? Take him to Marley & Me. Based on the best-selling and beloved memoir by former Philadelphia Inquirer columnist John Grogan, the movie ends in such a way that ensures there won't be a dry eye in the theater. By turns moving, funny, and honest, the film is a fitting adaptation of the book, condensing 13 years worth of experiences into two hours. Although the style of director David Frankel (The Devil Wears Prada) is manipulative, one can forgive him for most of the heartstrings he plucks. While Marley & Me is more than just a three-hankie weeper, it's more in the nature of comfortable, accessible entertainment than high art.
At its simplest, Marley & Me is the story of the growth and development of a family: husband, wife, kids, and dog. Marley, a yellow Lab, is as much a member of the family as any of the humans - a situation that anyone with a pet can relate to. But animals aren't always easy to live with, as John Grogan (Owen Wilson) and his wife, Jennifer (Jennifer Aniston), are about to discover. Marley, purchased as a puppy by John for Jennifer as a birthday present soon after they move to South Florida in 1993, is not a model canine. He fails obedience school, does not know the meaning of "restraint," and chews pretty much anything he can get his teeth into. Yet John and Jennifer love him all the same, even after he trashes the house and shell-shocks the dog-sitter when they go on a vacation to Ireland. Soon after, the Grogans begin to have children and life becomes complicated, but Marley remains a constant.
The screenplay, by Scott Frank and Don Roos, two of the best in the business, make sure that Marley & Me is never too cute. There's a tendency to turn "dog movies" into cuddly family affairs but, even though this movie is rated PG, it has an adult perspective. Marley & Me is as much about making a marriage work, struggling through the difficulties of having multiple careers and multiple children, and fighting a mid-life crisis as it is about the 100 pound Labrador Retriever. There's no denying that they pile it on at the end, intent on eliciting the most forceful emotional reaction possible from an audience. Frankel intercuts scenes for maximum impact, content only when he has wrung every last teardrop from each member of the audience. Women seeing this movie are encouraged not to wear makeup.
The leads, Owen Wilson and Jennifer Aniston, are best known for lightweight comedies, so it may come as a surprise that this is not in that genre. That's not to say Marley & Me is as fun as a visit from the Grim Reaper, but it is predominantly serious. The humor, most of which is low key, comes out of everyday situations, much like the comedy we all find in our day-to-day world. The material fits Wilson and Aniston effectively, and they do the screenplay justice. One is tempted to mention the acting of "Marley," but it took 22 dogs to play the part. Supporting turns are provided by Alan Arkin as John's boss at the South Florida newspaper for which he writes columns and Eric Dane as John's marriage-phobic friend. Kathleen Turner has a cameo as the dog trainer who fails to tame the savage beast.
One doesn't have to be a dog lover (I'm not one) to appreciate the movie. It's as much about love and family as it is about the specific kind of pet. The movie's themes are universal and its anecdotes feel more real than scripted (not surprising, considering how many of them are adapted verbatim from the memoirs). Marley & Me is a crowd-pleaser, and deservedly so. It's an enjoyable and unpretentious perspective of life that reminds us how important and rewarding the little things can be.
---
Marley & Me (United States, 2008)
---
Three...better movies of this genre
worse movies of this genre
Three...better movies of Owen Wilson
worse movies of Owen Wilson
Three...better movies of Jennifer Aniston
worse movies of Jennifer Aniston
Three...better movies of Eric Dane
(There are no more better movies of Eric Dane)
worse movies of Eric Dane
(There are no more worst movies of Eric Dane)